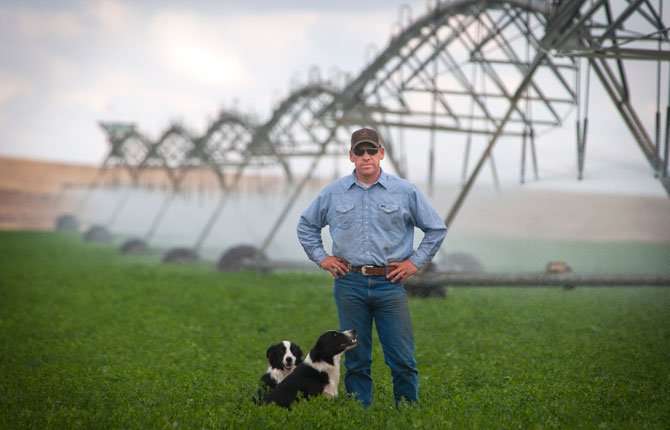 Oregon ranchers and farmers are being falsely accused by environmental groups of not doing enough to protect fish and natural resources, according to Maupin rancher Keith Nantz.
"There are a lot of people running around these days with some utopian idea that isn't workable on the ground because there is no common sense involved," he said.
Nantz is president of the North Central Livestock Association and seated on the Water Resources Committee of the Oregon Cattlemen's Association.
The problem with criticisms leveled against agriculture, he said, is that outsiders want ranchers and farmers to be held responsible for problems they haven't caused.
He said at the center of the dispute is the state's approach to implementation of the Agriculture Water Quality Management Act.
In 1993, regulations to reduce water pollution from agricultural and rural sources were developed after the legislature approved Senate Bill 1010.
The Oregon Department of Agriculture was tasked with improving the conditions of streams and rivers that the state Department of Environmental Quality identified as needing improvement to meet federal guidelines.
Nantz said the state plan exceeds federal Clean Water Act requirements. He said farmers and ranchers have worked with local watershed councils, soil and water conservation districts, and ODA to find opportunities to improve water quality flowing though their communities.
"That still isn't enough for some people," he said.
DIFFERING VIEWS
Powder River rancher Curtis Martin heads the cattlemen's water committee and cited two examples of how state regulations are hampering agricultural practices:
• Water temperatures exceed the standard at many spring sources, yet watershed groups and irrigators are tasked with cooling down the stream or river.
• Cattle are blamed for raising bacteria levels in waterways and the rancher subject to penalties – only to have further study show that the problem was caused by wild birds, elk or deer that congregate in riparian areas.
"There's a real disconnect with conditions on the ground and, in some instances, the temperature standard is totally unattainable," said Martin. "Many of these rules are really difficult for ranchers, who are reality-based thinkers, to deal with."'
Nantz said, to add insult to injury, most streams and rivers originate on public lands under federal control that have been unmanaged for decades and many ravaged by catastrophic wildfires.
He said having seared landscapes has set the stage for erosion and an inundation of bacteria into waterways.

"The sediment is coming from the mess the federal government has created and we are being asked to make everything better," he said.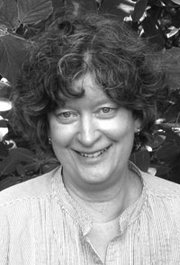 "We have an out-of-control government that can't take care of the responsibilities it has now — but wants more control."
Nina Bell, an attorney and executive director of Northwest Environmental Advocates, a Portland-based nonprofit organization, said state agencies are not doing enough to enforce water quality standards.
She said high water temperatures are the most widespread pollutant in Oregon to affect
threatened and endangered fish runs. Although 64.4 degrees Farenheit has been considered acceptable by some biologists, Bell said streams and rivers should, optimally, be much cooler.
Environmental groups contend the harm to fish from warm water is long: lower fertility, decreased egg survival, retarded growth of fry and smolts, reduced rearing densities, increased susceptibility to disease, decreased ability of young salmon and trout to compete with other species for food and avoid predation.
Bell believes that ODA has been slow to implement rules regarding farming and cattle grazing. In addition, she said DEQ is not doing its job to fulfill the intent of the federal Clean Water Act.
"My quarrel is that they are not asking the agriculture industry to contribute enough," she said.
Oregon has roughly 15,000 miles of waterways listed as impaired.
GROUND RULES
Bell said when streamside trees and vegetation are destroyed by farming, logging and grazing, shade is decreased and sediment runoff occurs, which makes streams shallower so they heat up faster. Irrigation takes cool surface and groundwater during the hot summer months when it is most needed by fish.
The key to bring down temperatures in Oregon's waterways, said Bell, is more plantings along embankments. She acknowledges that finding money to make that happen is a challenge, but said it is vital to get that work done.
"It's tricky when you are talking about landowners needing to do something instead of not doing something, such as cutting down trees," she said.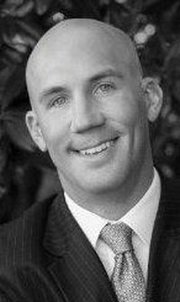 Mike Freese, an attorney who serves as director of regulatory affairs for the Oregon Farm Bureau, said the temperature standard for the state's waters was developed by federal agencies in a lab without benefit of natural conditions that differ by region and even within the same watersheds.
"The standard is not realistic and to suggest that landowners are not doing their part because the standard has not been met is just unreasonable," he said.

Freese said the vast majority of rural landowners in Oregon are fully compliant with state law.
For example, he said newly-released data from the department of agriculture shows that almost 90 percent of landowners along Mill Creek in Wasco County are engaged in activities that cause no concern. Five percent have practices of low concern and only 1 percent have generated serious concern.
"Oregon has robust laws protecting riparian areas and the majority of landowners are doing the best they can," said Freese. "They shouldn't be held responsible to meet standards that the environmental community wants that are unachievable in nature."
Bell said the state needs to manage waterways like it does forest practices and riparian zones in cities, which have stringent guidelines.
"The state has a 'hands-off, do what you want to do' approach (with agriculture) right now," she said. "We spend money fixing up a few hundred feet with riparian vegetation and we still have zillions of miles to take care of."
Nantz said trees and shade vegetation don't grow along streams and rivers in arid parts of the state for a reason — the soil and climate are inhospitable.
"Eastern Oregon is never going to look like the Willamette Valley," he said.
For example, he said only about 1 percent of the 1,000 trees planted recently along a waterway in Wallowa County survived.
"Environmentalists think trees need to be planted next to streams regardless of whether nature would ever allow it," said Freese. "Can you say the laws are not strict enough if the standard the law is trying to achieve is wrong?"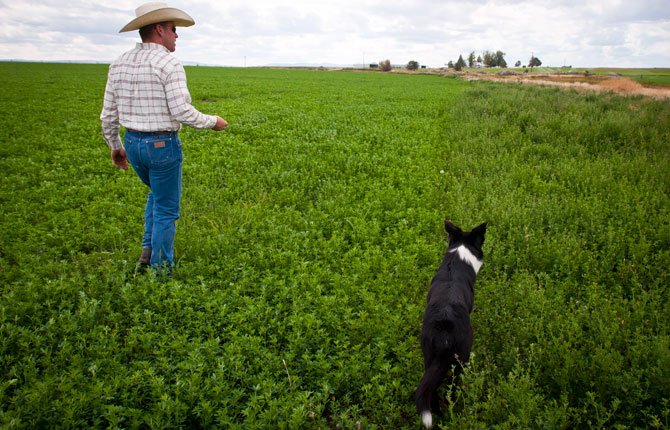 MORE REGS, OR LESS?
Bell said photos of cattle standing in streams are sent to her from across the state almost every day, which highlights the need for greater monitoring of pollution by agencies.
"Cows shouldn't be in steams, yet I get these pictures all the time," she said.
"Who says cows aren't supposed to be in streams" said Nantz. "There are plenty of waterways where they are allowed. And there is also evidence to show that grazing improves fish and wildlife habitat by creating more plant diversity and improving soil structure."
Bell said people living in urban neighborhoods are subject to regulations about where trees can be planted and when they can be cut down, etc. She said residents of rural areas also need to comply with rules that protect the greater good.
"We all have to live together, it's sort of the way of the world," she said. "We share the water, we share the air and we have to have collective protection."
She said there seems to be an attitude of entitlement and often anti-government sentiment among many ranchers and farmers, who resist change that benefits society. She said enforcement is one tool to overcome that way of thinking to better protect a diverse array of species.
"People have to eat and I have strongly positive feelings about farming as an organization," she said. "I think some people are very careful and want to do the right thing, and know what that is, and some people could care less."
Nantz said rural Oregonians do not ask Portland and other major urban centers to stop building houses or cripple economic development opportunities.
"I agree we are all in the same boat but the evidence shows that we, as farmers and ranchers, do a good job at caring for the environment and providing world-class wildlife habitat," he said. "We are very connected to Mother Nature because we know that if we harm the ecosystem then we go out of business and don't produce enough food for people living in cities."
Freese said many environmentalists' arguments exhibit a sense of entitlement to agricultural lands by assuming they have as many rights as the property owners.
Martin is a sixth generation rancher with about 800-head of cattle that graze on about 20,000 acres of public and private lands in northeastern Oregon.
"I have four sons involved in the business and if that doesn't scream out sustainability, I don't know what does," he said.
Bell said Congress gave states the task of figuring out how to stop pollution from "non-point" sources, such as agriculture.
She believes one of the major ways Oregon is failing in that task is by not creating more "thermal refuges."
These are areas in rivers and tributaries where surface waters mix with groundwater to bring down the temperature for the benefit of cold-water fish.

WHAT LIES AHEAD?
According to Bell, another failure of the state is the water quality trading program that allows wastewater dischargers to spend less money for pollutant control by undertaking mitigation measures.
For example, she said Medford is allowed to offset its temperature for discharge by planting trees along a long stretch of the Rogue River. Bell said the problem with that effort is that the river is too wide to be adequately shaded by trees, so there will be no benefit to water quality.
Bell contends the trading program is driven by economics and not environmental incomes. In addition, she said permits are riddled with ambiguity and issues of uncertainty have not been addressed.
Freese said the situation in Medford makes the case for agriculturalists.
"More trees in a riparian area does not mean that water temperatures will meet lab-grade standards," he said.
He said, regardless of the evidence, it does not appear that groups like Bell's will stop advocating that farmers and ranchers do more with their land.
Nantz said the global population is expected to exceed 9 billion by the end of 2050 so there is a great need to ensure that food production increases instead of declines. With agriculture Oregon's second-leading economic sector, he said more consideration needs to be given to the needs of producers.
Food prices spiked worldwide in 2011 and the ODA has determined that livestock and dairy prices will largely be determined by export demand in the future.
"It is difficult to understand why there is so much antagonism to addressing the issues we raise when we are trying to feed this nation and beyond," said Nantz. "It is more important than ever that we have regulations based on sound science and evidence and not some unachievable ideology."
He said it is generally agreed that everyone wants clean water because, without it, there is no life.
"The real problem here is that there needs to be balance, because people also need food to live," he said.
READ NEXT TOP STORY: Cattlemen foot the bill for water study
A Rancher's Life is a year-long series by reporter RaeLynn Ricarte and photographer Mark B. Gibson of The Dalles Chronicle. Here are the stories so far:
A Rancher's Life and A 'big picture' outlook started the series January 25, 2014.
All in a Day's Work and Moving cows is just the beginning were published February 12, with Weathering the storms. An audio slideshow, Working cows, was also published in February.
March started with a look at wolves in two parts, Wolf trouble and Wolves on the move. It continues with Springs promise, a look at calves and spring on the ranch.
An editorial, "More defenses needed," wrapped up coverage on this issue.
May started with the story exploring the trouble faced by one ranch, whose story is told in new feature-length movie screened locally in Hood River. One family member currently lives in The Dalles, and in "A Place to call Home" she tells her story.
May also featured multiple stories addressing the issue of public grazing, an issue researched by reporter RaeLynn Ricarte for over four months. The issue is first explored in"Battle rages over grazing rights." Much of this battle has been fought in court, and "Taxpayers foot the bill of resource lawsuits" explores one aspect of this battle. Additional stories followed: Seeking balance on our public lands, A place for cattle, Activist disputes accusation of fee gouging, An embattled system,and Walden: Scrutiny need on species regulation.
The May presentation ended with an editorial expressing the need for public grazing in the western states, Resources to Thrive.
A special section, Farm and Ranch, further broadened and expanded the series in June. it is available as a .pdf document: Farm and Ranch.
As July brings hot dry weather, it's a great time to explore the impact water, and a lack of water, has on the ranch community. Water is a precious commodity in Eastern Oregon. Ditch walker Sam Cobb is in charge of how the water in water stored in Rock Creek Reservoir is distributed in the article "Ditch Walker: Water is gold, here"
In August, the second edition of Farm and Ranch explored the stories and people behind some of the brands in the region.
Water issues were further explored in August, with three-part presentation:
State and federal rules water rules impact ranchers throughout the region. Water dispute boils explores state regulations and how they impact ranch operations. A related story looks at a study launched by ranchers working with OSU to study water issues in arid and semi-arid lands.
Federal proposals to change or clarify what waters are under federal jurisdiction has many agriculturalists worried, and represents yet another clash over water.
Locally, efforts are being made to work collaboratively to improve water quality on 15-mile creek for both fish and farmers. The creek is used for irrigation.