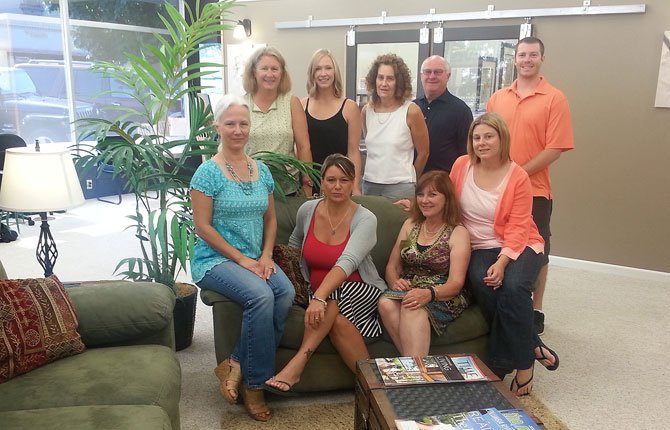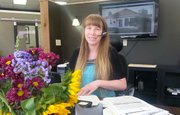 Windermere/Glenn Taylor Real Estate is still putting the finishing touches on the interior of its new home base at 122 E. Second St.
The company owned by Kim Salvesen moved into the former Bed Center location from their old East Third Street location.
"That location was not really the best for a real estate operation," Salvesen said. "It had many issues that moving here resolved. One of them is visibility."
Salvesen has noted an increase in foot traffic since the move.
The interior has a contemporary feel with charcoal gray walls and barn-style sliding doors to the offices have ready views of the lobby area.
"This type of floor plan really goes along with our culture, which is to work together as a team," Salvesen said.
Though much of their work and conversation with clients takes place at sale properties, when work does need to be done in the office, any of the Windermere offices in the gorge can help with the process, she noted.
"People who walk in here looking for property, we're able to help no matter where they are moving in the gorge," Salvesen said.
Another reason for moving to The Dalles' "Main Street" is to become part of revitalizing downtown, she added.
"I can't feel good about sitting in a pretty building and not being part of that," Salvesen said. "The Dalles needs a revitalization and we want to be part of that."
Salvesen has worked with local vendors in refurbishing the building interior. Pee Wee's Detailing installed the window tinting. Gary Denney Floor Covering did the floor covering. Stamp the Earth Concrete will be installing a concrete pathway inside stamped with the company logo. They've also gone wireless in their telecommunications set-up, working with Gorge.Net. `And Rick Pauley's Stave Designs built the wine-barrel furniture that decorates part of the lobby area.
Outside the company has its sign up on the building, but more is yet to come.
Salvesen plans to make a name change in the company to Windermere Real Estate/Columbia River Gorge, which should be official by the end of the year. She is also working with an architect to develop façade improvements.
"We have an application for a grant from the Downtown Revitalization Program," she said, funded through Columbia Gateway Urban Renewal Agency.
Salvesen is working with building owner Bill Matthew to explore the possibilities, including making the building more consistent with the historical nature of downtown The Dalles.
From broker Connie Thomasian's standpoint, the move was a good one.
"I'm excited to be in a downtown location and enjoy being part of a neighborhood with other entrepreneurs and small business owners," Thomasian said.
Find Windermere by phone at 541-298-4451 or online at www.windermere.com/offices/the-dalles.
READ NEXT TOP STORY: Word on the street: Rivers Edge: Tops from head to tow