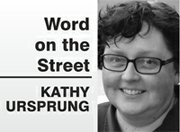 Leading the tow: Rivers Edge Towing has ranked on the Towman 500, "Most Experienced Towmen in America." Compiled by American Towman Magazine, a towing industry trade publication, the Towman 500 is based on the oldest established towing businesses in America. Rivers Edge was established in 1983. Members of the Towman 500 gathered at AT Expo in Baltimore, Md., last November and AT ShowPlace in Las Vegas this May and received a commemorative belt buckle.
International honors: Local author Anne Osterlund received two International Latino Book Awards for her most recently published young adult Novel, "Salvation." 
The awards include Most Inspirational Young Adult Book and Best Young Adult Latino-Focused Book in English. Osterlund traveled to Las Vegas to participate in the International Latino Book Awards held June 28 in conjunction with the American Library Association Conference.
"Salvation is about Salvador Resendez, a young man who hovers just below the pinnacle of leadership at his high school, and the year when he can no longer hover, due in part to Beth Courant, the walking disaster area.
The novel is published by Penguin and available at Klindt's Booksellers, where the author has participated in several signings and author events.
Fair followup: Ken Polehn will provide an update on the results of the Wasco County Fair at the upcoming meeting of The Dalles Area Chamber of Commerce's Government Affairs Committee, Thursday, Aug. 21, from 7 to 8 a.m. at The Barbecue Restaurant.
Next week's speaker will be Wasco County Planning Director John Roberts Aug. 28.
Brown bagging it: Gorge Innoventure is hosting a brown bag workshop September 17 during the noon hour entitled "You're Making Sales, Now What?"
It's a common problem: your business is making money and covering its bills, but doesn't seem to have anything left over. How you allocate funds, and when, will make or break your business.
The workshop will teach how to calculate true spendable income, and how much should be allocated to which area of business (including how much should be spent on marketing) in order to increase production and cash flow.
Details: http://bit.ly/1q0nlhQ.
Identity protection: The Oregon Department of Revenue is reminding the public to take measures to protect their personal identity information. Taxpayers have reported receiving phone calls from individuals identifying themselves as Revenue representatives or IRS agents. The caller says the victim has a tax debt and demands payment by wire transfer or credit card and may threaten legal action.
"Revenue employees may ask you to verify personal information, but they won't threaten you or demand personal or financial information," said Ken Ross, Revenues Personal Tax program manager. Call Revenue at 800-356-4222 to check validity of tax-related calls.
READ NEXT TOP STORY: Veteran's home wins singular national honor