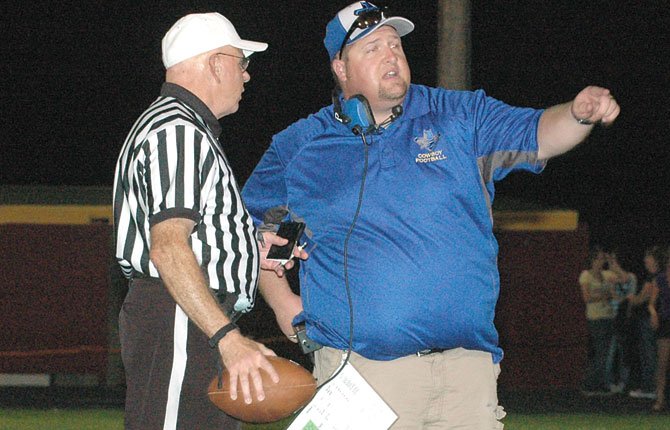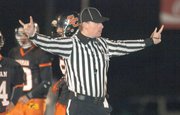 In his 30 years of officiating, Bob McFadden has seen it all and been through it all on the football field.
At 63, McFadden sees another thing quickly approaching on the horizon – retirement.
With that in mind, he wants to see an influx of young talent to take the baton and pave a new path to the next level.
His biggest worry is leaving the officiating spectrum and the numbers dwindling to lower levels, so he has offered to open up the landscape for a fresh-faced group of young men and women.
"We need to get some younger people involved," said McFadden, Commisioner of the Mid-Columbia Football Officials Association. "We want them to be a part of this fraternity. Being an official is very rewarding. You are around the great people of this area and you get to be around these young adults."
On a very real level, the outlook for attaining a new crop of officials is multi-faceted.
Some individuals balance an occupation, their families and other priorities.
Others don't want to deal with the stress of officiating, whether taking the yelling from coaches and parents or confrontations dealing with calls made through the course of a game.
McFadden assures those run-ins are sparse and that an official can call a game, get some exercise and most importantly, have fun.
"That's what this is all about. We have fun being out here on the field," McFadden said. "Yes, there are stresses, but the hope is that being here, you can be outdoors and work with the youths for a couple of hours and be around the game."
Across the football official's landscape, there has been a 19 percent drop nationally and 3.4 of that is in football.
In addition, McFadden said there were 295 individuals who just completed their first year, and another 554 who have one-to-three years of experience.
There are also 814 officials with 16 or more years of experience.
Of the 3,006 officials in Oregon, 27 percent are 45 years old and older.
"It is an aging population of officials," McFadden continued. "That's why it is important to grab from a younger crowd because a lot of us aren't going to be doing this forever."
Before a person can work a game, they must be certified and once the proper regulations are met, individuals will spend $215 for a uniform and yearly certification.
For 1A varsity games, officials can earn $56 and at the junior varsity level, $42.25. At the 5A level, varsity games are $62.25 and JV matchups are set at $46.75.
In a week and a half of games, those initial fees can be made up.
"I put it this way: Someone can spend whatever it costs monthly to work out at a sports gym and run on a treadmill or they can be out at a game and get paid to get the same type of exercise, so I think it is a no-brainer to be an official and earn a little extra money," McFadden said.
If initial fees are unaffordable to some, McFadden said his organization will spend the money to get a person up to speed and those costs will be deducted after each game, so that should eliminate any cost concerns.
"If you are interested, we will find a way to get that person on the field," McFadden said. "Everything is laid out. I think it is a great opportunity."
There is also a bond formed between officials on the field, where they are teammates much the same as home and visiting squads.
McFadden welcomes conferences and said he and some of the other veteran officials are there to help with some of the younger groups of people as they gain more experience and confidence.
There are meetings where video is used to instruct officials on the proper fundamentals and techniques and after every game, they will get immediate feedback on newly-instituted evaluation processes.
"It teaches us what we need to work on," McFadden continued. "With officiating, there is a human element to it. Nobody is perfect, but the more feedback we get and the more tools that are available, we can all get better every game."
In looking at how well, the officials have done in the past, McFadden said there have been two football individuals in the past decade who have earned Official of the Year status and three in all sports, so the Mid-Columbia area has a well-respected group overall.
"I think we do very well," McFadden said. "We have some great soccer, basketball, volleyball, baseball, and football officials. In this area, we are looked at as having some of the best. That is an honor."
Interested parties can call 541-340-1900 to get the process started or log on to www.osaa.org and register for a particular sport.
Once registered, the commissioner of each sport will contact the interested official and start the process of taking a test, training and then proper equipment purchases.
The tests take 40 minutes and there is also a 20-minute officiating principles video that follows.
McFadden is hopeful that there are several men and women who will step forward to wear the stripes.
There is so much to gain in both the present and future, he said
"Anyone who works with kids gets the joy," he said. "There is an ability there to be a positive influence. Being a part of that, giving back to the community and working with coaches and athletic directors is rewarding. I have that, so I am passing it along."
READ NEXT TOP STORY: Bodies of three climbers retrieved from Mount Rainier