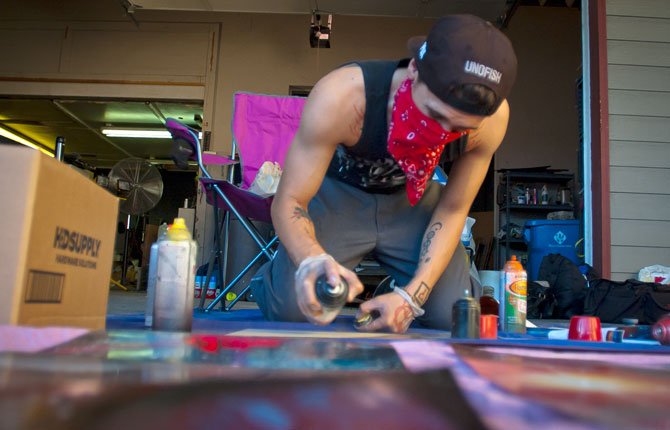 Walking around the downtown on Neon Nights, you may have noticed an old beater of a car being painted over with swirling, cosmic designs at Ernie's Locks & Keys.
The car is a 1984 Plymouth Colt, and it functioned as a large canvas for local artists Lettie Young and Angel Avila, who worked hours into the night to cover the car in as many custom space scenes as they could imagine.
"I've never tried to paint anything so huge before," Young said of the massive project. "It took us from about 5 p.m. when the cruise started until around 10:30 to get it finished, and it was really, really fun to do."
Young, assistant director and Summer Art Camp coordinator at The Dalles Art Center, said the auto art project is being raffled off to help benefit the center and its programs. Tickets are $5 each and are available for purchase at the center's front desk.
"Usually, I can do one of these paintings on paper in just a few minutes, so I wasn't sure how it would all go," she said. "But I think it turned out really well. The car runs great, and now it looks really cool, too."
Project materials were purchased by the Art Center for the project, and the vehicle itself was a donation made by the Art Center's executive director, Carmen Toll, and her husband, Larry.
"They mentioned the idea to me and asked if it might be something I'd be interested in doing and I said yes," Young said. "Everything was done totally free-hand and there were no pre-made stencils. We used magazine pages to texturize the planets and spray paint to do the rest."
Young said she and Avila will be clear-coating the exterior of the car at Ernie's Locks & Keys on Sunday to protect the designs.
Interested parties can check out the car's new paint job by dropping by the Art Center during its regular hours of 11 a.m. to 5 p.m. Tuesday through Saturday, as the car will be parked out in front of the center almost every day of the week.
The car will also be on display at the "Arts in the Park" festival Aug. 23 at Sorosis Park. Young and Avila will be selling raffle tickets as well as creating smaller works of art live for people to watch or purchase as they see fit.
Raffle tickets for the celestial vehicle will be available all month long, with the final drawing held at the Art Center on Thursday, Sept. 4 at 7 p.m. after the main reception.
For more information, call the Art Center's main line at 541-296-4759.
READ NEXT TOP STORY: Bringing back the zebra stripes