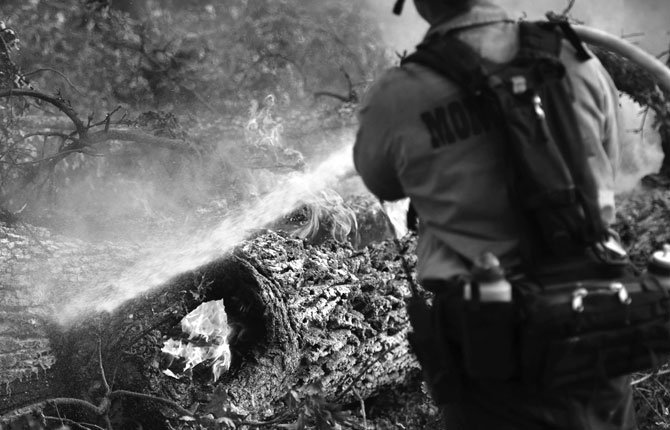 Corvallis Gazette-Times, Aug. 12:
Congress is in recess, but our forests still are burning.
Our senators and representatives blew out of Washington, D.C. for their annual summer vacation, without taking action on any of a number of common-sense proposals to rework how we pay for firefighting — proposals that over the long run would have helped to reduce the severity of future fires.
You know how this story ends: Last week, the chief of the U.S. Agriculture Department said it would have to scale back some Forest Service projects designed to help prevent fires. The money is needed instead to fight this year's fires, said Tom Vilsack.
Vilsack told reporters that about $400 million to $500 million in projects will be put on hold. He said the money set aside strictly for firefighting will run out by the end of August — and, looking at the forecasts, it seems like a good bet that the fire season will roar through most of September.
This has become an annual fiscal dance at the Forest Service and the U.S. Bureau of Land Management, the two agencies responsible for battling fires on federal lands.
The end result, of course, is that next year's crop of wildfires will burn even hotter and fiercer because we didn't have money for the type of forest work that would reduce the risk of fire. It's especially crazy in that lawmakers from both parties generally agree that the funding system is broken. Nevertheless, they left Washington with a pair of proposals still on the table to help safeguard money for fire-prevention projects.
One promising approach would move any fire-suppression spending above 70 percent of the 10-year average to a disaster funding account that is separate from Forest Service and U.S. Department of the Interior budgets. Such a designation would help preserve money earmarked for forest restoration.
An alternative approach pushed by a trio of Republican senators would allow agencies to tap into emergency funds only if they completely exhaust a given year's budget. Half of any additional money would have to go to fuel-reduction projects.
Both proposals would be better than what we have now. But, of course, Congress failed to move on either one.
Nor has Congress made a decision on a request to add $615 million to the budget to fight wildfires this fiscal year and next.
We're disappointed, but not surprised: A recent study from the Pew Research Center found that this current Congress has enacted only 142 laws, the fewest of any Congress in the past two decades during comparable time spans. And, Pew said, only 108 of those were substantial rather than ceremonial.
READ NEXT TOP STORY: Letter to the editor: Do the right thing