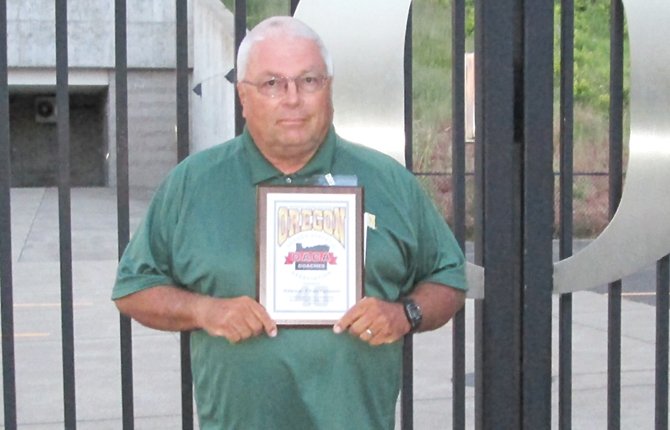 Being a coach for two, three and four decades is a huge accomplishment for any coach who stands on the sidelines.
It takes years of sacrifice and forging relationships with athletes to foster success on and off the field of play.
This summer, two coaches, The Dalles' Steve Thompson and South Wasco County's Ron Townsend, were recognized for 40 years of coaching by the Oregon Athletic Coaches Association in a banquet in Eugene.
Thompson, who retired from his post as The Dalles Wahtonka's cross country coach in 2012, missed one meet in his renowned career.
He has seen so much growth from athletes and has shared in their successes over the years.
One of those crowning achievements occurred in 2003, the last year at Wahtonka High, where he fielded a young team of cross country runners to 2A/1A state championship glory.
"This was the greatest thing that had happened in these boy's lives. It was very rewarding to be a part of that experience," Thompson remembers. "For these young boys to win the state championship in the last year of the school was truly a highlight of my coaching career."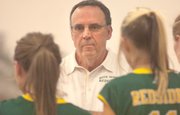 For the past four seasons leading up to this year, Townsend was a figurehead at South Wasco County High School, leading the girl's volleyball and basketball teams to greater heights.
He earned Coach of the Year honors in that span and helped guide the Lady Redsides to a great turnaround.
After 36 years in Sherman, Townsend is back on the sidelines and the administrative offices as the Husky varsity football coach and athletic director.
Here is small snapshot of what Townsend has accomplished during his illustrious tenure with the Husky nation.
His last award at Sherman was in 2010 where he was named as the 1A Athletic Director of the Year and the 1A-through-4A AD of the Year at the Oregon Athletic Director's Conference.
Townsend coached football, volleyball, boys and girls basketball and baseball.

He was recognized six times as a state Coach of the Year, won 17 league championships and had 13 state-placing teams.
Townsend won four state championships, two in football, one in boys basketball and one in girls basketball.

He also coached 10 different state all-star teams in every sport he coached, leading a group of Sherman athletes with a method of developing productive citizens as well as students.
As a former all-league basketball and volleyball player, 2014 graduate Zoe Morelli was quick to give all of the credit to Townsend.
Under Townsend's tutelage, Morelli amped her game to a higher level to the point of continuing her athletic career on scholarship status at New Hope Christian College in Eugene.
"As a freshman, I was a terrible volleyball player. It was like I never played the sport before," Morelli said with a smile. "I want to thank my coach, Coach Townsend for everything because I don't think I would have been able to be where I am today without him. I give credit to my teammates, too. They were always pushing me to get better. It all worked out to today, so I am just really thankful for everyone in my life."