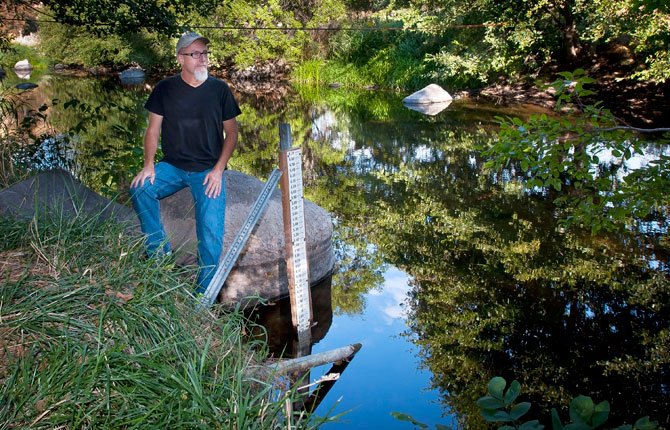 The Fifteenmile Creek Watershed Council has been recognized by state and federal agencies for innovative work to protect threatened fish runs as well as the water rights of farmers and ranchers.
In the summer of 2009, the local council was spurred to improve water quality by a kill of wild steelhead due to the high temperature of the creek.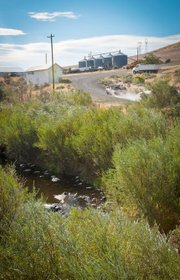 At that time, federal officials informed irrigators that they could be held responsible for activities that harmed fish protected under the Endangered Species Act.
"It was a huge learning experience for everyone in the community," said Anna Buckley, coordinator of the watershed council.
She said the 13 members of the council, chaired by Phil Kaser, organized workshops with farmers and representatives from the National Oceanic and Atmospheric Administration (NOAA) and state agencies. They explored options for keeping water temperatures safe, especially during the hot months of summer when irrigators are using the most water.
"It was a local grassroots response and it brought all the stakeholders to the table," said Buckley. "We invite all perspectives because that's the only way we are going to solve these complex issues."
The end result of the council's research was enactment of a program in 2013 that sent automated email and phone alerts to irrigators when the water temperature began to climb.
Farmers and ranchers were asked to temporarily reduce their outtake from the creek, which left more water for fish. More than seven irrigators cut back diversions the first year to the point that biologists found fish congregating safely in cool deep pools during the summer heat.
"No fish died, so it was a good trial run," said Buckley.
The model used for the program was developed by Derrek Faber of the Oregon Department of Fish and Wildlife and projects creek temperatures seven days in advance.
Even prior to the alert program, some farmers had already been working with the Freshwater Trust. The conservation organization obtains funding from the Columbia Basin Water Transactions Program and the Oregon Watershed Enhancement Board to lease water from people who hold state-sanctioned water rights and keep it in the creek to benefit fish.
During times in July and August when the temperature is up, participating irrigators agree not to use water and, in turn, are compensated on a rate per gallon based on the value of their water rights.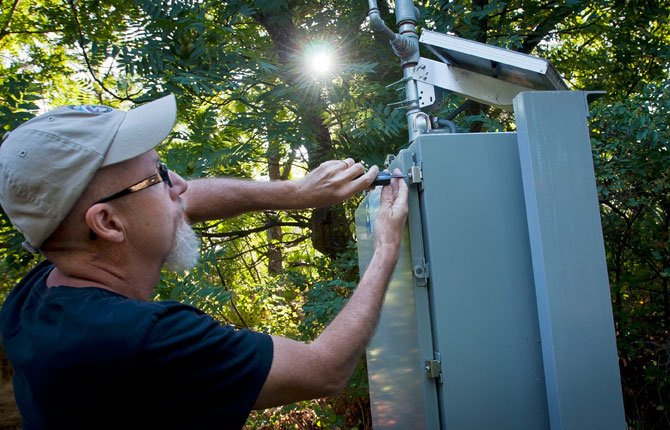 Robert Wood, state water master, is in charge of monitoring the meters at diversions along the creek to implement Oregon Water Law.
He works for the Oregon Water Resources Department out of a field office in The Dalles and is charged with regulating water rights and enforcing rules. He also provides the watershed council with technical assistance.
"We have a lot of stakeholders who are very proactively involved," he said.
Buckley said the council's next step is to use funding from an Oregon Water Resources Department grant to perform an above-ground reservoir feasibility study of a long-term solution to water scarcity. The Fifteenmile watershed is a 373 square mile — or 238,720 acre — drainage area mostly in northern Wasco County but also with some headwaters in Hood River County. The watershed receives most of its rain in the winter, the average 27 inches per year in the west and 12 inches to the east.
Buckley said by mid-June most of the snow pack in the creek's headwaters on Lookout Mountain has melted off, so inputs from groundwater are all that's left during the summer to meet irrigation and in-stream flow needs.
The level of the creek drops low enough to cause warmer temperatures and exceeds state water quality standards for temperature.
She said another study that the state water department is looking at is the interaction between groundwater and surface water to develop a water budget for the watershed. This will shed light on the amount of annual groundwater recharge that occurs and what influence irrigating from wells may have on the ground water that feeds the creek.
Although the price tag of constructing a storage reservoir off the creek might be prohibitive, Buckley said the feasibility study will also explore whether a dam can be built to accommodate the competing needs of federally protected steelhead and irrigation.
"We will find out if it's even a possibility," she said.
Gov. John Kitzhaber is now pushing for new projects to improve the availability of water during the dry summer and fall months, so the reservoir might be given a green light.
If some of the winter and spring stream flows can be stored without impacting fish habitat, Buckley said the question of where to release that water will need to be addressed. She said water stored in a still lake — three sites will be looked at — is likely to warm up the creek so it might have to be diverted into fields instead.
"That is going to involve a look at water rights transfers so there is going to have to be a lot of coordination among irrigators to figure out how to make it work," she said. "These projects are not going to be cheap and we are going to have to look at whether the economics of the work will pencil out."
The study began this month and is expected to be completed by June 2015.
"This project is charting new ground so we're trying to make sure that what we're doing isn't stepping on Oregon water law and is working for the landowners and the fish," said Wood.
A Rancher's Life is a year-long series by reporter RaeLynn Ricarte and photographer Mark B. Gibson of The Dalles Chronicle. Here are the stories so far:
A Rancher's Life and A 'big picture' outlook started the series January 25, 2014.
All in a Day's Work and Moving cows is just the beginning were published February 12, with Weathering the storms. An audio slideshow, Working cows, was also published in February.
March started with a look at wolves in two parts, Wolf trouble and Wolves on the move. It continues with Springs promise, a look at calves and spring on the ranch.
An editorial, "More defenses needed," wrapped up coverage on this issue.
May started with the story exploring the trouble faced by one ranch, whose story is told in new feature-length movie screened locally in Hood River. One family member currently lives in The Dalles, and in "A Place to call Home" she tells her story.
May also featured multiple stories addressing the issue of public grazing, an issue researched by reporter RaeLynn Ricarte for over four months. The issue is first explored in"Battle rages over grazing rights." Much of this battle has been fought in court, and "Taxpayers foot the bill of resource lawsuits" explores one aspect of this battle. Additional stories followed: Seeking balance on our public lands, A place for cattle, Activist disputes accusation of fee gouging, An embattled system,and Walden: Scrutiny need on species regulation.
The May presentation ended with an editorial expressing the need for public grazing in the western states, Resources to Thrive.
A special section, Farm and Ranch, further broadened and expanded the series in June. it is available as a .pdf document: Farm and Ranch.
As July brings hot dry weather, it's a great time to explore the impact water, and a lack of water, has on the ranch community. Water is a precious commodity in Eastern Oregon. Ditch walker Sam Cobb is in charge of how the water in water stored in Rock Creek Reservoir is distributed in the article "Ditch Walker: Water is gold, here"
In August, the second edition of Farm and Ranch explored the stories and people behind some of the brands in the region.
Water issues were further explored in August, with three-part presentation:
State and federal rules water rules impact ranchers throughout the region. Water dispute boils explores state regulations and how they impact ranch operations. A related story looks at a study launched by ranchers working with OSU to study water issues in arid and semi-arid lands.
Federal proposals to change or clarify what waters are under federal jurisdiction has many agriculturalists worried, and represents yet another clash over water.
Locally, efforts are being made to work collaboratively to improve water quality on 15-mile creek for both fish and farmers. The creek is used for irrigation.