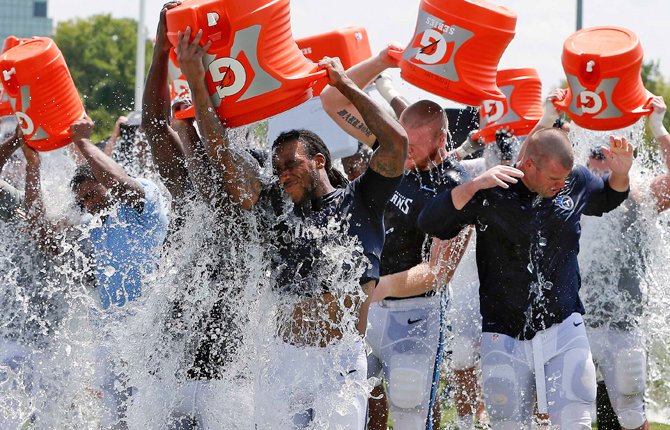 The ALS Association has hit upon a winning formula for raising money for a good cause — for as along as it lasts.
Thousands of people, including quite a few celebrities, have willingly agreed to dump large buckets of water over their heads in lieu — or more likely in addition to — donating to the effort to find a cure for Lou Gehrig's Disease.
With so many people raising buckets, it's a wonder ALS has raised so much money: more than $53.3 million from 1.1 million new donors.
The campaign has been the stuff of social media legend. Some folks have gotten creative about the activity. Bill Gates, for example, designed an elaborate contraption using not only pencil and paper, but his Microsoft Surface tablet, too, before pulling a string that tipped the water over his head.
Not only videos of the act of water-dumping filled the Facebook and Twitter feeds, blooper videos have also gained popularity. They're less funny than you'd think as the subjects have crockery broken over their heads, fall from high structures, or have a cooler of water and ice dropped, not poured, over their heads. We suspect at least some of those subjects ended up in the hospital for their trouble.
Residents of the Columbia Gorge have also been challenged. We encourage anyone thinking of taking part to do it carefully and with an eye toward safety. The icy water probably won't hurt, but the container, the location and any other objects in the area could cause harm.
The ALS Association didn't invent the ice bucket challenge. The Chronicle first reported on a Cold Water Challenge, frigid water to be exact, back in July when local law enforcement officers subjected themselves to such a challenge to honor men, women and canine officers who died in service to their communities.
The silly stunts draw the media spotlight, but the causes are deadly serious.
Amyotrophic Lateral Sclerosis is a tortuous neurodegenerative disease that usually attacks both upper and lower motor neurons and causes degeneration throughout the brain and spinal cord. Symptoms commonly start with a painless weakness in the hand, foot, arm or leg. Other early symptoms include speech, swallowing or walking difficulty, according to the ALS Association of Oregon and Southwest Washington.
"Gradually, a person is robbed of the ability to walk, speak, eat and, eventually, breathe," wrote Marianne Sansour of The Dalles in a 2013 story for The Chronicle.
The ALS challenge is making other charitable groups rethink how they connect with potential young donors.
It's true that the social media set is very responsive to spectacle-type stories. We've seen the positive and the negative of that, of course, through recent years.
It would be nice if people supported causes on their merit, instead of the spectacle involved, but the challenge for nonprofits is to find a way to draw the attention of as many donors as possible.
In that, the ALS Association has famously succeeded. The challenge for others will be to raise the stakes by finding new activities to keep the fickle attention of the often flighty social media set.