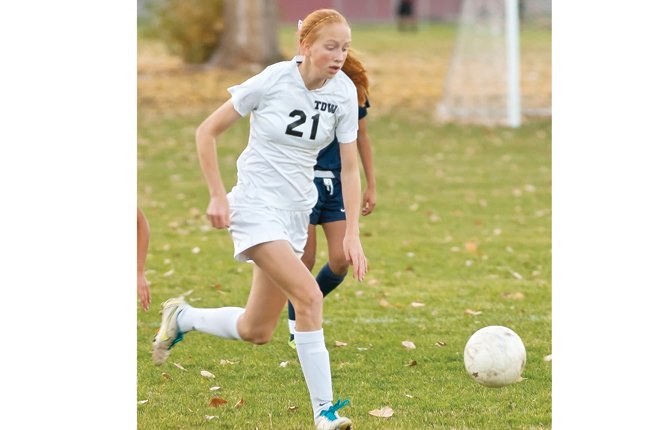 Roster and schedule
Colby Tonn ................Head Coach
---
Alexia Tapia 9
Emma Weir 9
Megan Heron 9
Alicia Torres-Munoz 10
Brooke McCall 10
Eugenia Fernandez 10
Giselle Manzo 10
Haley Jorgensen 10
Ivorie Taylor 10
Omayri Cornejo 10
Shaynie Watson 10
Emma Ell-Smith 11
Gladis Barajas 11
Hannah Mazeski 11
Hannah Walasavage 11
Jennifer Bonham 11
Monique Mendiola 11
Bri Stavaas-Jamack 12
Johanne Strand 12
Kimberly Vasquez 12
Marisa Cianci 12
Marta Gamez 12
Melissa Cruz 12
Yesenia Aguilar 12
---
2014 SOCCER SCHEDULE
at Century .............1 p.m., Aug. 28
at Mac-Hi ................4 p.m., Sept. 2
Host Redmond .....4 p.m., Sept. 4
at St. Helens .........4 p.m., Sept. 11
Host Ridgeview .4 p.m., Sept. 16
at Madras ............4 p.m., Sept. 18
Host Glencoe.....4 p.m., Sept. 22
at Benson ................TBA, Sept. 25
at Hermiston.........4 p.m., Sept. 30
at La Grande............4 p.m., Oct. 2
Host Pendleton......4 p.m., Oct. 7
Host Hood River...4 p.m., Oct. 14
Host Hermiston....4 p.m., Oct. 16
at Pendleton...........4 p.m., Oct. 21
at Hood River..........4 p.m., Oct. 28
State Play-In...............TBA, Oct. 31
State Playoff................TBA, Nov. 4
This may be her final season as an athlete of The Dalles High School, so senior defender Marta Gamez and six of her veteran teammates know the importance of valuing every kick, pass, tackle, practice, bus trip and game during the 2014 season.
Gamez and the newly-formed Riverhawks boast a lot more experience throughout the roster and have speed up front and stout defenders in the back looking to erase a two-year playoff drought.
"For a lot of us, this is our last year playing, so we need to come out hard from the first game of the season," Gamez said. "It is important for us to give it everything that we have, so there are no regrets. In order for us seniors to be successful, we need all of the girls to come ready to go."
In 13 contests last season, the Eagle Indians won four and tied two for 14 points. The Tribe defeated Mac-Hi, Madison, Benson and Hermiston by a combined margin of 6-1.
The team will hit the field without Ruthie Ford, Sierra Watson and Grace Helyer, and lost a sprinkling of seniors, but there are plenty of weapons in tact to replace those contributions.
Two-time all-league winner and 2013 first-team midfielder Hannah Walasavage led her team in points with three goals and two assists.
"I like the players we have at forward," Walasavage said. "We have speed and we can pass and move without the ball. Once we get a couple of games in, we should be able to do some good things."
Monique Mendiola, an all-league forward, brings her blend of speed and scoring touch to the front along with sophomore Brooke McCall.
In addition, Jennifer Bonham and Kim Vasquez add some pop as well, so the pieces are in place to expand past the 13 goals the team scored a season ago.
Walasavage is not worried about who is not on the roster, but who is there willing to put in the extra work and are willing to sacrifice to help the team win games.
"We have a close team here now and players who care about winning," she said. "If you have that, I think it will help you more in the long run. We want to take state and the girls we have now are going to help us get there."
So far in camp, that has been the case, as a group of 24 players are running harder and are working a little more crisply formed in passing and dribbling drills.
On the back line, the Riverhawks will replace first-team all-league goalkeeper Nayeli Lopez and replace her numbers with either Bonham or transfer Haley Jorgensen.
In front of the goalie, TD has an all-league defender in Gamez, a team captain in Bri Stavaas-Jamack and a fundamentally sound athlete in Melissa Cruz forming a wall to stop the opposing offenses.
"We are looking to have a good core group of seniors back there," said TD head coach Colby Tonn. "We are going to use three back there and our goal is to have all three of them maintaining constant communication, having everyone on the ball and keeping the back line tight. They are all experienced and they are solid, so I feel comfortable with them back there protecting the goal."
Yesenia Aguilar, Hannah Mazeski, Emma Ell-Smith, Giselle Manzo, Alexia Tapia, Emma Weir, Eugenia Fernandez, Ivorie Taylor, Gladis Barajas and Johanne Strand make up some of the players who will fill in some slots on the field.
Every player is ready to jump in the fray, so with spots open for the taking, it has created some good competition for varsity minutes.
Getting in peak physicality is at the forefront.
"We have been really hitting conditioning," Tonn said. "Not only with speed and running, but strengthening. In years past, we have been slow coming out of the gates. Sometimes a draw at the beginning can nip in the end. We are focusing on getting the team game fit as soon as possible."
The sooner the better is critical because once Columbia River Conference play starts Sept. 30 in Hermiston, all of the elements need to be running in full motion in order to compete with the elite of the league.
"Until somebody unseats Hood River, I mean they have won league every year. They got to be the favorites," Tonn said. "Hermiston lost two of the better players in the league. I know they lost a lot of seniors, but I also know that they play in the Tri-Cities, so I feel like they are going to reload. Also, I have been impressed with Pendleton in the last couple of years. They have a couple of freshmen who are dangerous."
Any of the preseason goals is certainly attainable according to Walasavage and Gamez.
As long as injuries are cut to a minimum and communication and camaraderie are focal points, the execution of the fundamentals should be right on cue.
"I believe in this team," Gamez said. "We know what it is going to take to be successful this season. We have to come together more and play tough."
The Dalles' first game is a jamboree at 1 p.m. on Thursday in Century.
After that, the team heads to Milton-Freewater for a match against Mac-Hi.