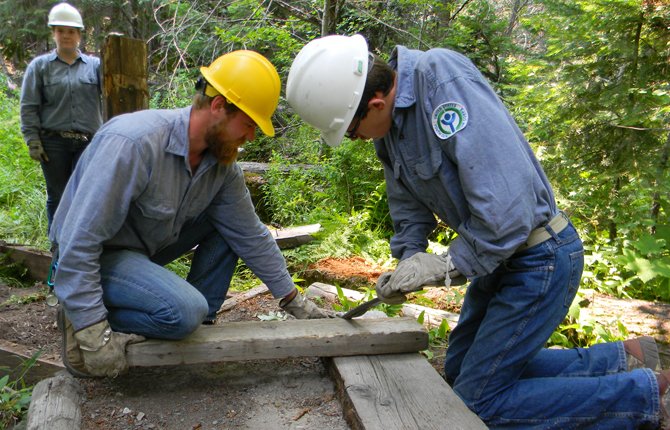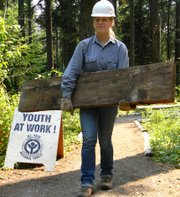 Four area students battled their way through summer heat and unruly brambles June 23 through Aug 15 in an 8-week stint as Barlow Ranger District's Youth Conservation Corps participants.
They summarized their experiences with words like "hard work," "intense" and "all-around awesome."
Whether it's tearing up boards from a rotting boardwalk trail in order to allow safe passage at the Lower Eightmile Creek campground outside Dufur or assembling a new fence in Tygh Valley, it's just another day in the life of a Mt. Hood National Forest YCC-er.
Dustin Silvey, a student at South Wasco County High School, said the variety of work activities seemed almost endless.
"We've done lots and lots of tree-pruning, repainting and fence-building," he said. "It's hard work, but then I live on a ranch and it's not like I'm paid to do the work there, so this is a pretty nice change."
The Dalles High School students Damien Lutgens and Brittany Bernstien said they agreed.
"Most people work at fast food restaurants during the summer," Lutgens said, "but here we get to work and be out in nature every day. For me, that's the much better option."
Bernstien said this year's crew has done a fair amount of "buck and pole" work, referring to the assembling and disassembling of fences made with long, heavy 12-foot rails.
"We hand-drill the holes and hammer in the spikes. Your shoulders get sore pretty quickly, but you get used to it," she said. "The fences are there to protect the riparian area from cattle and ATV activity on the trail, and that's what I like about the project—you get to see what you've accomplished and why it needed to be done."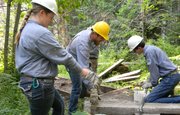 According to long-time YCC program manager David Gross, this crew's reached the point where they can assemble a 10-foot section of fence in about seven minutes.
"This is a good crew," he said. "They work hard and they work particularly well with each other. It's been a great time."
Students' hard work earns them both a minimum wage and even academic credits toward graduation at their respective schools. The days may be long, but most agreed the results were well worth the effort.
"It's been a really good experience and I've learned a lot," Spring Keyser, an upcoming junior at Dufur High School, said, adding that she especially enjoyed having the opportunity to explore the beauty of the national forest while on the job. "It's definitely a lot better than spending the whole summer bored or at home."
Several of the students cited previous outdoor recreational experience and participation in sports as having inspired them to sign up.
"The great thing about it is it challenges you to step outside your comfort zone," Dillon Edwards, YCC crew leader and current OSU student said. "It's about teaching universal responsibility. One of the very first days, we were asked what we were most afraid of, and many of us said spending the rest of our lives in a cubicle. No one was afraid of sharks and I was the only one afraid of lightning, but everyone here was dead set on never being trapped inside a cubicle."
Instead of spending their summers the more traditional way — namely inside and on the couch — YCC workers dedicated most of their vacations to working outdoors learning how to protect the national forest.
"I just don't think I'd do well seeing the same, unnatural scenery every single day," Bernstien said. "Spending all my time sitting in a chair indoors doesn't sound like a very fun time to me."
Silvey said he was thinking about joining a fire crew someday, while Bernstien, Lutgens and Keyser agreed they'd likely prefer more physically active professions as well.
In the mid-1970s, the Forest Service received money to operate the Youth Conservation Corps program, which Gross said he considered "the glory days." Congress later de-funded the program in the 1980s, causing a drop in the number of youth served from 20,000 to today's about 800 nationwide, while maintaining the expectation that the Forest Service would continue to carry out the program despite the lack of designated funds.
Since the 1980s, roughly 800-900 youth are served by the program each year, with Gross supervising two, usually 5-person crews, one based in Dufur and the other in Parkdale.
Interested participants aged 15-18 are welcome to enter their names into a random drawing for next year. For some students, YCC may be their first paid, full-time work experiences.
"We have three objectives," Gross said. "To provide a meaningful work experience for students. None of this is made-up work. Everything we do needs to be done and every project has a specific purpose. We also strive to teach them how to better the management of the national forest and encourage them to become more familiar with conservation efforts and maintaining our natural resources, while also giving them the opportunity to experience personal growth along the way."
With more than 35 years of experience with the YCC program under his belt, Gross said funding challenges differ from year to year.
"Nowadays, I take money out of pocket and supplement it with community's contributions to make it all work," Gross said. "You really have to credit our community partners for keeping this program alive, because without them, we simply could not afford to do this."
Supplemental funding from local organizations including the Hood River County juvenile department, Wasco County Soil and Water Conservation District and the Oregon Youth Conservation Corps non-profit aid in the effort to keep the program alive and kicking.
Many of the students Gross has seen successfully complete the program undergo positive, even life-altering changes afterwards, he said.
"They come out with a different sense of purpose," he said. "Here, they work with peers they might otherwise have never associated or made friends with in school. The type of work we do increases self-worth and heightens self-esteem. It teaches students skills that are directly transferrable to all other aspects of life — how to work together as a team and not be so self-centered in their own pursuits. The natural environment is unique in that I think it has the ability to change perspectives in a way that's just not possible anywhere else."
For more information about YCC or how to get involved, contact Gross at 541-467-5104, or by email at dgross@fs.fed.us.