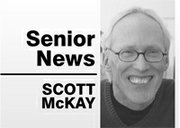 How many times have I heard that folks don't come to the Mid-Columbia Senior Center because it is just for old people — as if there is something wrong with being older.
Is it a fear of catching some kind of "old age" contagion that will cause you to lose your cognitive abilities or sense of humor?
I meet folks every day at the center ranging in age from 50 to 90 plus and they don't exhibit the common stereotypes of "old." These include: tired, unhappy, crouched over with a walker or cane — although you will find them and the occasional wheelchair being used by folks to come to the many activities at the center. They are tools to stay active and engaged.

What is "old?" Bernard Baruch stated "Old age is 10 older than I am." According to the 2009 Pew Research Study "Growing Old in America: Expectations vs. Reality," he isn't far off the mark. The study found that as people grew older, they felt relatively younger. Among adults 65 and older, 60 percent felt younger than their age. Of those between 65 and 74, half said they felt 10 to 20 years younger.
In terms of chronological age, academics have categorized old age into three sub groups: the Young Old 65-74, the Old 75-84 and the Oldest Old 85 plus. But chronological age doesn't really help either, because it doesn't correlate with biological age. As Leonard Hayflick points out in his book "How and Why We Age," time itself produces no biological effects. Events occur in time but not because of its passage. In fact, there is really no reliable measurement for determining our biological age. Appearances alone don't determine how old we are.
The reality is we all start aging the moment we are born; we cannot stop it or reverse it — contrary to what they may tell you in various advertisements. Arriving at the point of being "old" is an individual experience which resists any absolute definition.

The greatest challenge may not be determining when we become old, but changing the perception of what old is: moving from the demeaning stereotypes to a full picture of the blessing and burdens of getting older.
My Aunt Mo, who I quoted last week, is one example of many who break the stereotypes of old age, But she is also proud of being old at the age of 99 and isn't afraid of the label. It is something she works at — and every day she relishes the chance.
The center is looking for musicians interested in playing good danceable music on Tuesday nights. Unfortunately, the pay is just a share of the donations, but it could be your first step to Nashville stardom.
But there is still plenty of music at the center starting with Martin and Friends Tuesday, Sept. 9.
The mustached, henpecked, cigar-chomping, comic strip character wearing gloves and a top hat was "Barney Google (with the Goo-Goo-Googly Eyes). (The winner of a free Saturday Breakfast is Herm Neuberger).
For the next several weeks, I am going to add a little "Chubby Checker" twist to the "Remember When" question by giving the hint in the form of a quote. For this first week, the quote is, "If that plane leaves the ground and you're not with him, you'll regret it. Maybe not today. Maybe not tomorrow, but soon and for the rest of your life." In what movie and by what actor were those lines spoken? E-mail your answer to mcseniocenter@gmail.com, call 541-296-4788 or send it with the lyrics to "As Time Goes By."
Well, it's been another week trying to keep the boat upright and water tight while enjoying the ride. Until we meet again, eat slowly while savoring each bite.
Menu
Wednesday (27) Pork Roast and Gravy
Thursday (28) Meatloaf and Macaroni Cheese
Friday (29) BBQ Chicken
Monday (1) Closed
Tuesday (2) Ham with Sweet Potatoes