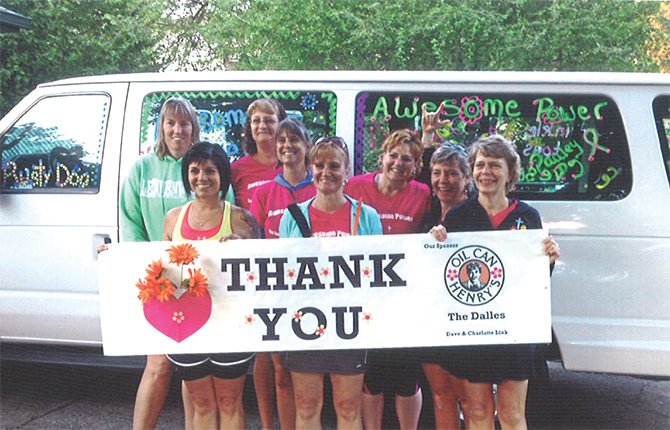 With every thrust of their arms and pounding of the pavement, for eight members of team Awesome Power, the passion for competition, the strive for success and the togetherness of family reign its highest whenever they participate in walk relays, marathons and half-marathons.
This past weekend at the World's Largest Walk Relay, this esteemed group garnered fourth place in their division and 22nd overall while walking against more than 420 other teams in the Portland to Coast event.
For the past 12 years, this group of over-40 women have been shoulder-to-shoulder against some standout athletes.
Kendra Starks, Deanne Saldivar-Witter, Diana Pishion, Paula Fairclo, Tracie Schubert, Sarah Picket, Dawn Opbroek, Judy Powell, along with alternate Debbie Harth, each do three legs of the race with top marks on their minds.
"We are not just a team that gets together once a year and hopes for the best. It goes way beyond that," Fairclo said. "We are very good friends."
It is not the first time Awesome Power has been in the medals.
In fact, they have placed between third and sixth place 11 times in their 15 years of competing in Portland to Coast.
They started in 1999 and have very little change to its team members, as Powell is one of the newest members.
The least amount of time anyone on the team has competed is 11 years. The team doesn't just compete in Portland to Coast, they also compete throughout the year in marathons and half-marathons
In addition to togetherness, drive and passion, faith plays a huge role in their successes.
Taking a profound scripture from Philippians 4:13, the team motto is, 'I can do all things through Christ who gives us strength.'
"We have gone through some of the best and worst days of our lives," Fairclo added. "We are a team of women who started out as acquaintances and became sisters. We couldn't continue this many years without the support of our families."
In order to perform at an optimum level, these athletes rely on a collaborative effort to keep the machine moving.
Russ Pishion is in charge of taking the wheel on these long road trips, so the walkers can be rejuvenated and focused on the task at hand.
"We just couldn't do it without him. He is our greatest supporter," Fairclo said. "I can't tell you how nice it is to hear his friendly voice at 3 a.m. when you're walking in the pitch dark say, 'You're doing great. You're almost there.'"
Fairclo and her mates also have a strong support system in place from local business, Oil Can Henry's to help with uniforms, entry fees and other costs.
This has been a marriage working on more than a decade.
"Dave and Charlotte Link have not just paid our entry fees, they have been at the coast and cheered us on," Fairclo continued. "We are so thankful and blessed to have them. They truly are part of the team."
While Awesome Power is on the top of the list of local walking teams in the heat of action, the Go Go Girls, led by captain Jennifer Ashley are right up there.
Super Sleuths and captain Symantha McClennan make up another cluster and another team, led by Doug Roland, are right on par with some of the high profile groups in the walking circuit.
With such a strong presence, there are plans down the line to establish a running team for the Hood to Coast event soon.
For more information on joining a walking team in the future, interested parties can call 541-980-8025.