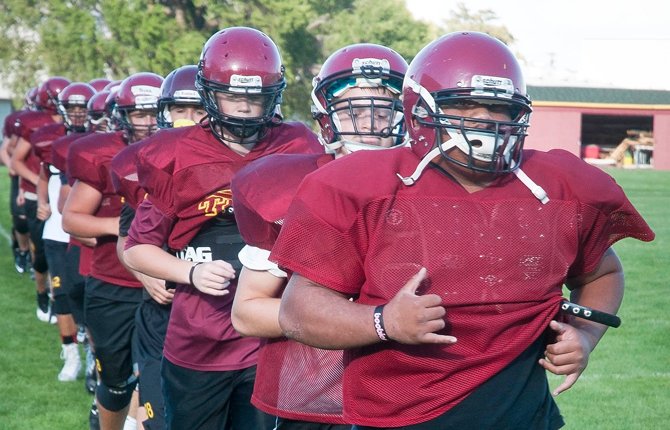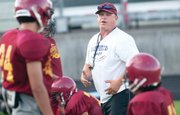 With the loss of nine all-league senior leaders, many questions surround The Dalles High School football team.
The newly-named Riverhawks come in with just two returning seniors and six juniors on a squad that won five games and punched a playoff ticket in 2013. But with uncertainties looming large, there is a feeling in the locker room that they will be underestimated by many this fall.
That does not sit right with running back and linebacker Payton Eaton.
TD FOOTBALL ROSTER
Steve Sugg ...............Head Coach
---
Key Players
Payton Eaton.......................RB/LB
Devin Wilson........................RB/LB
Colton Lee...........................OL/DL
Bryce Belanger...................WR/DB
Joey Duong.........................OL/DL
Riley Bardes.........................OL/DL
Glenn Breckterfield............WR/DB
Addison Smith.....................RB/LB
Antonio Argueta.................WR/DB
Dominique Seufamelua......QB/DB
Jacob Wetmore..............TE/OL/DL
Cory Cameron.....................OL/DL
Jordan McGuirk...................OL/DL
---
2014 FOOTBALL SCHEDULE
at Redmond .....4:30 p.m., Aug. 28
Host Molalla .........7 p.m., Sept. 5
Host Vancouver .7 p.m., Sept. 12
at Redmond .........7 p.m., Sept. 19
Host Summit......7 p.m., Sept. 26
at Ridgeview ............7 p.m., Oct. 3
at Mt. View..............7 p.m., Oct. 10
at Hermiston...........7 p.m., Oct. 17
Host Pendleton....7 p.m., Oct. 24
at Hood River..........7 p.m., Oct. 31
State Play-In.............TBA, Nov. 7-8
State Playoff.........TBA, Nov. 14-15
State Playoff.........TBA, Nov. 21-22
State Title..................TBA, Nov. 29
"Not only are we being overlooked by other teams, but by the fans," Eaton said. "A lot of people think that we are not going to be as good. The more I think about people talking about us doing bad this year, it makes me want to go out and work harder to prove people wrong. I think we have everything to win. We can't do anything else now but show them."
Instead of having tall receivers and a veteran quarterback to throw the ball all over the lot, the Riverhawks plan to use their depth at the offensive line and the skill of Eaton (6-foot, 185-pounds) and Devin Wilson (6-1, 170) to pound the ball at the opposition.
In his sophomore season, Wilson saw some time on the gridiron and showed that he could turn into a lead back, showing an all-around game.
Wilson had 28 rushes this season for 110 yards, and from the backfield, he notched 23 catches for 225 yards and three scores.
"Those are our go-to guys," said second-year head coach Steve Sugg. "They are going to have to carry the load for us. Both of them can run very well between the tackles, they're both big, strong, physical runners and they both can catch the ball. It is going to be my job to figure out how to get them the ball in space. Those two guys have a chance to have a great year."
Last season, The Dalles mustered 1,683 yards on the ground on 331 attempts to go along with 19 touchdowns.
Through the air, the team amassed 2,203 yards and 20 more scores for 286 points, an average of 28.6 points per game.
With a sophomore quarterback in Dominique Seufalemua calling the signals, Sugg plans to ease his future cornerstone quarterback into the varsity mix.
He still has Antonio Argueta, Glenn Breckterfield and Bryce Belanger at receiver to make some big plays downfield.
"Last year was his first year playing quarterback at the junior varsity level. He is going to be a great one though," Sugg said of Seufalemua. "He has got a ton of potential, he has shown a lot of leadership skills and he is going to do some great things."
Early in camp, a huge bright spot for the Riverhawks has been the number of linemen who could make a difference.
This group will look to expand upon the 41 touchdowns and 25 of 40 conversion rate in the red zone.
Returning seniors Riley Bardes and Joey Duong are the anchors on the line and as many as 22 others can have their names called to open holes for the running game and keep Seufalemua clean.
Along with that dynamic duo, any of Colton Lee, Jacob Wetmore, Cory Cameron and Jordan McGuirk, to name a few, are set to win the battle of the trenches.
"We can't do anything without blocking. If we don't block, the offense is not going to be able to go very far," Wilson said. "We are pretty young and we are not the fastest or the strongest, but we are going to play the hardest. I think doing that, executing and using the fundamentals is what will get us our wins."
In five categories last season, The Dalles saw an uptick in totals, including interceptions, sacks, tackles for loss and time of possession.
With the depth at line and the trio of Addison Smith, Eaton and Wilson at linebacker, this defensive unit could very well take another leap forward.
The one concern is at secondary, where TD will have some young players as the last line of defense.
With those progressions made under defensive coordinator Rich Belanger, 12 players earned a spot on the all-league list.
The Dalles defense picked off opposing quarterbacks 14 times and recovered eight fumbles.
They had 17 sacks from nine different players, and of the 511 tackles logged by TD, 87 went for a loss of yardage.
Also, the crew held opposing offenses to 45 of 123 on third downs, and 15 of 39 on fourth down conversions for 38 percent.
In six games this season, The Dalles held its opponents to 28 points or less, going 5-1 when that occurred.
All told, opposing offense posted 3,892 yards of offense, but just 2,033 through the air for the state's 28th-ranked scoring defense (32.8 points a contest).
"Defensively, we are pretty excited," Sugg said. "We think we are going to be better than we were last year. We are going to attack people. That is our mentality. We want an attacking defense that will swarm to the football."
Once again, the Columbia River Conference is going to be one of the toughest divisions in the 5A ranks.
Hermiston is not only pegged to win a division crown, but figures to be in the conversation for title status.
Pendleton is legit with a well-coached team and a huge crop of returning players back for a big season.
Hood River Valley played some good games last season under Chad Sperry and should not be cast aside by any stretch.
Regardless of who is on the other side of gridiron, Wilson said the biggest key lies between the ears.
"We are going to have to believe that we can win," Wilson said. "If we don't think we are going to win, it is going to be hard to be successful. We are going to have to believe, stay conditioned and work on our techniques and hitting, then we will be in good shape."
The Dalles kicks off the regular season at the Redmond Jamboree starting at 4:30 p.m. Thursday.
READ NEXT TOP STORY: CGCC pursues tech center