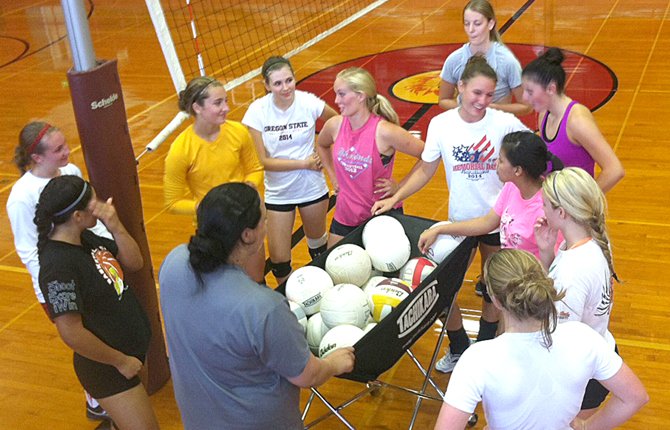 Roster and schedule
TD VOLLEYBALL ROSTER
Neticia Fanene ..........Head Coach
Kelly DeLeon........Assistant Coach
Tim Logue............Assistant Coach
---
Key Players
Lori Cimmiyotti.........................MH
Morgan Goslin.............................S
Olivia Starks..........................MH/B
Maddy Bradford.......................OH
Deysi Velador.......................Libero
Jodi Thomasian........................OH
Savannah Bass............................S
Elizabeth Peters........................RH
Keatin Logue.............................DS
Sierra Watson...........................OH
Iliana Telles...............................OH
---
2014 VOLLEYBALL SCHEDULE
at Ridgeview ..........6 p.m., Sept. 2
at Bend..............7:30 p.m., Sept. 5
at Mt. View..............4 p.m., Sept. 6
Host Sherwood.....5 p.m., Sept. 9
at Redmond ....5:30 p.m., Sept. 16
Host Hermiston .6 p.m., Sept. 18
at Wilsonville ...........TBA, Sept. 20
Host Pendleton..6 p.m., Sept. 23
at Hood River ..6:30 p.m., Sept. 25
at Parkrose...............TBA, Sept. 27
at Hermiston.........6 p.m., Sept. 30
at Pendleton.............6 p.m., Oct. 2
Host Hood River....6 p.m., Oct. 8
at Hood River............TBA., Oct. 11
Host Hermiston ...6 p.m., Oct. 14
Host Pendleton....6 p.m., Oct. 16
at Hood River..........6 p.m., Oct. 21
State Play-In.........TBA, Oct. 24-25
State Playoff.........TBA, Oct. 28-29
State Playoff..............TBA, Oct. 31
They have a new nickname, a new mascot, a new coach, a few new players and rejuvenated attitude when it comes to the start of the 2014 volleyball season.
All that has occurred in recent years is the past, and all-league middle hitter Olivia Starks is ready to build a new legacy in her final varsity journey.
"I think this group is willing to embrace change and I think that is really important," said Starks, who was a first-team all-Columbia River Conference selection last year. "With the new name, we are going to come out with a new intensity and a new excitement for the game."
Under new coach Neticia Fanene, the Riverhawks have a former All-American athlete, who played at top level on the biggest stage at the University of Oregon.
She brings fresh ideas and style of coaching that is based on positive re-enforcement and an upbeat mentality.
"I am very excited to be coaching this group of girls. I definitely see something in them that lets me know they want to win," Fanene said. "I think the huge thing is that we have a lot of athleticism, lots of talent and a lot of potential. We just need to put together those volleyball skills, fix the little things and execute well and we will be able to win some matches."
Starks is just one of the marquee names back in action.
On her swings, she connected on 4671 of 620 for 76 percent and added a split of 218 for 471 for a 46 percent kill average.
The 6-foot-2 inch standout had 66 of 95 on blocks, went 201 for 250 on serve-receive and connected on 127 of 151 serves for 84 percent.
Also, Lori Cimmiyotti, another all-league qualifier, brings a multi-faceted game to the squad.
Last season, she connected on 321 of 424 swings for a 76 percent hitting number.
She went 36 of 69 on blocks, 123 for 203 in digs and hit on 80 percent, 190 of 238 on serve-receive.
An area Cimmiyotti really excelled was the service line, where she struck at 217 for 228 attempts for a team-high 95 percent.
Joining Starks and Cimmiyotti on the hitting side will be Maddy Bradford, Jodi Thomasian, Elizabeth Peters, Sierra Watson and Iliana Telles.
Setting up the passes to those high flyers are returning starter Morgan Goslin, and incoming transfer, out of Washington, Savannah Bass.
"The setter should be the leader of the team," Fanene said. "They run the offense much like a quarterback. I expect my setters to be the quarterback of the team. They help the run the plays, get the team going and help direct them and get them communicating with each other. These girls have that ability and I want to see them out there taking charge."
Peters is immediately drawn to the aura of this team as well.
It all started with some team bonding, and the camaraderie has continued thus far late in camp.
"I am really excited because they are definitely good players and they help each person do their best," Peters said. "They are real encouraging, real helpful and do a good job of keeping everyone together and making sure everything is working well."
Depending on the opponent, Fanene plans to vary her formations from game-to-game until she finds the right mix of players who can execute.
And while all the kills and counter-attacks get all of the glory, she is dead set on building a defensive juggernaut.
Deysi Velador and Keatin Logue take on huge defensive roles in the back row, with serve-receive, digs and passes needing to be their point of emphasis.
"There is no offense without defense, so I think with our back row players just getting the ball up off the court, that'll be more than enough to get us where we want to go," Starks said.
Once again, the CRC will be a tough nut to crack for these Riverhawks. Last season, both Pendleton and Hermiston went a combined 14-4 in league action and Hood River won three matches, four overall.
The Dalles managed 13 set wins all year, won two matches, one in league, a five-set thriller on senior night.
League play starts Sept. 18 with a home match versus Hermiston. For Fanene, that date is the last thing on her mind.
There are five non-league matches versus Ridgeview, bend, Mountain View, Sherwood and Redmond before they hit the ground running against their 5A counterparts.
"There are some good teams in our league, I know that," Fanene said. "I would say that I am going to focus on my side of the court and work on the things that I can control. In the end, it should work out in our favor."
The season starts on Tuesday, Sept. 2 in a non-league affair with Ridgeview at 6 p.m.
READ NEXT TOP STORY: Russian columns enter Ukraine