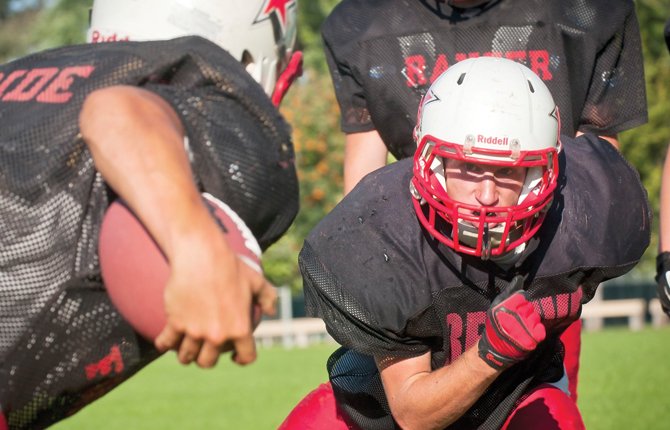 Game schedule
2014 FOOTBALL SCHEDULE
at Lowell Jam ........6 p.m., Aug. 29
Host Lowell......7:30 p.m., Sept. 5
vs. Adrian ...............TBA., Sept. 12
Host Arlington ..7 p.m., Sept. 19
at Spray ...............1 p.m., Sept. 26
Host Perrydale......7 p.m., Oct. 3
at Ione .....................7 p.m., Oct. 9
at Sherman.............7 p.m., Oct. 17
Host Condon ......7 p.m., Oct. 24
Host Jewell..........5 p.m., Oct. 31
State Playoff.............TBA, Nov. 7-8
State Playoff.........TBA, Nov. 14-15
State Playoff.........TBA, Nov. 21-22
State Title...................TBA, Nov. 29
That fateful night on Nov. 15, 2013 still resonates in the hearts of the Dufur Ranger football team.
A home playoff loss to Triangle Lake cut short a dream season where they had won 11 games in a row and had dominated much of the competition.
It all starts brand new again for head coach Jack Henderson and his team, as they try to replicate the impressive numbers put up just a season ago.
"It was frustrating losing that game. It taught us a lot though," said all-state athlete Trever Tibbets. "We need to get back and work even harder this year to become better than we were. The harder we work, the better we will get."
Many hours have been logged in the weight room in the offseason in an effort to improve strength and durability for the stretch run.
Winning back-to-back Big Sky Conference titles have put a bulls-eye on the Ranger backs, so they are prepared for anything and everything.
One area that has players battling for first-team dibs is the vacated quarterback position, where Bailey Keever and Kolbe Bales are going at it.
Those two will do their best to replace the more than 2,200 yards put up by graduated senior Cole Parke.
The state's top-3-ranked offense reeled off 698 points last year, and now the onus is on Henderson to find ways to utilize the quarterback position to provide a smooth transition.
"That is one of the things we have worked on with all of our quarterbacks is throwing the ball because none of them are real natural throwers," the coach said. "They have improved a ton this summer. Really, it comes down to continuously working with them so that they can enjoy success, feel good about themselves and get comfortable in the games and we will just go from there."
It is not like the quarterback will need to fling the ball around the field 20-30 times a game, because there are plenty of thoroughbreds in the stable at running back.
Anyone from Tibbets, Kurt Nuevo, Nick Little and Hagen Pence can run the ball with aggression.
Tibbets rushed 153 times for 1,320 yards, and he finished second on the team with 41 catches 653 yards and 15 touchdowns.
Little, had 843 yards on 79 carries, Nuevo enjoyed several highlight moments with some scoring jaunts and the freshman Pence is right on par with that group.
If the quarterbacks are going to be finding open receivers and the running backs daylight, all-league standouts Brent Sumner, Jon Buntin, Alec Smith and offensive end, Jake Little, are going to be hitting on all cylinders.
Last year, the Ranger offense averaged 60.7 points a game average and steamrolled through their first 11 opponents by an average margin of victory of 42.7 points a game.
Of course losing all-state lineman, Austin Olson, stings, but Henderson said this group has plenty of bodies to slide in and contribute at a moment's notice.
"We will have way better depth than we have had in quite some time, which is nice to have," said the coach. "For several years, we haven't had the type of depth we needed and it has hurt us when kids get nicked up a little bit late in the year. Now, we have options to put people in the right position to be successful."
While the offense had an all-time breakthrough, the defense, coached by C.S. Little wreaked havoc on the competition.
All told, the Rangers allowed 19.8 points a contest and gave up 16 points or fewer in seven of its first 11 games.
On four occasions, the Dufur defense, led by the quartet of Tibbets, Sumner and company surrendered less than 10 points in wins over Sherman, Perrydale, Crane and Condon-Wheeler – all playoff teams.
"We just need to get way more aggressive," Henderson said. "We will have a more attacking defense than we were a year ago. I think that will help us move forward."
When visualizing league play, Henderson sees every Friday night as a knockdown, drag out, test of wills against the opponents.
New to the Big Sky are Jewell and Spray-Mitchell, and Echo is moved to another conference.
Then, there is still Sherman, Ione, Arlington and Condon-Wheeler to contend with.
"I think our league is going to be tougher from top to bottom," Henderson said. "Every team returns a lot of kids. Sherman was really young last year and Condon returns a bunch of kids, as does Ione. They are going to be excited and will play hard. There are no easy games. We need to be ready to play every night, or we will be in trouble."
Just because there is an influx of young athletes making their way through the system in an effort to replace Parke and Olson, Sumner has taken a simple approach when helping his teammates understand what is at stake and what it take on a daily basis to enjoy long-term success.
"The kids know what they have to do," he said. "They have been working their butts off all summer to get good and get better. They know they have to show up and perform if they want to do well, because we have some tough opponents out there."
The Rangers head to Lowell Friday for a jamboree at 6 p.m.
After that, they host Lowell at 7:30 p.m. on Friday, Sept. 5.
READ NEXT TOP STORY: New coach, new name, new attitude