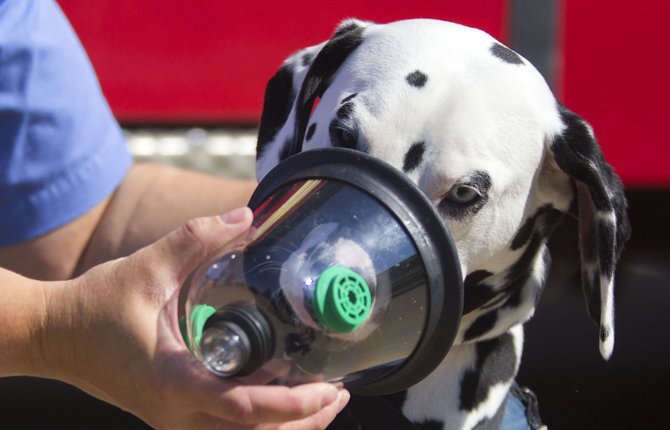 EUGENE — When firefighters respond to a house fire in the Eugene-Springfield area, they'll now be better prepared to rescue not only human victims of smoke inhalation, but furry friends in distress as well.
Casey, the Eugene Springfield Fire department's official fire safety Dalmatian, was on hand Wednesday at Fire Station No. 5 on Springfield's Pheasant Street to demonstrate one of 35 new companion animal oxygen masks donated to the fire department by the McKenzie Cascade Dog Fanciers Club.
The masks will be dispersed to all of the department's first response units, available so that when rescuers come across a pet in need of assistance, they'll be ready.
"We're very appreciative of the donation," Eugene Springfield Fire Chief Randy Groves said. "We want the public to understand that we as firefighters recognize how important animals are to individual people and families. They do become family members. We see our mission of trying to protect them as an important part of what we do."
Deputy Fire Marshal Amy Linder is Casey's handler. She said the animal oxygen masks are designed specifically for an animal's face. While a human oxygen mask is shaped more like a cupped hand, an animal mask has a bubbled-dome shape to make room for an animal's snout. A rubberized band around the inside helps to seal the mask for more efficient oxygen delivery.
"We are recognizing the value of animals and their importance to their human companions," said Linder, who noted that during Hurricane Katrina, many people refused to evacuate because they didn't want to leave their pets behind.
"That was a very powerful indication of how much we love our pets and would do anything for them," Linder said.
Humans remain the top priority, Linder said. But as a secondary priority, a pet's life can now be saved.
Groves said the department will be prepared to administer oxygen in the event of a fire where an animal is exposed to smoke or fumes. Groves said there have been a number of occasions when animals have been successfully rescued by one of the fire department's 12 masks that it's received from various donors over the years.
Recently, when the local dog fanciers club approached Groves with an offer to donate more, they rounded out the number required to completely cover the area.
Springfield City Councilor Marilee Woodrow is a member of the fanciers club, which is a local affiliate of the national American Kennel Club organization.
Woodrow, who was on hand, was credited by fire officials as being instrumental in obtaining the oxygen masks.
"We have successfully done this in the past, and this will just give us the capability to more assuredly be prepared for this in the future," Groves said.
Some of the masks will be shared with rural fire districts in the area, he said. Those include the McKenzie, Upper McKenzie, Siuslaw Fire, Lorane Rural and Santa Clara departments.