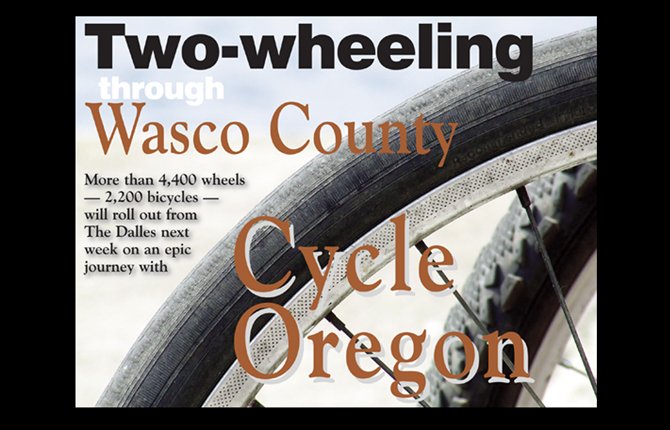 Join the Cycle Oregon fun
(and don't forget your cowbell)
People from Cycle Oregon host communities in Wasco County will have plenty of opportunities to come out and join the fun planned — live music and other entertainment — for the riders. Here's what's happening:
Sept. 6, Day 0 – Saturday evening riders will gather at Sorosis Park for a night of camping before they ride out for Glenwood on Sunday. The public is welcome at the Saturday event. Live music and entertaining announcements are planned.
Sept. 8, Day 2 – From Glenwood, riders take the scenic route to Dufur, where they will camp at Dufur City Park, with live evening entertainment.
Sept. 9, Day 3 – And speaking of scenic routes, riders take a 72-mile loop to reach Tygh Valley, where they will camp at the Wasco County Fairgrounds.
Sept. 12, Day 6 – Starting from Madras, riders swing through Shaniko and Antelope before returning to the fairgrounds for more camping.
Sept. 13, Day 7 – Riders have a short 43-mile roll back to home base at The Dalles Riverfront Park, where they'll celebrate the completion of a long week's ride. This is where the cowbells come in. Cycle Oregon riders have made a tradition of rolling into the home stretch to the accompaniment of clanging cowbells.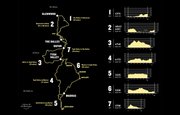 On Saturday, Sept. 6, about 2,200 bicyclists will be at Sorosis Park setting the stage for the "Magnificent Seven," an epic journey through the cinematic scenery of Wasco and Jefferson counties.
The "Seven" referred to in the title has a dual meaning. It refers to the seven days of Cycle Oregon adventuring in the shadows of seven peaks in the Cascade Range: Adams, Hood, Jefferson, Washington and the three Sisters.
The Dalles takes center stage, hosting the opening and concluding celebrations of the journey. Dufur and Tygh Valley also play starring roles, hosting overnight stays and their attendant entertainments.
"From my perspective, they have all been fabulous," said Tara Corbin, site coordinator for Cycle Oregon. "What really helps give Cycle Oregon a different flavor is the different communities and community members. Each community has different folks and lends to a different experience. I've had nothing but positive interactions with the communities. I feel like everybody is putting forward their best foot."
The various venues are going to include music and other entertainment for the cyclists, and many community groups are involved.
"The Oregon Women of Agriculture all throughout Wasco County will put out crop identification signs and information," Corbin noted. "We produce a little paper called Cycle Oregonian and they're going to give us an article every day talking about what cyclists are going to ride by every day."
Lisa Farquharson, president and CEO of The Dalles Area Chamber of Commerce, said the event offers an opportunity to show guests just how bike-friendly The Dalles is.
"Our Cycle Oregon Committee and the coordinators, along with [Corbin] have been working hard with all those details for the cyclists' arrival," she wrote in an email. "The riders have received an electronic handbook for each of the areas they will be visiting on their seven-day ride. In that guide are listings of businesses and special offers that only the participants can receive from the businesses."
Dan Boldt is a veteran rider in past Cycle Oregons. He is serving as community coordinator for The Dalles. Among the challenges of the start and finish of the ride is finding a location to park the 1,000 cars the riders use to get to the race. Port of The Dalles will be providing that space on land they are developing as a new industrial park.
"Cycle Oregon is such a smooth-moving machine," Boldt said. "We've got all our coordinators in place and they're getting all their teams in place."
Among the volunteers involved in the event are high school sports teams and local private schools, among others.
"I think the groups are really happy to dig in and take on a project and make money," Boldt said.
The community events are a chance for the public to come out, welcome and interact with the riders — and enjoy the entertainment the various communities are providing.
"It's just going to be a happening," Boldt said of the Sept. 6 opening night. "The community is welcome to go up there. It'll be a party."
Though it may be a fairly early party, Boldt said. Music starts around 7 p.m., with announcements at 7:30, which he said can be entertaining in their own right. Many of the riders get off to an early start, so entertainment starts to wind down around 8:30 p.m.
Concluding activities at Riverfront Park on Sept. 13 will also be a chance to come out and welcome riders — and bring a cowbell if you have one, Boldt said.
"The more the merrier in terms of people lining up along the entrance into the park," he said. "When you finish, you've accomplished something, so it's fun to have people cheering and cowbells ringing."
The Riverfront Park party will also include live music and people are welcome to come hang out.
"It's a fun, joyful time," Boldt said. Early riders should begin rolling in as early as 8:30 or 9 a.m., but the main group should arrive between 10 a.m. and 2 p.m. Once they are finished celebrating, they will be able to hit the Riverfront Trail for the last leg of their journey out to the parking area, where they will be able to shower before leaving.
A city's hopes ride on it
Mayor Steve Lawrence will greet Cycle Oregon riders Sept. 6 at Sorosis Park in what he views as the official launch of The Dalles into the two-wheel world of recreation.
"This is going to be huge," he said. "I'm a real believer in making sure we accommodate bikers in a major way because that is key to new economic development."
Travel Oregon estimates that bicycle-related tourism contributes $400 million annually to the state's economy, and Lawrence wants The Dalles to get its share of that pie.
Toward that end, he and other local officials have been meeting for the past several months to fill gaps so the event is seamless for a couple thousand riders.
For example, The Dalles Lions Club will man a water station in Wamic and other area residents will provide security for riders who leave vehicles on Port of The Dalles property.
"We have just been responding to needs that weren't filled," said Lawrence.
The Fort Dalles Floozies will join Lawrence as official greeters for the cyclists. Meanwhile, Mary Davis and Trish Neal of the Fort Dalles Museum are hoping to draw visitors to the downtown blocks by setting up a display about the history of cycling in the area at the Granada Theater.
Lawrence said The Dalles is now ranked with Portland and Eugene for having the most bike-friendly businesses in Oregon. And he has formed a committee to begin looking for ways to provide more amenities for riders, such as bicycle racks throughout town.
Leading that effort is Matthew Klebes, coordinator of the Main Street Program, who held two workshops in April to educate business owners about how to fulfill criteria to earn a bike-friendly designation.
Participating businesses must commit to welcoming cyclists and offering amenities they may need, such as wifi, water, shipping, access to restrooms and energy snacks. In return, these retail outlets get promoted by Travel Oregon and other cyclist sites that encourage riders to support them.
Lawrence said having Jonathan Maus, publisher and editor of BikePortland.org, come to The Dalles in April and write several pieces about its historic character and sights has brought more bike traffic to town. He not only wants to see that trend continue but grow as riders learn about the hospitality offered by community members.
High on his to-do list is completing a master plan that addresses cycling needs, such as signage that points bikers to services, better lanes of travel and a safety program for children. His committee will also be working with the Oregon Department of Transportation to create a "hub" that will provide riders and other recreationists with restrooms and water.
"When people come into town, we want them to know they can do so safely," said Lawrence.
Hood River captured the windsurfer trade long ago and Lawrence wants The Dalles to take the lead in attracting cyclists.

In 2016, a bike path is supposed to link Troutdale to The Dalles and Lawrence is working to get the town ready to accommodate a greater influx of cyclists from the Portland metro area. He said with Oregon's focus on biking, it is likely that there will be an increase in competitions like Cycle Oregon, and The Dalles has a lot to gain by rolling out the welcome mat.
Small-town hospitality
Cycle Oregon will start coasting into Dufur around 1 p.m. Sept. 8, with the majority of riders expected to filter in by 3 p.m.
Samantha Irwin, owner of the historic Balch Hotel, said she and Leona Egeland are the Dufur co-community managers for Cycle Oregon this year.
"We'll have music and food available for participants to enjoy, and we're really looking forward to welcoming everyone to town," she said.
Starting at 4 p.m., Americana, Roots and Bluegrass fusion band Greenneck Daredevils will provide entertainment while Pampered Pallette Catering will usher in food for hungry cyclists.
The Gorge Roller Girls will be doing a "bout" at Dufur School starting around 3 p.m. Irwin also encourages anyone interested to pay a visit to the local history museum at 51 Heimrich street.
Riders will bed down for the night around Dufur School and the annual Threshing Bee grounds before heading to Tygh Valley about 2,200 strong to stay at the Wasco County Fairgrounds the night of Sept. 9 through the morning of the 10th.
Christie Amaral, site manager and volunteer coordinator for the Tygh Valley portion of the ride, said she expects a lot of laughs out of volunteers and cyclists alike.
"Bringing all the different groups together with the 2,200-odd cyclists from all over will be a really fun mix," she said.
At least 421 volunteers, many of whom hail from the Camp Morrow and Maupin fire departments, will be on hand over Cycle Oregon's 2-day stay in Tygh Valley.
Fairgrounds manager Sid Moss said they're prepared for the oncoming crowds.
"The volunteers are going to help them unload and get all set up," he said. "And since they'll be bringing all their own bathrooms and food vendors and showers, all we're really doing is making sure we're there to help out."
Tuesday night, a shuttle bus will deliver tired bikers to a spaghetti feed at the Tygh Valley Community Center at 57594 Tygh Valley Road starting at around 6 p.m.
On Wednesday and Thursday, bikers will have a layover in Madras, after which many will have the opportunity to take a bus from Madras to Maupin and raft a portion of the Deschutes River. Amaral said she expects all cyclists to be back at the fairgrounds by Friday night.
General announcements are scheduled to begin at 7:30 that evening, followed by band performances at 8 p.m. This will conclude with the Cycle Oregon awards night program and mark the end of this year's adventures.
However, even the last night will be packed with fun, Amaral said.
Beer gardens and home-made fudge and caramel carts will be in full service throughout the bikers' stay at the fairgrounds, she said, accompanied by a gathering of fundraisers and photo opportunities. Community booths geared toward raising money for local organizations will be stationed on the grounds as well.
The Maupin Madness Poker Run and Bike Show will take place after the party on Sept. 13, with all funds directly benefiting the Outdoor Adventures with Military Heroes non-profit.
Saturday morning, cyclists will leave the fairgrounds early to make their way to The Dalles and the conclusion of their long journey.
A village of volunteers
St. Mary's Academy is just one of a number of local groups with a role in the event. "We are doing the registration check-in at Sorosis [Park], we're doing the decorations for the dinner for that evening's dinner at Sorosis and we're also doing the finish line," said St. Mary's Principal Kim Koch.
"We're sort of the cheering squad at the end of the finish line, cheering those riders as they're coming through," she said. The school is also building the balloon arch that serves as the finish line.
Event organizers gave them some guidelines for what they wanted, but have allowed St. Mary's the freedom to use their own creativity in crafting the table decorations for the dinner and also the balloon arch.
"We're doing table decorations that show our wine industry, our wheat industry and they showcase our kids," she said of the nearly 30 decorations they're making. "We wanted to showcase not only our students, but the things that are here in this area that those bikers might want to come back and be a part of later on."
Koch is expecting over 100 volunteers from the school to help in the event. For their efforts, the school will receive $7,000.
Parks to host
Both the starting line and the finish line of Cycle Oregon will be held in local parks, with the kick-off at Sorosis Park and the return, a week later, at Riverfront Park.
While the Northern Wasco County Parks and Recreation District is technically the host of those events, said Parks Executive Assistant Jennifer Botts, Cycle Oregon is actually a fully self-contained event that provides its own security, set-up and clean up.
And that's a good thing, since the parks district will be busy Sept. 6 with its annual Aluminum Man Triathlon.
Cycle Oregon is paying the parks district $3,000 for the use of the two parks. And while camping isn't normally allowed in the parks, an exception was made for the event, and a tent city will spring up, mostly in the area of the softball fields. But, while the tents are mostly concentrated there, Cycle Oregon will have various sites throughout the park.
Botts said the park will still be open to public use during the event.