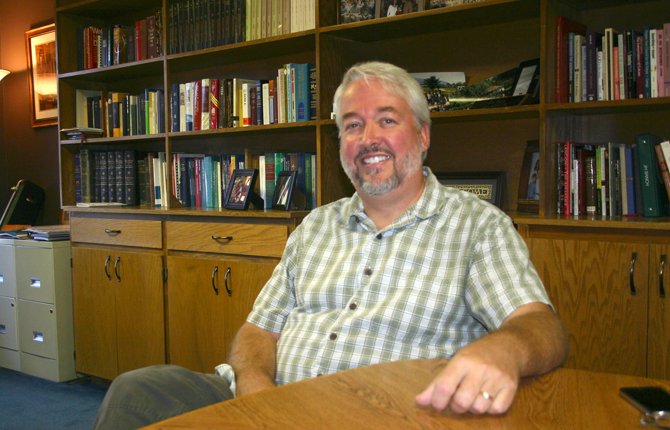 Dr. Tom Pipkin left a big-city church in the South to become senior pastor at Gateway Presbyterian Church in The Dalles, partly because he wanted more time to just hang out with folks and minister by hiking and fishing with them.
He also shared a philosophy with Gateway in terms of what a church is. He sees the church as not just supporting traditional missionaries, but doing mission work right in its own community.
"My understanding of the church is all of us are missionaries and the whole church is sent by God, rather than the church sending a few missionaries" to assignments abroad, he said.
"If we consider ourselves to be followers of Jesus, that means we are sent people," he said.
"Gateway has a pretty strong history of wanting to make an impact on the community and at the same time has struggled, as many churches have struggled, to maintain itself as an organization.
That can lead churches to be in maintenance mode rather than mission mode," he said.
Gateway has been shifting to be "less of a program-oriented church where we develop lots of programs, and hope by advertising that people are going to come, to being more of a missional church, where individual members of church say church doesn't just happen on the church campus, it's in your neighborhood, it's out in the world," he said.
A focus like that doesn't just happen, but takes teaching and modeling it, he said. It's still a work in progress at Gateway.
He envisions using small "community groups" to do this missionary work. Each group will learn how it can "connect with your neighbors who don't know the Lord … how can they be invited into your group and be welcomed into this life giving faith you're a part of?"
He stressed the church will still be involved in its traditional support of the needy locally, including the Warming Shelter in winter months and other charitable activities, and will also still support missionaries here and abroad.
Church members will minister not necessarily to those "who are poorer than us, but are just like us. My hope is it will transform the community in a positive way."
Pipkin, 53, grew up in an Air Force family, with the attendant regular moves, including stays in Spain and Germany. He spent most of his youth in Colorado Springs, Colo., and it was there, as a high schooler, that he joined Young Life. He'd gone to church as a kid, but "it seemed boring to me. When I got to Young life, it became alive to me. They spoke my language as a teenager."
He became a Presbyterian because his Young Life leader went to a Presbyterian church, so he did too.
Later, he worked for Young Life for eight years, and met his wife, Dawn, there. They have two adult sons, Luke, 24, and Josh, 21, and an 11-year-old daughter, Hope, who they adopted from China.
Part of what drew him to The Dalles was learning that a Young Life chapter was starting in town.
Pipkin said that, after 13 years in Atlanta at a "big steeple" church he felt called by God to another place. He had a fruitful ministry there, but he experienced "some pushback" to his belief in "giving ourselves away to others" be it in time or money.
"My understanding of the Christian faith is we're to be like Jesus, so we go into the world of others who don't know the Lord. So we spend time walking in their shoes," he said. And that, he added, is "usually pretty messy business."
Gateway shared his vision of the faith.
A verse from Philippians II about Jesus servitude and obedience to others meant "we are supposed to empty ourselves and become servants to others in a sacrificial way that connects them to God."
He said the modern church service, with its formal liturgy and well-established song list and perhaps even a certain way of dressing can be "a real disconnect to a lot of people."
He asked, "What do we need to empty ourselves of in order to reach other people" who might speak and dress differently and who listen to different music? A different version of those things is not less worshipful to God, but something perhaps edgier might be more accessible to people who aren't familiar or comfortable with church, he said.
He said what is considered "contemporary" worship services, which came into vogue in the 1970s, is now well-established.
Pipkin's doctorate of ministry, from Columbia Theological Seminary, was in the area of gospel and culture, and that is precisely his focus here: using the gospel to transform the culture.
He said, for all the beauty of the gorge, "for a community of this size, there is a lot of hurt and a lot of pain."
"There's great need in the community, there are a lot of people living lives where life is a struggle and our faith in Jesus Christ makes a great difference in that."