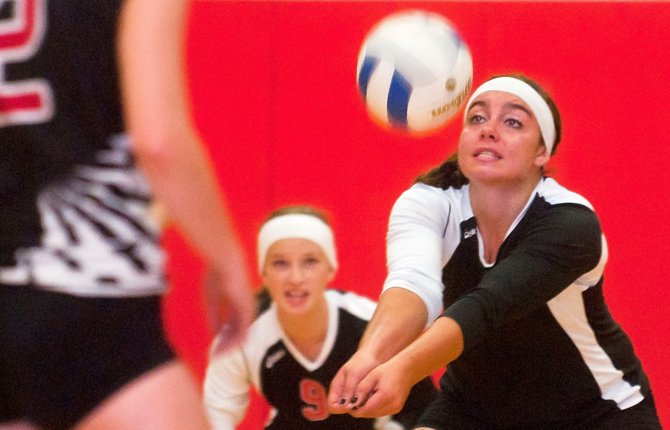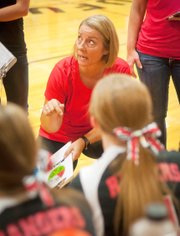 Roster and schedule
DUFUR VOLLEYBALL ROSTER
Kelly Darden .............Head Coach
Jodi Hamm..........Assistant Coach
---
Key Players
Taylor Darden (12)....................OH
Montana Ferres (12).................OH
Aimeelyn Miller (12)..................MH
Abbey Stelzer (12).......................L
Tianna Ellis (11)........................OH
Kirsten Sorensen (10)..............MH
Sydney Reed (10) .......................S
Sarah Helyer (9)...........................S
Chloe Beeson (9)......................OH
Haili Wolfe-DePriest (9)................S
Emily Rothe (9).........................OH
---
2014 VOLLEYBALL SCHEDULE
at Imbler/PV ..........2 p.m., Aug. 29
Host Heppner..4:30 p.m., Sept. 4
Host Dufur Inv......9 a.m., Sept. 6
at Sherman Inv.....9 a.m., Sept. 13
at Culver Dual ......5 p.m., Sept. 18
at Helix Tourn........9 a.m., Sept. 20
at Spray/Mitchell...4 p.m., Sept. 26
at W. Salmon...5:45 p.m., Sept. 29
Host Sherman....5 p.m., Sept. 30
at Horizon ................5 p.m., Oct. 2
Host three teams.11 a.m., Oct. 4
Host SWC...............5 p.m., Oct. 7
Host Columbia.......5 p.m., Oct. 8
at Ione.......................5 p.m., Oct. 9
Host Horizon........5 p.m., Oct. 14
at SWC....................5 p.m., Oct. 16
at Sherman.............5 p.m., Oct. 17
Host Dufur Tour....9 a.m., Oct. 18
at Dist. in Condon.10 a.m., Oct. 25
State Play-In.........TBA, Oct. 28-29
State Playoff.............TBA, Nov. 1-2
State in Redmond....TBA, Nov. 7-8
In her two decades as head coach at Dufur High School, former volleyball Coach of the Year Kelly Darden has faced several challenges when it comes to roster management.
With the loss of all-state selections Alexa Macias and Teneille McDonald, along with all-league athletes Kathryn and Kyla Johnson, Darden fields a roster of seven underclassmen, four seniors and one junior for the reigning state third-place Ranger squad with high expectations of getting back to state glory in 2014.
Although a bit overwhelming in some ways, Darden loves building and she is ready and willing to roll up her sleeves for the process.
"That is the funnest part. We have a really young group this year, but they work so hard and they have so much potential," Darden said. "It is exciting because a lot of them are new to the program and they are improving by leaps and bounds every day they are in the gym. That is what makes it fun."
McDonald and Kathryn Johnson provided hits and kills by the net, and both Macias and Kyla Johnson were a huge part of orchestrating the offense from their setter slots.
Junior Tianna Ellis is expected to jump into a larger role as will fellow hitters Kirsten Sorensen, Chloe Beeson, Montana Ferres and Aimeelyn Miller.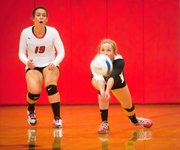 One coup for the coach is the fact that perennial all-state standout Taylor Darden is entrenched into a hitter's role, so those numbers can be made up at a quicker rate.
"I think to fill those shoes is going to be a huge challenge. They brought experience," coach Darden said of the graduated seniors. "The thing we have to do is get as many touches on the ball as we can and put them in situations as quickly as we can. That is going to take time. We will work on maximizing people in certain positions. Those are the keys as well."
Last season, Ferres had a resurgence as one of the mainstays on the edges, but did her best work defensively, with a team-leading 167 digs on 224 attempts.
She completed 87.1 percent of her serves with 63 aces, and was fourth on the roster with 76 kills.
Taylor Darden dropped a team-high 278 kills on 715 swings with just 94 errors, and she connected on 96.7 percent of her serves with 118 aces on 394 tries from the stripe.
In order for that veteran duo to maintain their edge on the hitting front, finding a consistent setter is high on the list of things to formulate.
Sophomore Sydney Reed is leading the pack to take over that role and she showed a more than capable performance with 37 assists in Thursday's season opening matches with Weston-McEwen and Ione.
"Sydney, right now, is taking over and she is doing a great job," coach Darden said. "She works extremely hard, she's really coachable and she is really striving to get better and stuff. She is doing a great job."
In addition, freshman Sarah Helyer and Haili Wolfe-DePriest will see some time moving the offense forward as setters, so there is depth there.
When it comes to making the machine move, everything in the front, middle and back needs to flow in perfect harmony.
"It is not just a hitter and setter relationship," Ferres said. "It is also the passes to the setters and the setter to the hitter. The hitter needs to congratulate and tell the setter how well they did each play, so they build that bond together over the season. Chemistry on a team is important. It definitely makes up for anything. If you do not have that good chemistry, then you will not go that far."
It is through their due diligence on and off the court that the Lady Rangers were able to win 31 matches overall in 2013 and finish in third place at the OSAA state tournament.
In the regular season, the Lady Rangers went a perfect 8-0 in the Big Sky Conference's West Division to claim another title.
Of those victories, Dufur dropped impressive foes such as Stanfield, Perrydale, Damascus Christian, Heppner, St. Paul, Condon-Wheeler, Ione and Portland Lutheran.

On Oct. 18, the Rangers swept past then No. 1-ranked Lowell in a three-game sweep.
Sweeps came early and often for the Rangers, as they racked up 18 on the year, including a stretch from Sept. 24 to Oct. 19 where they posted 10 consecutive whitewashes.
Senior libero Abbey Stelzer feels like the smooth transition between the newcomers and high-profile athletes is coming together nicely, so far.
It started with a healthy team camp where team bonding was emphasized.
"I felt like last year was really good because the team was definitely together," Stelzer said. "We all loved each other and we all worked well together. I am hoping to replicate that this year in a way that we all become even closer."
Replacing the kills and keeping the offense rolling at a seamless level is just one element of the Ranger volleyball program.
Coach Darden is quick to mention that in order for the team to rise to a higher level, defensive execution is critical.
"My focus is on defense. You have to be able to play defense if you are going to be successful," the coach said. "This year, our focus has been passing, serve-receive and defense. We have to get better in those areas and we will and we have. That is always a key for us."
Ferres has played with Janelle Keever, McDonald, Macias and some other talented players who represented Dufur to a top level over the years.
Senior seasons are always tough because it represents a culmination in a career and legacy.
She is looking forward to making her swan song a great final dance.
"I don't really necessarily think about it being my last season and that I have to make the best of it," Ferres said. "I think as one of the leaders of this team, we all want to improve each year and even better. I am very excited about it being my senior year, but altogether, I just hope for us to come together as a great team and take it as far as we possibly can."
READ NEXT TOP STORY: City sees evolution in yard sale signs