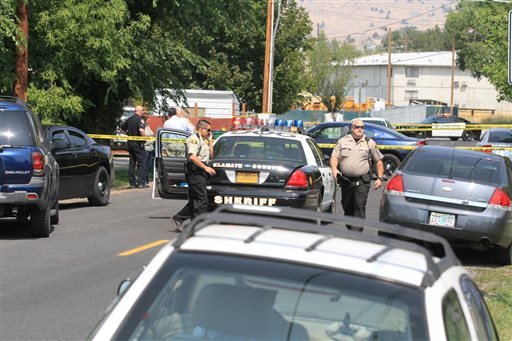 PORTLAND, Ore. (AP) — A man suspected of shooting a Klamath County sheriff's deputy in the face during a traffic stop was arrested Thursday after a nearly 18-hour manhunt, and the wounded deputy's condition has improved from critical to serious.
William Jack Parkerson, 30, was arrested in Chiloquin, a small town about 20 miles north of Klamath Falls, where Wednesday's shooting occurred. He faces charges of attempted aggravated murder with a firearm and assault with a firearm, said Klamath County District Attorney Rob Patridge.
The district attorney also announced the arrest of Parkerson's girlfriend, 33-year-old Karey Leigh Pascoe, on charges of conspiracy to commit attempted aggravated murder with a firearm and assault with a firearm.
A third person, Christopher Holmgren, was arrested on a probation violation. Sheriff Frank Skrah said Holmgren was in the vehicle that Deputy Jason Weber pulled over when he was shot.
Weber, a seven-year veteran of the sheriff's office, was in serious but stable condition at OHSU Hospital in Portland — 280 miles northwest of Klamath Falls. The sheriff said a surgery planned for Thursday had been pushed back a day. Weber's wife was at the hospital along with Weber's brother, Eric, a Portland police officer.
"He's a tough, savvy kid, a little redheaded Irishman and a nice young man," Skrah said of his 40-year-old deputy.
Few details of what happened in the shooting were released, except that the deputy was shot twice, once in the face and once in the side, and that the vehicle, a 1989 black Jeep Cherokee, drove away. Skrah described the traffic stop as routine and would not say specifically why the vehicle was pulled over.
"I guess you can say nothing's routine in police work," he said. "I've been in this business 40 years and I've seen some pretty horrific shootings, but Jason took a pretty good round there."
A massive manhunt tracked Parkerson to Chiloquin, a town of about 750 people, where Skrah said he was arrested without any shots fired.
"We had every cop in the state out looking for him," Skrah said.
The Jeep was found about 10 miles from Chiloquin, near a spot called Rocky Point.
Court records show Parkerson has prior arrests for criminal mischief, assault and robbery. He was often listed as a transient. His last known address was in Klamath Falls.
Parkerson and Pascoe are set to be arraigned Friday, when they're likely to be assigned public defenders.
---
Follow Steven DuBois at http://www.twitter.com/pdxdub .