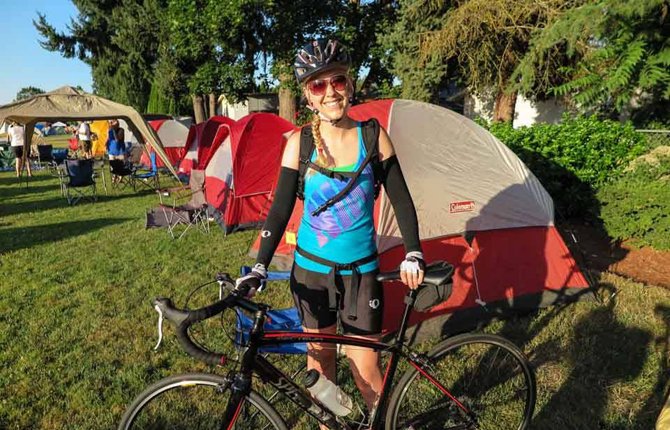 Yes, Wasco County will be invaded by around 2,200 bicyclists starting next weekend — but in a good way.
Cycle Oregon is putting Wasco County's cinematic splendor on display for cyclists from around the world in this year's "Magnificent Seven" week-long tour.
Soon they'll know what residents have known all along: Wasco County — and Klickitat, Jefferson and Deschutes counties — have lots of big country nestled up against some of the most spectacular snow-capped mountains in the country.
Cycle Oregon's arrival is an opportunity for local residents to prove that they know how to show visitors a good time.
Some of them will be arriving as early as Friday and may be rolling around town looking for fun diversions. If you happen to have an opportunity to talk to some of the riders, take this opportunity to show you know something about the place you live.
Do you know where Fort Dalles Museum is? The Columbia Gorge Discovery Center? The Original Wasco County Courthouse? The movie theater? How about a favorite restaurant, a winery or the local grocery stores?
Just a friendly greeting from a local resident can help cement a town's reputation as a great place to visit — and to return to.
These visitors are folks who bring commerce to our area. They can afford to spend a substantial sum of money to join a week-long ride, so presumably they will spend a little in local communities, too.
Cycle Oregon enriches communities in other ways, too. The event spends money to use local parks and facilities, they put volunteer organizations to work schlepping baggage, organizing registration, food, entertainment and the thousand other details that entail keeping what is essentially a small army of cyclists rolling toward their daily destinations.
Wasco County communities have earned a good reputation with Cycle Oregon, which has returned to some of them on several occasions.
The Dalles last played host to the grand excursion in 2005. Dufur has welcomed riders on several occasions.
Our county has a lot to offer cyclists:
• plenty of picturesque winding country roads with enough challenging hills to make it interesting;
• a friendly, small-town attitude that assures a smile just about wherever they go,
• interesting and significant history, including authentic historical destinations; and
• some fun and intriguing shops, restaurants and drinking establishments.
Over coming years, we can expect to see completion of the final segment of the Columbia River Gorge Historic Highway trail through the gorge. This route will offer the equivalent of Interstate 84 for bicycles: a broad, well-maintained thoroughfare that, at its eastern end, will spill riders into The Dalles.
It will be a promising development for local economic growth, and Cycle Oregon is setting the stage.