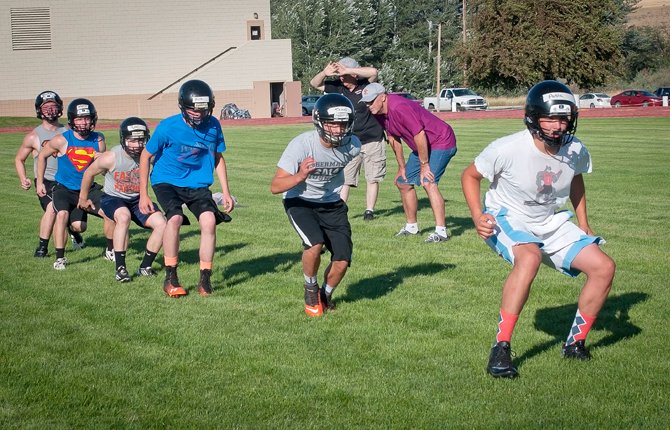 Roster and schedule
SHERMAN FOOTBALL ROSTER
Ron Townsend ..........Head Coach
---
Key Players
Kaiden Paulette (12)............OL/DL
Wyatt Stutzman (11)...........OL/DB
Ryan Asher (10)...................OL/DL
Kevin Hart (12).....................OL/DL
Maverick Winslow (10)........RB/LB
Austin Kaseberg (12)..........OE/DL
Jacob Justesen (9) ......QB/OE/DB
Kyle Fields (10)...................QB/DB
Brett Evans (12)...................RB/LB
Blake Evans (12).................RB/LB
Max Martin (10)...................OE/DB
---
2014 FOOTBALL SCHEDULE
vs. Powder Valley (Dufur Eight-Man Classic) ....7:30 p.m., Sept. 6
Host Crane.........3 p.m., Sept. 12
Host Spray..........7 p.m., Sept. 19
at Perrydale..........7 p.m., Sept. 26
at Ione.......................7 p.m., Oct. 3
Host Condon..........7 p.m., Oct. 9
Host Dufur............7 p.m., Oct. 17
at Jewell..................6 p.m., Oct. 24
Host Arlington......7 p.m., Oct. 31
State Playoff.............TBA, Nov. 7-8
State Playoff.........TBA, Nov. 14-15
State Playoff.........TBA, Nov. 21-22
State Title...................TBA, Nov. 29
Armed with a roster of 34 players, new Sherman head football coach Ron Townsend is ready to tackle the task at hand with hopes of getting the Huskies back to its rightful place in state championship contention.
"We are looking forward to improving with each practice and game so will be using the preseason to develop our identity," Townsend said.
Of the more than 30 players signed up, the Huskies have three junior and seven seniors ready to take the mantle.
These player include Kaiden Paulette, Kevin Hart, Maverick Winslow, Wyatt Stutzman, Austin Kaseberg, Jacob Justesen, Brett Evans, Kyle Fields and Blake Evans.
If previous history is any indication, Townsend brings with him a wealth of knowledge with an offense aimed at running the ball to wear down the opposition with a Wing-T style.
In 11 contests a season ago, the Huskies were ranked 13th in the state with 432 points scored for an average of 39.2 points a matchup and those numbers figure to be around the same with the returning running back crop led by the Evans brothers.
Blake Evans, a fullback, had a team-high 136 carries for 1,214 yards and 16 touchdowns.
Brett Evans is coming off consecutive double digit touchdown averages, totaling 2,167 yards and 24 scores.
"We are working hard to instill our offense, which is somewhat different than what they did last year," Townsend said. "We will work hard to establish a solid running game so we can effectively play action pass."
There is a solid stable of backs available, but the biggest output to replace is at quarterback, where Nick Coleman handled admirably last year.
Coleman completed 50 percent of his 60 tosses for 430 yards and seven touchdowns to go with three interceptions.
He also completed five two-point conversions, good for second on the team.
When he wasn't flinging the ball all over the lot, Coleman rushed 40 times for 382 yards, seven scores and four more two-point conversions.
Kyle Fields appears to be ahead of the pack in taking over at quarterback for an offensive group that finished just 313 yards shy of matching the 2012 total of 4,218 yards, and they scored 432 points this season, just 39 points short of 2012.
Not a bad feat considering the offensive line was re-tooled to help keep the chains moving.
Of that bunch, only graduated senior Cody Jauken is gone.
Kaiden Paulette, Ryan Asher, Kevin Hart, Wyatt Stutzman and Max Martin will be additional tools that can be utilized to keep the chains moving.
Fields has a 6-foot-4 inch, 220-pound weapon in Austin Kaseberg set to run patterns, so having the senior to rely on will help with the transition phase.
In 2013, Kaseberg had 10 rushes for 53 yards, and he hauled in a team-high 12 receptions for 235 yards and two scores.
"We hope to be a fairly balanced attack, but based on returners our strength is in our running game," Townsend said.
One of Townsend's philosophies lie in focusing on the team concept.
As long as all of the elements are on the same page with the same goals, working hard to establish depth and togetherness are focal points heading into the football season.
On the other side of the ball, Kyle Blagg is back to take the role of coordinator for a defense that does not have ideal size, but is quick, football smart and packs a wallop when they hit the opposing teams.
As the 2013 season wore on, the Sherman defense appeared to gain more confidence and had some good performances, holding opponents to 22 points or fewer, all wins.
In a league that boasts Ione, Condon-Wheeler, Arlington and back-to-back Big Sky Conference champion Dufur, the road to success is going to be full of some ups and downs along the way.
There is no shortage of talent, however, so Townsend is honed in on the basics of the game and going from there.
"In the eight man game, fundamentals are extremely important," the coach said. "So, it is imperative that we become a good tackling defense so a good deal of practice time is spent on developing good skills. We hope to be disciplined both offensively and defensively to minimize the number of mistakes we make."
Sherman hits the gridiron to start the fall campaign starting at 7:30 p.m. on Saturday, Sept. 6 in Dufur as part of the Dufur Eight-Man Classic.