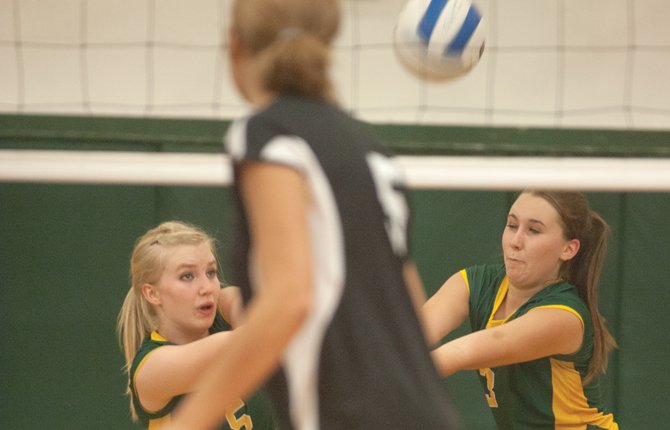 Roster and schedule
SWC VOLLEYBALL ROSTER
Donna Barton ...........Head Coach
---
Key Players
Molly Foreaker (12)......................S
Roxanne O'Neal (12)................OH
Peggy Espeland (12)............OH, S
Baily Hogenkamp (11).............OH
Tatum Hahn (11).......................OH
Ally Muhleman (10)..............OH, S
Kayla Brittain (10).........................S
Jazmin Espeland (10)...............OH
Allie Noland (9).....................OH, S
---
2014 VOLLEYBALL SCHEDULE
Host Stanfield......5 p.m., Sept. 5
Host Dufur Inv......9 a.m., Sept. 6
Host Lyle..............5 p.m., Sept. 9
at Country Christ...1 p.m., Sept. 13
at Trinity Luth...2:30 p.m., Sept. 13
Host Echo ..........5 p.m., Sept. 19
Host SWC Tour...9 a.m., Sept. 20
Host Trinity Luth.5 p.m., Sept. 23
at Condon.............1 p.m., Sept. 25
at Horizon.............5 p.m., Sept. 30
Host Sherman........5 p.m., Oct. 2
at Spray ....................1 p.m., Oct. 4
at Dufur.....................5 p.m., Oct. 7
Host Horizon..........5 p.m., Oct. 9
at Arlington.............5 p.m., Oct. 10
at Sherman.............5 p.m., Oct. 14
Host Dufur............5 p.m., Oct. 16
at Dufur Tour............9 a.m., Oct. 18
at Dist. in Condon.10 a.m., Oct. 25
State Play-In.........TBA, Oct. 28-29
State Playoff.............TBA, Nov. 1-2
State in Redmond....TBA, Nov. 7-8
South Wasco County is at the forefront of several changes, as new head coach Donna Barton takes control of the varsity volleyball side of the coin taking over for former Coach of the Year Ron Townsend.
In addition, the Lady Redsides will have a bevy of new faces on the roster, sandwiched by the return of senior leaders Roxanne O'Neal and 2013 all-league selection Molly Foreaker.
Peggy Espeland is also back with the team to provide some offense in her senior season.
"They are providing strong leadership this year and we will rely on them heavily," Barton said.
Every year under Townsend, the Redsides improved their game on the floor and they have added to their win total for the past three seasons, going from six in 2011 to 15 this past fall.
Those facts lent itself to more than double the names placed on the Big Sky Conference all-league list from last season with five chalking up either first team or honorable selections.
Although they finished four points shy of qualifying for state play-in action, the Redsides have plenty of team accomplishments they can hang their hats on.
At one point in 2013, the Redsides won nine of their first 10 matches to start the year and rose as high as No. 2 in the state rankings.
On three occasions, SWC held non-tournament winning streaks of three games and tallied nine sweeps.
Of those 15 winning performances, SWC beat Ione in five games, defeated Echo in two matches, beat 3A Riverside and tacked on a huge five-game road win over Mountain Valley League champion, Trinity Lutheran
Now, the goal is to use the new crop of seniors to make up for the overall contributions from graduated veterans Katherine Popchock, Zoe Morelli, Joy Kelly and Kelsie Olson.
If this team is going to put itself in postseason contention, solidifying the setter position is paramount in terms of priorities.
Foreaker can hold her own with her deft passing style and Espeland, Kayla Brittain, Allie Noland and Ally Muhleman can see some time in that role.
"We will most likely use most of the pre-season to solidify the starting line up with several girls in contention for starting spots," Barton said.
Those passers are poised to work in unison with a high profile set of hitters.
O'Neal is surely capable of lacing some big swings, as is junior Baily Hogenkamp.
Muhleman, Espeland and Noland will get some quality looks up front as well.
"Baily is a strong outside hitter and Peggy is really quick," Barton said. "Ally Muhleman and Allie Noland are both working at setting and OH. Though they are young, they are improving at a rapid pace and in strong contention for starting spots."
In the back row, defense is high up on the list for Barton, so she is expected to tab Tatum Hahn and Jazmin Espeland to round out the varsity players with strong defensive skills.
This group is has seen success on and off the court, so blessed with that winning mentality and a desire to give 100 percent effort every single day in practice, in the classroom and in the matches, there is plenty of reasons for optimism for Redside Nation.
"With graduating five seniors off last year's team, our focus this year will be on developing strong fundamentals, team chemistry and limiting unforced errors," Barton said of the program motto. "We have worked hard on this and they are getting better and stronger each day."
The Redsides first hit the hardwood for volleyball play at 5 p.m. on Friday, Sept. 5 versus Stanfield.