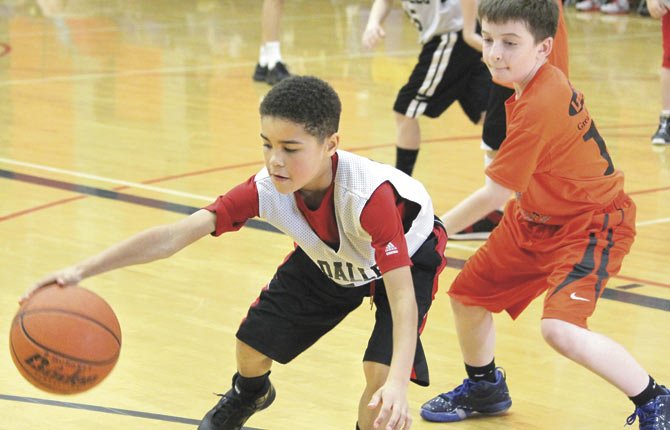 Bob Townsend is eyeing the future.
So far this winter, the long-time coach has assembled a devoted coaching staff that will implement a philosophy based on the fundamentals and execution in the Columbia Gorge Basketball Academy.
Although in its first year, the numbers have been impressive with 50 youth basketball players on five squads from second through eighth grade participating in travel basketball tournaments this winter.
While most of the athletes are from The Dalles, there are participants on rosters hailing from Dallesport, Dufur and Sherman County.
"We have been very pleased with the number of participants in the program," Townsend said. "We have been practicing since the beginning of January and have seen great improvement from the boys."
Since this program has gained some steam this year, Townsend and his coaching staff is hoping to continue action with additional court time, not only during the basketball season, but also at some level during the offseason.

The boys practice a couple times a week and those sessions consist of multiple teams.

Much of the mission statement of CGBA involves teaching the same basic offenses and fundamentals to all of the teams, so transition between teams and coaches is seamless.

"Continuing to develop our youth's skill sets and providing and enjoyable experience for them is a key factor in the success of our local high school programs," Townsend said.
Last weekend, the academy teams attended the Sherman Junior High Tournament, and two teams traveled to Battle Ground for another slate of games.

The seventh and eighth grade team, which is comprised of players from The Dalles, but has two from Sherman and one from Dufur, made a trip to Battleground, Wash. and dominated play with an undefeated 3-0 record.
In those contests, TD, which orchestrated a run-and-gun, fast-paced offense, secured a pair of 20-point wins and sandwiched those victories with a closely contested one-point win in their second game.
The other team that traveled to Battleground was the youngest team, consisting of third-through-fifth graders and one second-grader, chalked up a 2-1 record on the afternoon.
After taking a close matchup in their opener, TD suffered a loss in Game 2 before coming back in resounding fashion with a 10-point win.
This young team is still working on a few kinks, but their offense showed steady improvement throughout the day.
In addition to Townsend, who coaches the seventh and eighth graders, he walks the sidelines for the fourth grade and under group, Greg Cummings (sixth and seventh) and Daniel Bonham (eighth) are adding knowledge to the game.
Rounding out the staffs, the duo of Allen Beeks and Greg Shubert (fifth and sixth), are entrenched in a cooperative effort toward the tutelage of the 50 youths.
"I am very excited about the future possibilities of the youth in our program," Townsend added.
These teams will continue to compete in tournaments in the Portland Metro area throughout February and early March.
For more information on the program, or to join, call 541-993-7952.