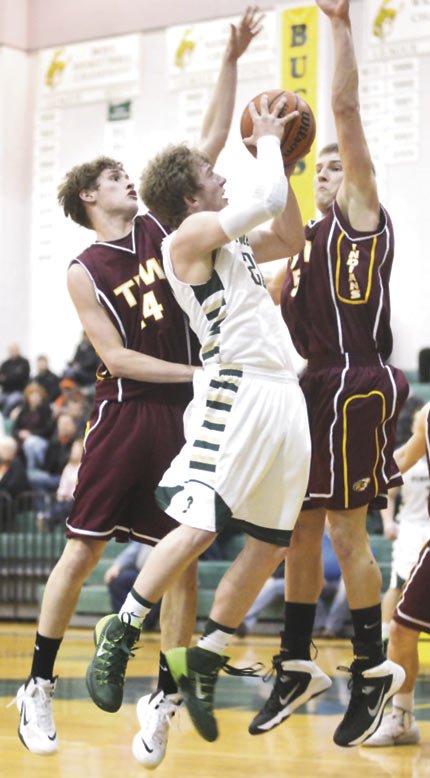 The first-place Pendleton Buckaroos used 14 points from Joel Boozer and broke open a 26-20 halftime lead with a 30-25 run in the second half to post a 56-45 win Friday over The Dalles Wahtonka in Columbia River Conference boy's play in Pendleton.
TDW stayed within contention through three quarters down 41-35, but the Buckaroo defense buckled down in the final period by holding the Tribe to four field goals and two free throws.
Starting point guard Steven Bartells paced the offense with 16 points, and Austin Wilson added 14 points on five field goals.
Clay Copper had seven points, the Eagle Indians hit 16 baskets, 10 coming in the second half, but went 13 of 24 from the charity stripe, 4 for 8 in the second stanza.
The scoring struggles remain a work in progress for a TDW team trying get going.
TDW (2-14 overall, 0-2 league) next travels to take on Hood River Valley (0-15, 0-2) at 7 p.m. Tuesday.
Foreaker explodes in Redside romp
Molly Foreaker hit a career-high 25 points and the South Wasco County Redsides rattled off their second-highest output of the season in a dominant 64-40 drubbing of Griswold Friday in a Big Sky Conference girls hoops matchup in Maupin.
"We got off to a slow start, but really picked it up in the second and third quarters," said SWC head coach Ron Townsend. "I thought we did a good job of executing our offense in the third quarter, which allowed us to open the game."
Down 16-12 after one quarter, the Redsides restored order in a major way with rallies of 20-10 and 22-7 in the second and third quarters to swell the lead out to 54-33.
Zoe Morelli tacked on eight points, Roxanne O'Neal added seven and the duo of Lisa McNamee and Joy Kelly picked up six points each, as the Lady Redsides had balanced scoring from several players on the active roster.