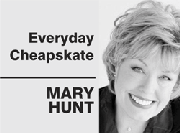 Just when we thought that the season of gift-giving was over for another year, here comes the second gift-giving season: Spring.
On top of the predictable family birthdays and anniversaries, get ready for Valentine's Day, Easter, Mothers' and Fathers' Day, graduations, and bridal and baby showers, too. Whew! The secret for gifts not emptying your wallet is to put your imagination into high gear so you trim the costs without limiting the fun.
Gifts should be thoughtful, not necessarily expensive. Have no idea where to begin? Here are 16 of my favorite $10 gifts to get you started.
$10 Gifts for Kids
HedBanz Board Game. What kids don't love a great board game, especially when they can get grown-ups to play it with them? HedBanz prompts kids of all ages to use their heads in more ways than one while asking yes-or-no questions about who they are. This is the classic game of "Who Am I?" For kids 7 and up.

The Girls' Book: How to Be the Best at Everything and The Boys' Book: How to Be the Best at Everything. Two spiffy guides to anything and everything a boy or a girl needs to know! These books are priceless. Filled with how to do just about anything and how to be the best at everything, these books will keep your favorite young lady and young man intrigued and even laughing for hours on end. These really are fabulous books that any girl or boy age 10 and up will cherish and read over and over again.
$10 Gifts for Babies
Baby Einstein Take-Along Tunes. As a classically trained musician myself, I have to say I love this toy that plays seven baby classical melodies. Not only is this a colorful toy, but also it promotes auditory development and early music appreciation. And, yes, I think that every baby in the land needs this toy for proper development. It is a lovely invention baby will quickly learn to operate while it soothes and calms the way that classical music can.

Lamaze Cloth Books. Choose from 6 different soft books for your tiny munchkin. Books have crinkly pages, peek-a-book ribbons and stimulating bright colors. The textures are fabulous and each of these books is highly entertaining for baby.
$10 Gifts for Women
Classic Jewelry Stand. What a great alternative to a jewelry box where things tend to get jumbled up, tangled and basically unorganized. This stand displays jewelry so you can see exactly what you want and where it is. This lovely metal stand comes in a choice of four finishes and holds dozens of pairs of earrings, necklaces and bracelets.

Burt's Bees Lip Balm Gift Set. The assorted fruit mix contains four lip balms with a keyring lip balm holder! What a great idea to make sure your recipient always knows where her favorite lip balm is.
Best $10 Gifts for Men
Swiss+Tech Micro-Max 19-in-1 Multi-Function Pocket Tool. This compact, easily transportable pocket tool has it all from screwdrivers (Hex, flat and Phillips) to pliers, a wire cutter, stripper and crimper to nail file, bottle opener, hand drill and ruler. And it all folds up cleverly to fit on a keyring. Quite amazing!

Hanson Magnetic Stud Finder. I know what you're thinking: They don't work. And normally I would agree, but finally someone known as CH Hanson has broken the code. This Magnetic Stud Finder is amazingly reliable and accurate. If a man in your life has ever made 57 holes in the wall before actually locating a stud, he wasn't trying to annoy you. He just didn't have one of these! This is every handyman's dream come true. And a bargain to boot.
If you would like to see pictures of each of these gifts along with links to online sources, go to EverydayCheapskate.com
/$10Gifts. You'll also find a few more surprises when you get there!
Mary Hunt is founder of www.DebtProofLiving.com, a personal finance member website. You can email her at mary@everyday
cheapskate.com, or write to Everyday Cheapskate, P.O. Box 2099, Cypress, CA 90630.