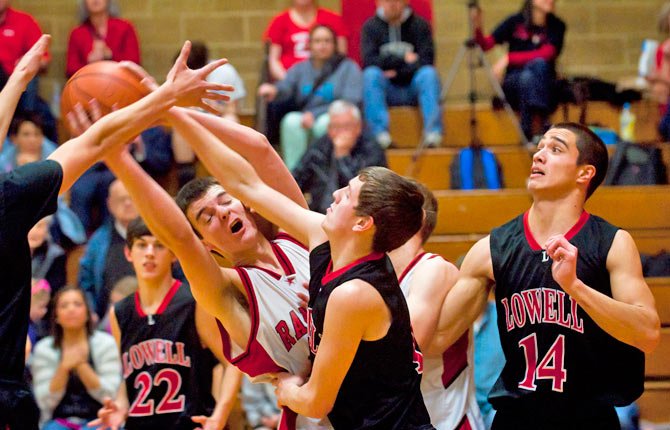 During their season-high four-game winning streak, the Dufur Rangers have seen a drastic increase in scoring over that span, adding their third largest output of the campaign in a 72-53 victory over Lowell Saturday in boy's basketball play at Dufur High School.
While the scoring surge has been impressive, the Rangers are getting a balanced attack with the frontcourt doing most of the damage inside the painted area.
"The big transition for us is at the offensive end," said Dufur head coach Tony White. "The kids are starting to feel more comfortable and it's showing on the scoreboard."
In this matchup against the Red Devils, Dufur got off to a quick 24-11 start in the opening quarter to stake control of matters.
Lowell managed a 14-13 rally in the second frame to inch closer at 37-25 at the break, but the Rangers got things back in order at the start of the second half using a 21-13 run to grab a 58-38 cushion with one quarter left to play.
Overall, Jake Kortge led all scorers with 19 points, and the duo of Bryson Caldwell and Caleb Morris notched 17 points apiece.
"We came out strong tonight," White said. "Defensive effort was good, which has been pretty consistent. They continue to show improvement and we are still growing as a team. I like the direction we are heading."
And while the offense is developing more consistency, the defense is still showing its merit, as it has held opponents to 46 points a game in the past seven games (6-1 record).
With five league contests left on the schedule before districts, White is hoping the offense and defense keep its momentum going.
The first-year coach said fundamentals and offense are areas his team will need to execute better in order to win close games against good teams.
With games left against Horizon Christian, Arlington, Sherman, South Wasco County and Ione, they will be put to the test.
"The only way you learn how to do that is by playing in those games," White said. "You can't replicate that type of thing in practice, you can't copy those feelings that you get when it is right there and it is neck-and-neck and the crowd is screaming. You really have to lean back on that training. If you keep repeating that, subconsciously, instincts take over in those pressure situations. They are getting there."
Dufur (13-5 overall, 6-3 league) hosts No. 1-ranked Horizon Christian (17-1, 9-0) at 7:30 p.m. tonight. At 7:30 p.m. Friday, the Rangers play host to Arlington.