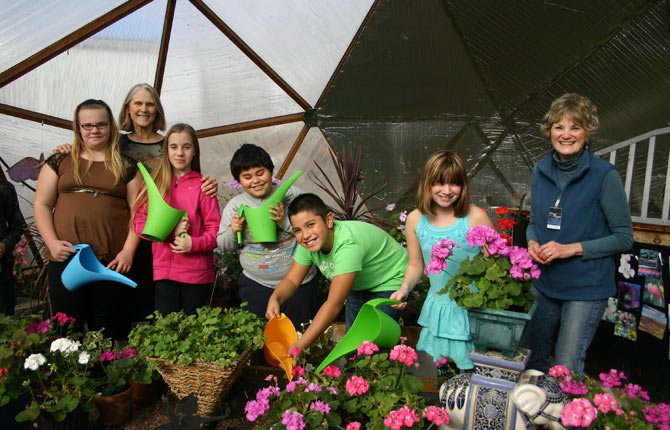 With cold, gray skies overhead and a constantly foggy skyline, mid-winter can be a dark and dismal time of year in The Dalles.
However, students at Colonel Wright Elementary school can soak up some needed brightness and color from the warmer months even in the depths of winter, courtesy of the school's year-round greenhouse.
A former child development specialist at Colonel Wright and now retired, part-time volunteer at the school, Connie Krummrich, is the proverbial "Flower Queen" and makes sure everything growing in the greenhouse is properly maintained during even the coldest snaps of the season.
"Conditions vary," Carole Anderson, a friend and fellow volunteer of Krummrich's, said. "How much Connie has to regulate the heat and tend to the plants really depends on the week."
Small groups of students from Mrs. Bustos' 4th and 5th grade class are invited to have lunch in the green house about once a week, Krummrich said.
"The students really enjoy it and it gives them a nice, warm place to sit together and enjoy the flowers," she said.
Students also help tend to the plants themselves, under the guidance of Krummrich, Anderson and other volunteers.
"They help us water, they weed, and we teach them how to pinch the flowers and deadhead them so they stay healthy," Anderson said.
Last year, students helped transplant many of the flowers that rest comfortably in the shelter of the greenhouse today.
Geraniums and begonias provide bright splashes of color and a small pond of water lettuce, maintained by Colonel Wright teacher Mrs. Fortin, raised $200 for the school when they were sold to True Value last year.
"It's a great way to do a bit of fundraising," Krummrich said. "Past teachers have also sold marigolds and volunteers in other classrooms put on winter picnics here."
Both Krummrich and Anderson describe themselves as real "flower people" who are already dedicated to their gardens at home and love tending to the green house flowers and helping students learn how to care for them.
"It really is a lot of fun," Anderson said.
The chance to have lunch in the greenhouse is treated as a big treat in some of the elementary school's classrooms.
"Mrs. Garver goes by a point system and one of the ways she rewards students for good behavior is to give them the opportunity to have lunch in here and enjoy the flowers," Anderson said.
"It really is a pleasant place to be and you can really tell that the students get a lot out of it," Krummrich said.