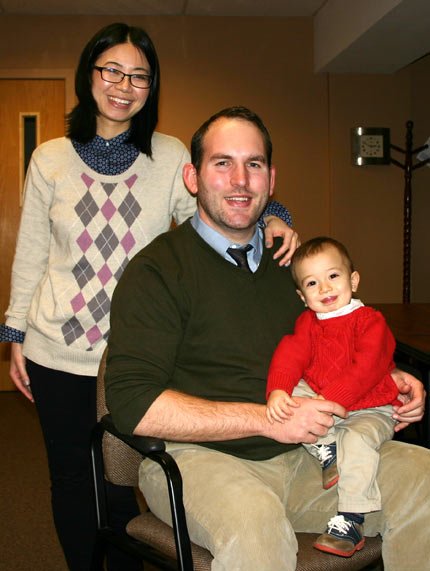 Optometrist treats all ages
Dr. Wes Haynes has joined Mid-Columbia Vision Center as its newest optometrist.
Haynes, 31, comes to The Dalles with his wife Xilei and 14-month-old son Owen. He started practicing here at the first of the year, following the retirement of Dr. Jay Mauck.
"This is a great opportunity," said Haynes, who noted that his favorite patients have been those with ages in the single and triple digits.
"I really like seeing the gamut of patients. Kids are really fun, but I've had a lot of older patients I really like to see," he said. "I'm used to working with middle aged or senior patients. A lot of times, they have more eye disease you can help with."
Haynes grew up in Umatilla County, graduating from Hermiston High School, and has had family in the area for six generations. He is a proud Beaver Believer and graduate of Oregon State University. He also graduated from the University of California Berkeley College of Optometry. His education provided experience in ocular disease, pediatric care and geriatric care.
His training has allowed him to serve some of the people he admires most, American veterans and active military personnel. His work at the American Lake VA was one of his favorite professional experience. Haynes also enjoyed extensive experience in contact lens specialty clinics at US Berkeley. He said his experience with contacts, as well as treating a wide range of dry eye patients, can serve as a great resource for patients in this dry climate.
One of Haynes' strongest academic interests was in low vision, helping patients with limited sight. He focused on serving patients with vision loss at the Light House Clinic in San Francisco, and at a post-doctoral fellowship at the University of Beijing Medical School.
"I helped them strategize how to be functional," Haynes said. On occasion that involved providing occupational tools such as walking canes and special magnifiers. "It was a bridge between low vision and occupational therapy."
Haynes also speaks a little Spanish, which he says continues to improve. He has been able to serve Spanish-speaking clients in Eastern Oregon and at rural clinics around Atwater, Calif.
He met his wife Xilei through mutual friends while in Beijing. She hails from the south end of China. She earned her master's degree in Britain and hopes to do web work in The Dalles.
Haynes worked with the Rotary and Downtown Alliance while working in Milton Freewater. Since coming to The Dalles he has resumed his Rotary involvement and joined Kiwanis.
"I really like the town," Haynes said. He and Xilei both enjoy outdoor activity. Since moving to the area, he has taught her how to ski. He also hikes and plays basketball and tennis.
Haynes says it is important for people of all ages to protect their eyes while outside by wearing sunglasses.
"While UV exposure leads to problems like cataracts and macular degeneration later in life, Americans get most of their UV exposure while they are still in school," he said. "Kid and infant sunglasses are fun, comfortable, and healthy!"
To contact Dr. Haynes, or make an appointment, call Mid-Columbia Vision Center at 541-296-2911.