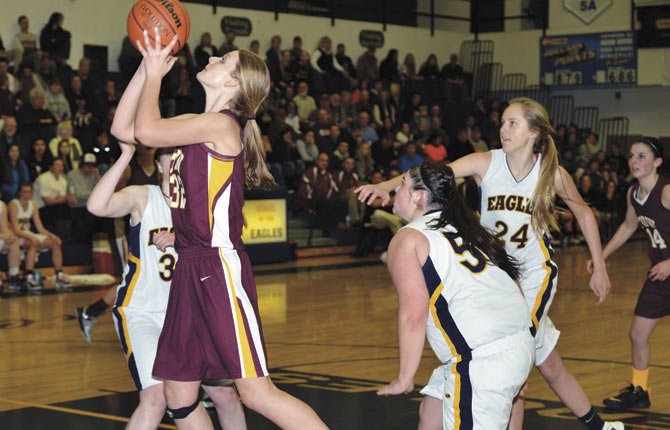 With a pivotal home game Friday against No. 3 Hermiston looming in the future, the consensus thought is that maybe The Dalles Wahtonka girl's basketball may have been overlooking Hood River Valley a bit.
After trudging out to a 26-14 lead through one half, the Eagle Indian defense clamped down and the offense worked a 28-7 output in the final two quarters for a 54-21 victory Tuesday in Columbia River Conference girl's basketball play in Hood River.
"We had to have a little discussion with them at halftime with how we were playing the game," said TDW coach Craig Compton. "We don't talk about the records for the other team, but everybody knows what Hood River's record is and if you do not come out ready to play, you don't bring the intensity level in the mind to make the body do what it is supposed to do, you have a first half like we played tonight."
TDW came out with a sense of urgency to kick off the third quarter, using a 19-0 run to break the contest open.
In that span, senior forward Emily Bailey sank a pair of long balls and added a two-pointer, and freshman Brooke McCall had a pair of buckets.
Olivia Starks netted five points, and Morgan Goslin rattled home a basket as part of seven field goals and a 3 for 3 effort from the charity stripe.
Once the buzzer rang, the No. 4 Eagle Indians were out in front by a healthy 45-14 margin.
Hood River Valley finally got on the scoreboard midway through the fourth quarter with three hoops for seven points, but TDW used nine points from four different players to complete the 33-point win.
"We did not come out as good as we usually do, but we brought it back together, figured everything out and came out with a good win," said freshman guard Kailin Hoylman. "It was important that we were not getting down on ourselves and holding it together. On offense we did a better job of looking for the right passes, slowing it down and working it out."
All told, TDW hit 20 field goals, three from long distance, and went 11 of 17 from the free throw line.
Bailey finished with a team-high 17 points, and added four steals, four blocks, three rebounds and three assists.
Down on the blocks, the 6-foot-2-inch Starks displayed dominance with 10 points, seven rebounds and six blocked shots.
McCall tacked on 11 points and six boards, and Goslin was good for six points, all of them coming in the second half.
"I think the impressive thing was our 19-0 run in the third quarter," Compton said. "We came out with a little more intensity in the third quarter and shut them out and then the game took care of itself from there."
The host Eagles managed a paltry eight field goals in 32 minutes, as Jestena Mattson led with six points and teammate Kainalu Bailey had two baskets for her five points.
This Tribe squad, although ranked in the top-5 with 15 wins and an average margin of victory of 20.8 in those wins, has six underclassmen on the roster, four freshmen.
It is still a work in progress, however, but the expectations remain high that this team has the ability and skill set in place to do well in the postseason.
To Hoylman, continued practice sessions, additional chemistry, communication and a strong supporting system have been crucial to success thus far.
"I am really impressed with how this team has done," said Hoylman. "It is good that everyone has come together and worked together so well. It is good for us. I think everything will fall into place if we can keep doing what we are doing."
Compton said the group, as a whole, is trying to grow stronger and get better with each game they play.
For the past few games, slow starts have become increasingly concerning.
"We need to come out with more intensity in the first quarter," Compton said. "We did not do that at La Grande and we did not do that against Pendleton. We didn't really do it tonight at all. Our focus right now is having the intensity level where we need it to be in order to be competitive with Hermiston. They are a solid program and a solid team. If we do not do it, the game will be over early."
TDW (15-2 overall, 2-1 league) hosts Hermiston (12-5, 3-0) at 7 p.m. Friday for a classic battle between two of the state's top basketball programs.