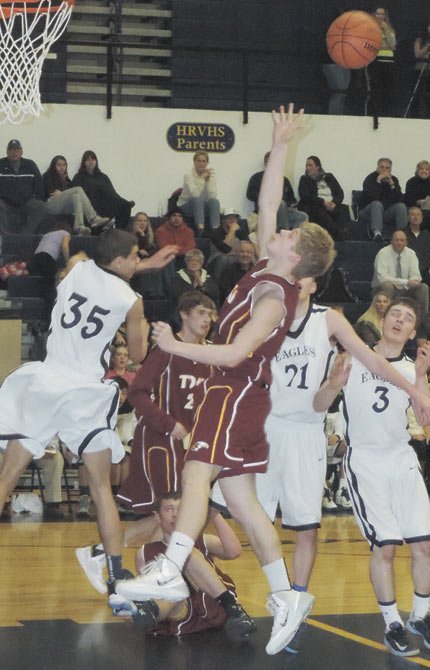 When a team is mired in a five-game losing skid, they can always rely on defense to get back on a winning track.
That is just what The Dalles Wahtonka boy's basketball team did Tuesday night, as the group stymied Hood River Valley to just two field goals in the second half as part of a 52-35 win in a Columbia River Conference tussle at Hood River Valley High School.
As a whole, the Eagles shot 13 of 36 from the floor, 2 of 17 in the second half and they committed 19 turnovers in the setback, as TDW held an opponent to a season-low in points.
Before Tuesday, the Tribe's previous low in points allowed was 48.
"It was a great defensive effort by the kids," said TDW head coach Bob Townsend. "It was nice to see them playing hard, implementing the scheme and getting after the 50-50 balls. All of those things are the keys to the defensive effort tonight. As long as our defensive effort is there, we have a chance in each game. As coaches, that is all we can really ask of them."
With eight seconds left in the second quarter, Hood River Valley guard Skyler Hunter drilled a 3-pointer to give his team a 28-27 halftime lead.
Hunter's hoop was the last one in a span of eight minutes and 23 seconds.
From the one-point deficit, the Tribe started rolling in the third period with three hoops and a free throw from Zach Nerdin and a layup from Colin Noonan to make the score 36-28 entering the fourth frame.
Hood River finally got on the scoreboard after a jumper and a free throw by Parker Kennedy and one charity shot from Noah Noteboom to make it 38-32 with 5:21 left in regulation.
Nerdin then added some distance with three straight baskets to give the Tribe a 44-32 cushion with 3:02 left.
Hood River's Scottie Ziegner hit the team's final basket with 2:47 on the clock to make it 44-34, but they went without a field goal for the duration, but added 1 of 4 free throws, with TDW finishing with three consecutive baskets from Steven Bartells, Austin Wilson and Nerdin.
TDW managed a 19 for 52 effort from the floor, and posted a 37-21 edge on the glass, 18 of those boards on the offensive end.
Nerdin capped his day with 22 points, 12 rebounds, three assists and four steals.
Bartells had nine points on 3 of 14 from the floor, Coby Conlee notched eight points, Clay Copper had seven points and six boards, and Austin Wilson added four points, nine rebounds, three assists and three steals.
"It is a nice win for their confidence," Townsend said. "We realize we are getting closer to being more and more successful every time we play. If they can continue to play the way they have in the last 8-to-10 quarters, they are going to have a chance in each game."
Kennedy paced the Eagle offense with 11 points, Hunter tallied nine and Kaydin Gibbs scored six points, all in the opening half.
TDW (3-14 overall, 1-2 league) heads to Hermiston (11-6, 3-0) for another CRC matchup at 7 p.m. Friday.