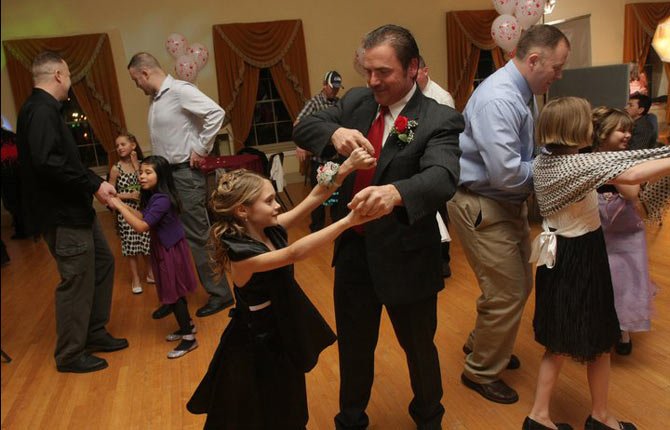 Announce your public, nonprofit activities here, 75 words or less. E-mail to tdchron@thedalleschronicle
.com or fax to 541-298-1365 or drop off at the Chronicle, 315 Federal St., PO Box 1910, The Dalles OR 97058.
New entries
SINGING VALENTINES: The Dalles Wahtonka High School Harmonaires are offering Singing Valentines at the high school Thursday, Feb. 13, and at elementary schools, The Dalles Middle School and The Dalles community Friday, Feb. 14, all from 8 a.m. to 4 p.m.
Orders must be placed no later than Friday, Feb. 7, at 4 p.m. A list of songs will be provided when order is taken. To place an order or get pricing information, call 541-506-3400, the main high school office or email haren@gorge.net.
BUDGET COMMITTEE: Mid-Columbia Economic Development District (MCEDD) is accepting applications from those interested in serving a volunteer, three-year term on its budget committee.
The MCEDD region covers Klickitat, Skamania, Hood River, Wasco and Sherman counties. Application forms are available at http://www.mcedd.org or at the MCEDD offices at 515 E. Second St., The Dalles. Applications must be submitted by 5 p.m. Friday, Feb. 28. For more information, call 541-296-2266.
February 6
GO RED: A three-day event focusing on women's heart health, Go Red, is scheduled for Thursday, Feb. 6, through Saturday, Feb. 8.
"Women and Heart Disease from Coronary Artery Disease to HRT" is the subject of a discussion at Water's Edge with Dr. Lena Weinman of Columbia River Women's Clinic and Dr. Kevin Wei of the MCMC/OHSU cardiology clinic Thursday. A wine tasting at 5:30 p.m. will precede the main program.
A Heart Expo from 11 a.m. to 2 p.m. at The Dalles Civic Auditorium and noon poker fun walk is set for Friday, which is also National Wear Red Day. The expo will feature a variety of health-related exhibits and prize drawings.
Saturday, The Heart Truth Walk starts from Kiwanis Pocket Park on Klindt Drive in the port industrial park.
KIWANIS CLUB: The Dalles Kiwanis Club meetings are every Thursday noon at Spooky's and visitors are welcome. Program for February:
Feb. 6, Dr. Gregory Keilman, chiropractor.
Feb. 13, Tim Melcher, district executive for Cascade Pacific Council Mid Columbia District Boy Scouts of America.
Feb. 20, Linda Evans, administrator of the North Wasco Virtual Academy.
Feb. 27 is the monthly club business meeting.
For more information
go online to www.thedalles kiwanis.org/.

February 8
CRAB FEED: The Sherman County Athletic Foundation and Morrow County Grain Growers Crab and Oyster Feed is set for Saturday, Feb. 8, from 3:30 to 8 p.m. at Morrow County Grain Growers in Wasco.
Presale tickets are $33. Tickets at the door are $40. Until Feb. 1, a block of 10 tickets is $300. Tickets are available at the Lean To Café, Morrow County Grain Growers and Huskey's 97 Market in Moro.
February 14
VALENTINES BANQUET: Vertical Fusion Youth Ministries invites you to our 2014 Valentines Banquet in support of the Life in Christ Center Guatemala Missions trip, Feb. 14, 6 p.m. at 3095 Cherry Heights Rd., The Dalles. Italian themed cuisine, tickets $8 per ticket. For more information, call 541-296-1136. Child care provided.
MOVING PLAY: The free Families First Play Group for age, birth to 6, is moving to Wonder Works, 206 Madison St., in The Dalles on the second and fourth Fridays, starting Feb. 14, from 10:30 a.m. to noon.
More information is available at The Next Door, 318 W. Second St., The Dalles, 855-308-2236.
VALENTINE'S DAY: In honor of its patrons, the Hood River Aquatic Center will host its 13th Annual Complimentary Pancake Breakfast on Friday, Feb.14, from 8 to 10 a.m. in the Aquatic Center Party Room.

February 15
POOL CLOSURE: The Aquatic Center will be closed all day Saturday, Feb. 15, for the High School District Swim Meet. The Aquatic Center will reopen Sunday, Feb. 16 at 1 p.m. for open swim and lap swim.
February 17
OPEN SWIM: The Hood River Aquatic Center will be hosting a special open swim from 1 to 3:30 p.m. on Monday, Feb. 17. Admission is $1. The slide and rope swing will be open, and the party room will be available for rental.

February 18
LECTURE SERIES: Prevention and Treatment Tuesday, Feb. 18, 7 to 8:30 p.m. Antibiotics are powerful drugs that save lives, but due to overuse, drug-resistant bacteria have developed that are difficult to treat with current mainstay antibiotics. When should antibiotics be used and when should they be avoided? Join Robert Pollard, BS Pharm, MHA, Director of Pharmacy at Mid-Columbia Medical Center as he discusses the safe use of antibiotics and what we can all do to prevent antibiotic resistance.
All Lectures are free and held at Water's Edge, second floor, Deschutes Room, 551 Lone Pine Blvd., The Dalles. Call 541-296-8444 or visit mcmc.net/library to register.
February 22
SASQUATCH SIGNS: Paul Graves presents Sasquatch Signs and Symbols, at the Columbia Gorge Discovery Center Saturday, Feb. 22, at 5:30 p.m. The evening event begins with a taco bar dinner at 5:30 and the presentation at 6:30. Reservations are required. Preregistration is required by Feb. 19. For cost and to make reservations, call 541-296-8600 ext. 201, or go online to www.gorgediscovery. org.
February 23
READING BENEFIT: A Taste for Literacy, a benefit for Smart (Start Making a Reader Today) is set for Sunday, Feb. 23, from 2 to 5 p.m. at the Sunshine Mill.
The event will include wine tasting, hors d'oeuvres, live music, raffle and silent auction. Tickets are available at Klindt's Booksellers or at the door. Learn more about SMART online at www.getSMARToregon.org.
February 24
UMPIRES NEEDED: Baseball and softball umpires are needed for the upcoming 2014 season. First meeting will be Feb. 24, at 6 pm. at The Dalles Middle School. Training as well as some gear is provided for new officials. For more information contact Commissioner Bob Ford at 541-980-4165.
March 1
INDOOR MARKET: The Shaniko schoolhouse will host indoor markets and bazaars every month through March to raise money for school improvements. Events include:
March 1-2, St. Patrick's Day Bazaar
Cost of a table is $10. For more information, call 541-489-3434 or email info@shanikooregon.com.
April 10
SCHOLARSHIP APPLICATION: The Columbia Gorge Community College Foundation's high-school scholarship application is now available. Any Mid-Columbia high school student graduating in spring 2014 may apply. Recipients may be awarded up to 12 credits tuition per term which can only be used at Columbia Gorge Community College. Recipients must attend CGCC in the 2014-15 academic year. Applications may be picked up in the Student Services department at The Dalles or Hood River campus as well as online at http://cgcc.edu/financial-aid/scholarships.
Applications must be delivered to either The Dalles or Hood River Student Services department at Columbia Gorge Community College no later than noon, Thursday, April 10.
For more information, email foundation@cgcc.edu or call 541-506-6111, or visit Student Services in The Dalles or Hood River.
Ongoing
BINGO THURSDAY: The Dalles Meals on Wheels, Inc. has bingo every Thursday night starting at 6 p.m. at 1112 W. 9th St., The Dalles. Minimum buy-in is $8 and players could win between $750 to $1,000 on the pink card game. The Dalles Meals on Wheels has been serving seniors for over 40 years both in their homes and at the congregate mealsite. Bingo is our major fund raiser and makes up about 35 percent of the budget.
MUSEUM VOLUNTEERS: Fort Dalles Museum reopens soon for its 109th season. Volunteers are sought to welcome visitors, show them the historic buildings and the treasures within.
Volunteer for as many or as few hours as suits your schedule. Call Fort Dalles at 541-296-4547 for information about becoming a museum volunteer, email fortdallesmuseum@gmail.com mailto:fortdallesmuseum@gmail.com or visit fortdallesmuseum.org to download a volunteer application.
SUPPORT PROGRAM: The National Family Caregiver Support Program has respite funding available. Are you caring for an adult 60 years of age or older?
Are you at least 55 or older and raising a grandchild or grandchildren? Respite, a temporary break from caregiving duties, can make a world of difference in helping family caregivers.
Funding of the program is provided through the local Area Agency on Aging. To learn more about the program and its services call Melissa Howtopat at Area Agency on Aging, Mid-Columbia Council of Governments. Call 541-298-4101 or 1-888-316-1362.
EXERCISE PROGRAM: There are three components to exercise, stretching, strength training, and aerobics. The Oregon State Extension service sponsors three Strong People programs in The Dalles and Mosier that will address the strength training and stretching portion. Classes are approximately one hour in length twice a week. Columbia Gorge Community College Auditorium, noon Mondays and Wednesdays. Mosier Senior Center lunch Room, 12:30 p.m. Mondays and Wednesdays. Mid-Columbia Senior Center basement, 2 p.m. Tuesdays and Thursdays. For more information call OSU Extension 541-296-5494.
VOLUNTEERS WANTED: Volunteers are needed to knit, crochet shawls and lap robes for cancer patients. Yarn and patterns will be provided. Call Betty at 541-980-0774.
COAT GIVEAWAY: The Salvation Army is offering coats all winter long during business hours for people in need, Monday through Sunday, from 10 a.m. to 5 p.m. at their office or thrift store at 623 E. Third St. in The Dalles.
Coats will be given to low-income individuals and families in need of warm coats for the winter.
For more information, call Kris at 541-296-6417.
GENEALOGY MEETS: The Columbia Gorge Genealogical Society meets the second Saturday of each month at the Columbia Gorge Discovery Center. The public and guests are welcome. A no-host lunch starts at noon in the Basalt Cafe.
For more information, call Sandra Bisset at 541-298-1240 or email wildflowers@gorge.net. Get a membership application or more information online at http://community.gorge.net/genealogy/about.html Blog: http://cggsblog.blogspot.com. The society is also on Facebook.
LAP LANES: Due to Water Polo and Swim Team practice, there will be no public lap lanes available at the Aquatic Center from 3:30-5:30 p.m. on Tuesday and Thursday afternoons.
$1 SWIMS OFFERED: The Aquatic Center offers $1 admission for all ages during open swim every Friday evening from 6:30 to 8 p.m. and every Sunday during open swim between 2 to 4 p.m.