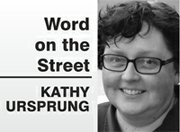 You yourself, as much as anybody in the entire universe, deserve your love and affection.
― — Gautama Buddha
(February is International Boost Self-Esteem Month.)
Not gone, just changed: The Dalles Academy of Hair has been a fixture here for decades and quite a few people noticed a change at that location last year. But the academy isn't gone, it just has a new name, Teasers Hair Design, under the ownership of stylist Laurie White.
"We're no longer a school, but we have a new name," White wrote.
Teasers offers facials, manicures, pedicures, color, perms, cuts, in other words, a full-service salon.
They can be reached at the same location and phone, 415 E. Second St., 541-980-1221.
It's about relationships. That's the word from Weinstein PR, based here in The Dalles, which
offers three public relations tips to implement in business:
It's about relationships. We human beings thrive on relationships. Aim to create deeper, more meaningful relationships — always.

Small touches matter. Personal notes. A gift (people love free stuff). A call to say thanks.

Use your own media to share great stories. Your website, social media, blog, and eNews should be fresh, vital and compelling ot your audience.
Weinstein PR recently welcomed Kate Bailey French to its team as marketing association director. The company describes her as someone who knows how to tell stories for people and brands, and "a keen strategist who realizes sometimes big ideas emerge from just noticing small things."
Welcoming the GOP: Local central committees in Wasco, Hood River and Sherman counties will be welcoming the Oregon Republican Party state central committee to The Dalles March 29, reports Darlien France.
"Our local central committees will be putting together welcome bags for the delegates," she said.
A schedule for the event is pending.
Be a host. The Dalles Area Chamber of Commerce is looking for hosts for the Business After Hours and Coffee Connections activities.
Give Tina Skeele, the Chamber's new membership and events coordinator at call at 541-296-2231 or email membership@thedalleschamber.com.
New at Cherry Growers: Grower-owned cooperative Oregon Cherry Growers is welcoming Kent Spalding, who is joining the company in the new role of vice president of sales and marketing.
With more than 30 years of experience at consumer product companies, primarily targeted in food and beverage, Spalding joins the company to lead strategic marketing, product development, business strategy and sales growth.
"With new products in the pipeline and a goal for national and international growth, now is the time for Oregon Cherry Growers to bring a consumer products veteran to lead sales and marketing, and help further grow the company," says Tim Ramsey, Oregon Cherry Growers President and CEO. "Kent's industry and management background makes him the ideal leader in this area, and we are confident he will complement the company's current sales growth and prepare the organization for future success."
Kent brings with him a broad knowledge of the food industry from years spent in senior roles at emerging food companies. His background includes positions with the Quaker Oats Company, Hunt Wesson, Dole Packaged Foods and Bayer AG Healthcare. He also served as Vice President of Marketing for Weetabix North America and thinkThin LLC, and has held senior management positions at Spins Syndicated Data and The Touch Agency. Kent will work with the sales and marketing team to prospect, identify and generate new business opportunities and lead sales growth for the company.
Executive rules: The Chamber is also hosting a Columbia Gorge Nonprofit Summit put on by Pat McGaughey, former local Chamber director, on March 18.
The three-hour event promises 157 rules for executive success in organization management, plus a bonus working lunch entitled "They didn't hire us to break even."
The closing session of the event will focus on nonprofit skills in raising more money.
Contact the Chamber at 541-296-2231 for price and more information.
Do you have an item for Word on the Street? Email kursprung@thedalleschronicle.com, or call 541-506-4601.