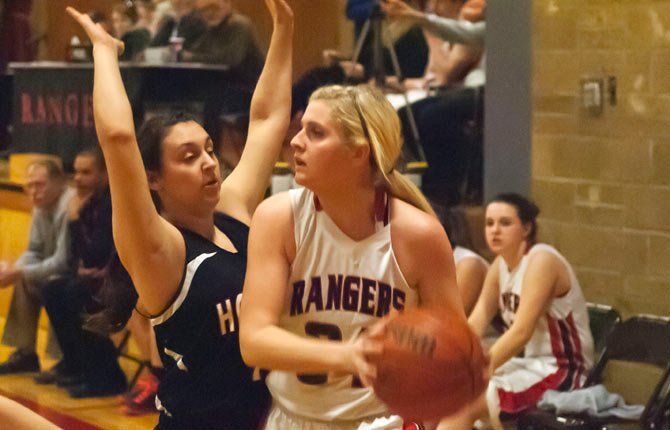 With the toughest part of the regular season in the rearview window, the Dufur Rangers are glad to see a stretch of four losses in five games fall by the wayside.
This roster came out strong and maintained its edge as 11 different players hit the scoresheet, storming Horizon Christian by a 49-28 margin Wednesday in Big Sky Conference girl's basketball play in Dufur.
"We didn't quite answer well enough offensively and our defense wasn't quite as strong as it needed to be against some of the better teams in the state," said Dufur coach Hollie Darden of the latest part of the season. "I saw some good things at St. Paul and I saw some good things tonight, so it shows that we are starting to turn things around. It was kind of a wakeup call against those other teams."
At one point in the opening half, the No. 7-ranked Lady Rangers built a 20-5 lead.
Horizon Christian did not score its first field goal until two minutes and 40 seconds of the first period, before adding one with 5:40 on the watch with 5:47 to go in the half, with a layup from Jodee Hicks to make it an 18-5 contest.
Just 41 seconds later, Dufur guard Aimeelyn Miller drained a jump shot to run the count to 20-5 with 5:06 remaining.
Both teams ended the half with nine points each, capped by a 3-point basket from Ranger point guard Alexa Macias and the scoreboard read 29-14 at the half.
In the third quarter, Dufur worked a 12-5 split to swell its cushion out to 41-19 entering the fourth quarter.
With 2:15 left in regulation, Hicks rattled off three consecutive points to move the Hawks to within a 43-28 margin.
Hoops by the Dufur trio of Megan Elam, Kelly Heemsah and Leticia Macias rounded out the scoring summary.
Sammi Ghramm paced the Ranger offense with 10 points, Alexa Macias added seven and Heemsah was good for six points.
Overall, the Rangers dropped 20 field goals and went 7 of 10 from the line.
Taylor Darden tallied five points, and the quartet of Miller, Sierra Gerber, Elam and Montana Ferres combined for four points each.
"I thought we had a good inside-outside blend tonight," coach Darden said. "We need to be sure to keep the ball moving and keep our post players moving. We want to be patient and give them opportunities when they present themselves. I think we are starting to get in a better rhythm with that."
For Horizon, which had 11 baskets and went 4 for 9 on the free throws, leading scorer, Trista Hicks, notched 12 points, and Jodee Hicks followed up with 11 points.
It was a good sign to see Dufur bounce back in this manner after losses to Condon-Wheeler, City Christian, Lowell and St. Paul.
Although Horizon Christian is currently riding a 15-game losing streak, Ferres said the team came with a plan to start and finish strong.
"We always go into games, no matter who the competition is, with a mentality of playing aggressive and smart," the junior guard said. "We do not look down on any team. We need to go out there and play our game and not play down or anything like that. We need to keep steady through the process."
The Rangers are finally attaining health and establishing a good rhythm on the court.
The final four games against Arlington, Sherman, South Wasco County and Ione can further test their mettle as the postseason looms.
Since Day 1, Dufur has a strong belief that it is one of the state's premier threats.
It is far from a finished product, however.
"I think we are working really well as a team," Ferres said. "We all know what we need to do in practice to improve. We keep working on different areas of our game each and every day. Even if it is a win or a loss, we still come out thinking positively about what differences we can make to help us get to a higher level."
Dufur (14-6 overall, 8-1 league) has a game tentatively scheduled for 6 p.m. Friday against Arlington.
If weather conditions don't worsen, both basketball teams will host the Honkers at 6 p.m. Monday, Feb. 10.
This Saturday, if able to travel to Sherman, the Ranger boys and girls will play varsity games starting at 12:30 p.m. and 2 p.m.