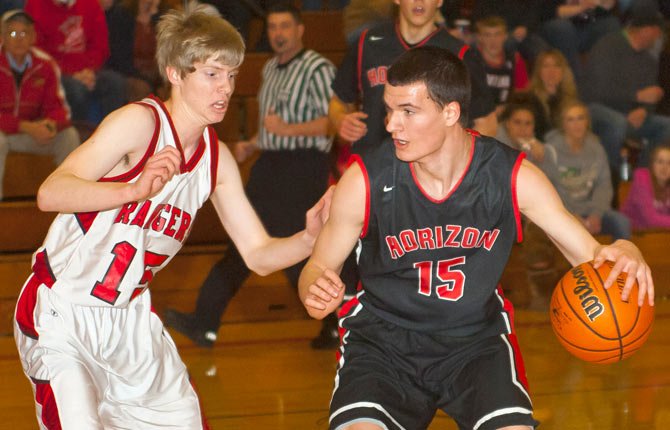 In a span of 20 calendar days, the maturation process was telling.
The Dufur Rangers turned a 71-29 loss on Jan. 17 to nearly a complete turnaround Wednesday night in a 66-49 setback to No. 1-ranked Horizon Christian in a much more competitive Big Sky Conference boy's basketball matchup at Dufur High School.
"The biggest thing I saw was they have improved. Dufur is a lot better No. 1," said Horizon Christian head coach Darrin Lingel. "They have done a lot of good things of late in terms of execution. They are putting it together. I told our kids before the game, that they were on a little winning streak, and they had confidence and they are really playing well. We knew we had to step up and play well to beat them."
In the opening half, Dufur fell behind by as much as 31-20 after a 3-pointer by Jared Davis with two minutes and 51 seconds left.
Ranger guard Caleb Morris sank a 3-pointer and then Levi Morris grabbed a steal and went coast-to-coast for a layup to draw Dufur to within 32-25 with 1:06 remaining.
As time was running down, the Rangers had another possession with a chance for a layup to draw closer, but a missed shot followed by a steal and a layup by Hawk guard Ethan Evans swelled the lead out to 34-25 at the break.
At the start of the third quarter, Dufur forward Bryson Caldwell drilled a long jumper to make the score 34-27 with 7:51 left.
But, that was as close as this group would get.
Horizon answered Caldwell's basket with a 13-0 spurt over the next 4:21 to make it a 47-27 lead.
At the 2:28 mark in the fourth frame, Dufur got the lead down to 13 points, at 59-46, after a runner by Connor Uhalde and a layup by Jake Kortge, but Horizon slammed the door shut with a 6-2 run down the stretch.
"That is the best we have ever played against them," Kortge said. "They are kind of like our rivals. We want to beat them. We work to beat them. That is where we put the effort in. We do that for all the teams, but playing with them is a huge step for us compared to last year and earlier in the season when they beat us by 40. To be able to step up and play in a game like that, just makes a big difference and gives us confidence."
Horizon Christian hit 25 field goals, six from 3-point territory, and sank 7 of 14 free throws. Matt Totaro scored a game-high 25 points, and Micah Engel tacked on 12 points.
Davis and teammate Wes Johnston notched 11 points each, and Mason Bloomster was good for four points.
Dufur coach Tony White called it a great challenge to match rosters against a Horizon team that is one of the favorites to win a state championship.
Although Horizon is a team that strikes fear and intimidation into the opposition, he noticed that his players did not play scared this time around.
"We took it right at them. Our guards were penetrating and going to the rim and our big guys were going against their big guys straight up," the coach said. "It wasn't a soft, fading away mindset, it was taking a power dribble and going to the rack mentality. That is what you have to do against a good team. You can't play with fear."
For the Rangers, Uhalde netted 14 points and Caldwell dropped 11 points, as the team totaled 21 baskets from six different players and tallied a 1 for 3 split from the line.
Morris and Kortge combined for eight points apiece, and freshman point guard Bailey Keever added four points.
"We had a lot of defensive lapses tonight on our end," Lingel said. "We had a lot of missed shots too. You are going to have nights where the shots don't go, but we can't have nights where the defense doesn't go. The defense has to go and it did not go very well for us tonight. I have to credit Dufur. They played well."
With the stark improvements made by Uhalde, Keever and Morris, Kortge said it has made the offensive and defensive continuity a seamless transition.
It has shown in the team at the point of nearly tripling their win total from last season.
"They are putting in 110 percent in every single game, doing what they can," Kortge said of that backcourt group. "They are good, they are quick and fast, and they never give up. They have motors that never quit. When we have more kids doing that, compared to people lagging around, that tempo brings the whole team up."
Dufur (13-6 overall, 6-4 league) is still set as the third seed in the standings, with four games left.
The No. 20-ranked Rangers host Arlington at 7:30 p.m. Friday.
At 4:30 p.m. Saturday, the Rangers travel to Moro to take on Sherman.