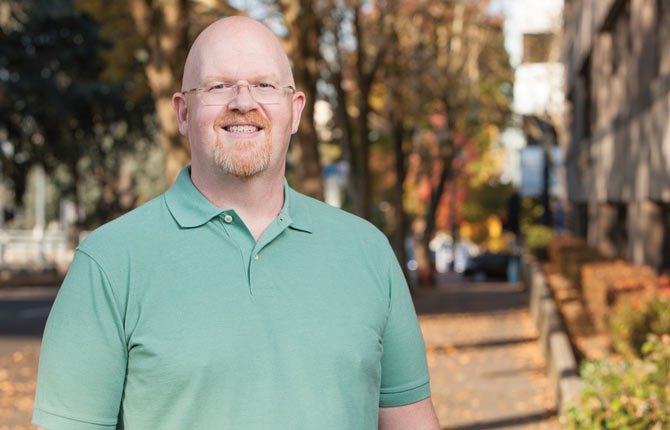 Brett Bigham, Multnomah ESD special education teacher and guest lecturer at Columbia Gorge Community College Jan. 27, told CGCC faculty and staff that he'd had the surprise of a lifetime when he was selected to become Oregon's teacher of the year.
"I am a Special Ed. teacher, first and foremost. Those are the kids I teach, those are the families I watch out for and those are the groups that I am going to fight for," Bigham said. "Being Teacher of the Year is not about winning an award for doing something special. It is about being an ambassador for education. It is about representing every teacher in the state, and it is about standing up for every child, in every county and city and town."

Bigham is the first special education teacher to be selected as Oregon's teacher of the year, and his commitment to furthering the cause has been going strong for years.
"No matter where you go in Oregon," he said, "you're going to find students who are struggling… My job is to be the stubborn fool who won't budge while advocating for them."
According to Bigham, special education teachers are "masters" at making their own curriculum.
"When I'm in the classroom, I want groups of students working together on the same thing, no matter if one student is painting a masterpiece and another is drawing in crayon right next to him."
Over the last several years, Bigham has designed and written dozens of what he calls Autism Guide books, or special pamphlets that chart out and explain various locations in detail so that students who struggle with sensory issues know what to expect and are less likely to become "overwhelmed or frightened" when encountering changes in the environment.
In partnership with Portland State University, several classes of PSU students have written even more of these guide books, all of which are available online for public use, completely free of charge.
"Thanks to all our work, there are now 24 different places you can go in the Portland area where kids with Autism will have access to one of these books. And, thanks to PSU, all of them are now also available as apps for your smart phone. I want to make sure no one's left out."
Bigham says that he intends to visit every county in the state in the coming year to speak about special education and the positive changes he hopes to one day be able to influence at the legislative level for the benefit of students just like the ones he's taught in his own classroom.
"The messages I am getting from Special Ed. families from around Oregon is that they need a champion," he said. "When a tearful mom tells you, 'Finally, people will know we are here,' it becomes very clear that there are people who need to know that there are teachers like me working hard on their side."
Along with his plans to visit every county in Oregon, Bigham says he will also have the opportunity to speak with President Obama in April about special education and the changes he believes need to be made in order to make students' experiences at school "healthier and more conducive to life-long learning."
"To me, the whole point of this is to get people to think. If you work hard and are able to get people to really think, there's a lot you can do to change the world in positive, lasting ways."