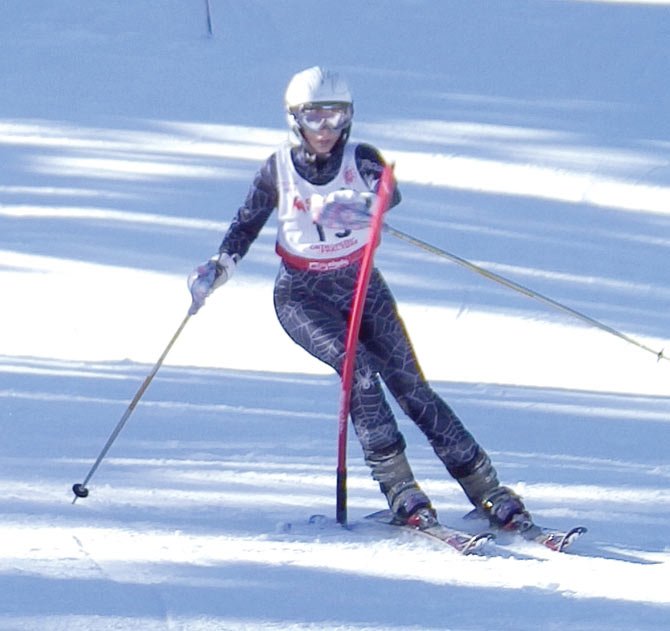 The Dalles Wahtonka continues to get some significant performances from their veterans with five top-16 finishes, as the boys and girls each tallied second place in Oregon Interscholastic Ski Racing Association action in a giant slalom varsity skiing event held on the Shooting Star Ridge down Apollo at Mount Hood Meadows.
Tribe head coach Jeff Cordell said it was a sunny, cold day, with some new snow earlier in the week that made the course soft and slow on top, but still fast on the bottom half.
On the boys side of the course, TDW senior Mark Johnson enjoyed the best finish of his team, with a two-run calculation of 2:35.62 for fifth place out of 34 racers.
"Mark Johnson had two really good runs and earned himself a fifth-place finish," coach Cordell said of his top senior. "It's great to see Mark having such good success after all the hard work he has put in over the last few years."
Freshman Preston Klindt maintained his edge for 12th place in the standings with rallies of 1:25.19 and 1:18.58 for his 2:43.77.
Martin Carter (3:02.74) ended up 24th, Eli Holeman went for 1:50.77 and 1:12.00 for a combined marker of 3:02.77 and 25th place.
"Eli was first out of the chute for the boys and was having an outstanding run, but lost a ski on a bumpy section and had to hike," coach Cordell said. "That would have shaken other kids up, but Eli came back with a hard-charging second run and finished well."
Griffin Martin tacked on a 3:04.31 for 27th, and Xavier Michel had one opening run of 1:27.53, but fell on his second to not register a time.
With those top three times posted by Johnson, Klindt and Carter, his best finish of the season by a long stretch, the Eagle Indians wound up with a 7:58.92 for second place, 45.28 seconds behind Hood River Valley (7:13.64), who had William Lamer (2:21.81) and Austin Keillor (2:22.66) end up in first and second place, respectively.
Grant (8:10.64) and Sandy (8:21.53) rounded out the team standings.
"Preston Klindt continues to improve," coach Cordell continued. "Thanks to a fast time from Xavier Michel, from Switzerland, the boys were able to salvage the first run time and still get a second place finish."
Staked by the top-3 finishes off the skis of Korey Cimock (2:20.09), Lucy McLean (2:22.28) and Kelli Clarke (2:25.28), Hood River Valley jumped to the top of the girl's standings with a total marker of 7:07.65.
TDW (8:17.06), Grant (8:20.56), St. Mary's Academy (8:22.28), Sandy (8:35.89) and Cleveland (9:38.52) made the list of final team finishers.
Carsen Cordell locked up the best two runs on the Tribe girl's team with clockings of 1:23.40 and 1:18.02 for a 2:41.42.
Bailey Cordell ended up less than a second behind her sister with a 2:42.89, adding the eighth-best second run of 1:19.82.
"Carsen led the team off with a great first run, showing clean form and smooth skiing," coach Cordell said. "That was the fastest time for The Dalles girl's first run, beating her twin sister for the first time this season. She skied the second run just as well, but Bailey came on strong and barely beat her, but it was enough to move ahead in the rankings."
TDW's foreign exchange sensation, Susanna Talenti, notched 16th place with a 2:52.75 and teammate Alyssa Carrico tacked on a 3:04.12 to tally 21st place.
"Susanna contributed the other team scores for the day with a solid 16th-place finish," coach Cordell said.
Alicia Anderson placed 26th, adding a marker of 3:13.56 to her impressive record, and Emma Ell-Smith churned out a 3:14.14 to garner 27th place in the group of 51 racers.
Robin Pashek was the final TDW skier to log two runs on the day, moving her place to 40th in 3:30.52.
Due to school closures, this Saturday's event has been canceled. Up next, TDW hits the slopes again at a location to be determined.