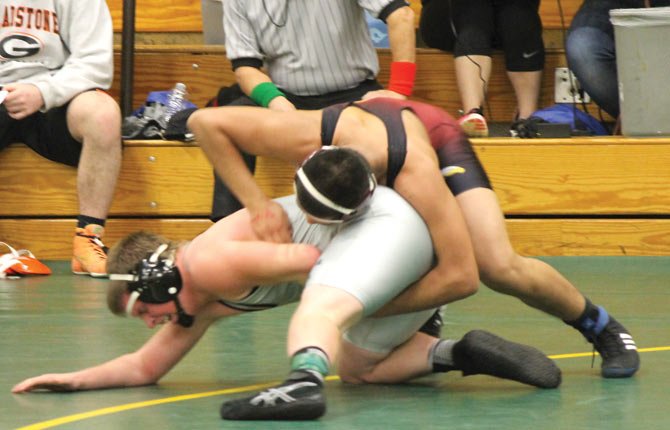 Mason Bansch and Joe Linebarger continued their winning streaks with decisive wins, but The Dalles Wahtonka wrestling team had six forfeits along with five pinfall setbacks for a 70-6 loss in a Columbia River Conference wrestling dual Wednesday in Pendleton.
By the time Bansch hit the mats for his 132-pound matchup, TDW fell behind on the scoreboard by a 24-0 margin, as Pendleton got pin wins from Tristan and Morgan Holcomb along with two forfeits.
Bansch went to work versus Garrison Alger, and both grapplers took turns with takedowns and nearfalls for six minutes.
When the final buzzer went off, Bansch tallied one extra point to take hold of an 11-10 victory to put TDW on the scoreboard, 24-3.
"I think I am now getting a little better every time I can stay healthy and get a match," Bansch said in an earlier interview. "If I can win a few more matches before districts, I think I can have the confidence in myself to keep it going."
Pendleton's Ryan Skeen (138) pinned Luis Herrera in the third round, T.J. Hancock (145) had another pin on Mitchell Waters, and Al Ferder (152) followed with a second-round pin of Damion Morris.
After another forfeit, Pendleton's Pyper McCallum (170), racked up points for a 15-3 major decision.
TDW then forfeited its 182-pound match, before the No. 6-ranked Linebarger (195) hit the squared circle versus No. 9 Marcus Taylor.
The T-Dub sophomore dominated the match for all three rounds, and walked away with a 5-1 decision.
"The coaches always tell me how strong I am even though I don't know it yet," Linebarger said. "They tell me to shoot in and keep going and take my opponent down. It has been working for me well."
TDW hosts Hood River Valley for senior night at 6 p.m. Thursday at Kurtz Gym in The Dalles.
This will be the last regular season matches for many of the Tribe's wrestlers before the regional tournament on Feb. 21-22 in Portland.