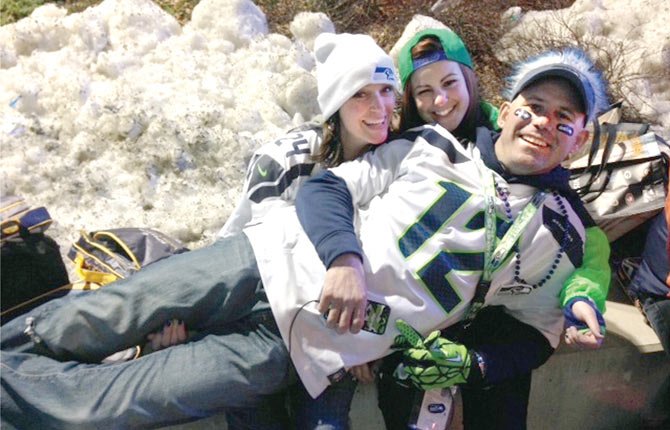 Dennis Everts traveled far and wide, spanning the globe through rain, sleet and snow, for 16,500 miles and more than 80 hours in airplane flights all for the sake of dedication, sacrifice and respect, honor and love for the game.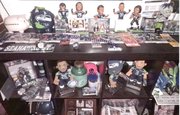 The Dalles native and 1989 TD High School graduate was rewarded for his unwavering support of the Seattle Seahawks with a trip to New Jersey for Super Bowl XLVIII, where a climax of 43-8 over the Denver Broncos capped a memorable 2013-2014 National Football League campaign.
Seattle hadn't celebrated one of its own professional teams winning a championship since 1979, when the NBA's Seattle Supersonics captured the imagination of a community to hoist a title trophy.
"It was a great feeling," Everts said of the Super Bowl experience. "The people that know me and know how much of a die-hard fan I am know what this meant. I can't explain it. It is finally over. The wait is finally over. I have so much passion for this team that some may think I go overboard, but it is part of my life."
Through the entire time in this campaign, 19 games and 16 wins, Everts was there every step of the way.
The road trips were fun and tiresome.
Everts said every stadium, from Indianapolis, Houston, Atlanta, Arizona, San Francisco, New York in December, and St. Louis in late October for a Monday Night Football game holds a nice memory.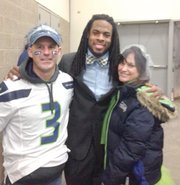 While donning his custom-made No. 12 jersey, with his fuzzy-haired visor cap to go with the player gloves, Everts encountered a small amount of conflict.
All the towns were fine, but San Francisco.
"They were a pretty rough group," Everts laughed.
If that is not crazy enough, he plans to follow the Seahawks on the road next season when they play against Philadelphia.
Yes, the same facility that has an underground jail and court room on site.
"A lot of people may think I am probably crazy for wanting to go to Philly, but I will take five or six people with me so it would be safer," Everts joked.
Everts, who played football and wrestled at The Dalles High School, has been a Seahawks fan since he was six-years old (1976) and went to his first NFL game in 1979.
In 1993, Everts went all-in on his fanaticism, finally purchasing season tickets, while still living in The Dalles.
He did the same thing every football season until finally making the move to Everett, Washington in 2007.
After many years of wondering about what a road game would feel like, in 2008, Everts, who is a journeyman lineman by trade, had the experience of taking a road trip with long-time friend and Hampton Furniture owner, David DesRochers, to watch the Seahawks play a road contest, on Thanksgiving Day of 2008, the final season of Texas Stadium.
"I was hooked after that," Everts said. "It is a fun feeling walking in to an opposing team's stadium as the enemy."
There were several occasions where Everts attended games with friends and by himself.
With his wife, Tami serving as an office manager at an orthodontist office in the Everett area, weekends are booked solid with Saturday appointments, so Sunday trips were tough.
Tami did not let this Super Bowl opportunity go by the wayside, however.
"It was an amazing experience to be there for the Super Bowl," she said. "Words cannot even describe how amazing it was. I could not believe that we were there for a part of history."
Friday in New York, the Evert trio visited Super Bowl Boulevard for window-shopping, observing hundreds of media types from all over the globe and soak in the ambiance of the festivities.
From there, they went to the Today Show, and Dennis gave an interview to some local television anchors for a nationwide broadcast.

Dennis said that on Saturday there were so many people in the streets, so it was tremendously tougher to navigate through the crowds for anything of substance.
On Sunday, there was a choice of either taking a bus or train to New Jersey from New York.
"We took the train and it was just a madhouse," Dennis said. "I can't even explain it. I heard there were 20,000 people taking the trains that day, but it was more like 30,000."
At the big game, the Everts sat in section 110, row 1, on the Denver sidelines.
While there was taunting from the Denver faithful, Dennis had it droned in his head for the duration of a flight he took from Denver all the way to New York City.
Nevertheless, the Seattle fans were just as loud, creating a Bronco turnover on the first play from scrimmage.
The first play fumble and subsequent safety set the stage to what turned out to be a lopsided Seahawk romp under the lights at MetLife Stadium.
As the final quarter got underway, the Everts were in an emotional state – the 38-year wait appeared to be over.
Dennis said he did not cry.
Not one tear was shed.
He insists.
"You know, actually, yes he did. He really did cry," said Tami, who married Dennis on the tailgate grounds at CenturyLink Field on Dec. 30, 2012 in Seattle. "We did this whole embrace thing and you could see the tears in his eyes. I thought it was such a sweet moment. He was really happy."
When evaluating the total cost of between $15-16,000 for the season, Dennis has no regrets.
He experienced a dream season not many fans get to, he chronicled it on his Facebook account and made several new friends along the way.
The family element remains a stronghold in the Everts house, with his wife showing support for her man and the kids, Taylor, Katie, Ashlie and Michael slowly, but surely developing the same fanatical adulation for the Seahawks.
Ashlie never batted an eye when asked by her father if she wanted to wait in the frigid cold early Wednesday morning last week on the day of the celebration parade in downtown Seattle.
She could not pass up on the chance to see Seattle receiver Doug Baldwin up close and personal.
Before the yearlong travel journey, Ashlie, 26, talked about the typical game day in the Everts household.
From the early morning noises and preparations to the yelling and screaming that could be heard from miles on end.
Win or lose, her father is just a dedicated Seahawks fan.
"I don't think that it is crazy at all," Ashley said. "It is good to know that there are people who are true fans through-and-through, who actually bleed blue and green. I love him for that. I don't think he could ever go overboard because I know how long he has been a fan. He has stuck with them through the tough times."