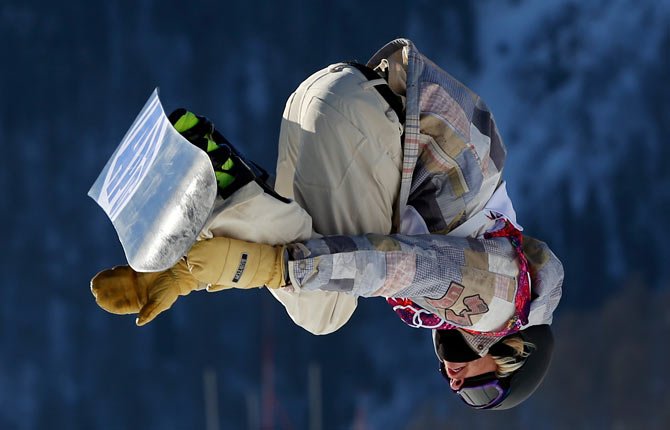 KRASNAYA POLYANA, Russia — Sage Kotsenburg loves snowboarding for all its unexpected surprises.
Winning the Olympic gold medal, for one.
And winning it with a trick so outrageous, he named it the "Holy Crail."
The 20-year-old American jetted off the first big jump of the slopestyle course Saturday and propelled himself into a helicopter twirl that whirred around for four-and-a-half rotations. While in the air, he grabbed the back of his board and flexed his legs behind his back.
Kotsenburg landed the jump cleanly. The fans in the mostly full stands, knowing they had seen something completely new in a completely new Olympic sport, let out a huge gasp.
On the strength of a trick that will officially go down as a "1620 Japan Air Mute Grab," the kid from Coeur d'Alene, Idaho, and known as "Second Run Sage" posted a winning score of 93.5 on his first run.
Nobody in the 12-man field of finalists could top him. Kotsenburg put the first gold medal of the Sochi Games into the "USA" column. Soon after, he and the other medalists, Staale Sandbech of Norway and Mark McMorris of Canada, were hugging, body-slamming and turning their sport's "Kiss and Cry" zone into a mosh pit.
"I kind of do random stuff all the time, never make a plan up," Kotsenburg said. "I had no idea I was even going to do a 1620 in my run until three minutes before I dropped. It's kind of what I'm all about."
Kotsenburg's jump was the high point of yet another sunny, windless day at the Rosa Khutor Extreme Park. Combining all that, along with a bit of half-expected, half-legitimate griping about the judging, made it easy to forget that Shaun White had pulled out of this event before qualifying, complaining about the toughness of the course.
White, one of the most cutting-edge innovators in the game, was practicing on the halfpipe below when Kotsenburg landed a trick nobody had seen in a bona fide contest.
"Never even tried it before," Kotsenburg said. "Never, ever tried it in my life."
When he was a kid, he went to snowboarding camp in Oregon and Mike Jankowski, the coach there and now the coach of the U.S. team, tried to coax kids away from the big features and over to the halfpipe, where the fundamentals are taught.
Wasn't so easy with this kid. He always wanted to do the jumps.
"For Sage, that's what he's about," Jankowski said. "It's keeping snowboarding fun, whether the judges like his run, whether he gets a high score or a low score."
Copyright 2014 The Associated Press. All rights reserved. This material may not be published, broadcast, rewritten or redistributed.