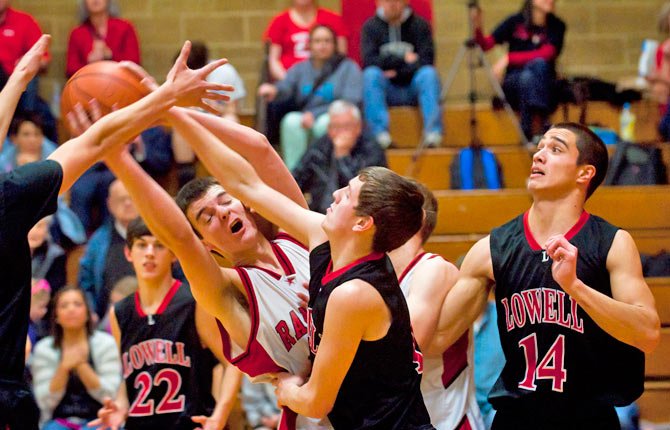 After building as much as a 14-point lead in the fourth quarter, the Sherman Huskies needed clutch free throw shooting to stave off a furious comeback attempt by the Dufur Rangers for a 52-41 victory Monday in Big Sky conference boy's hoops action at Sherman High School.
The Rangers held one lead in the game, 2-0 in the opening quarters, and Sherman kept coming with some strong offensive play to move ahead by double digits with one period still left to play.
In the finale, the Rangers began to chip away to inch to within a six-point deficit
Aside from a pair of front-end free throws misfires, the Huskies found their groove from the charity stripe by sinking 8 of their final 10 shots, including a 5 for 7 split from senior point guard Nick Coleman to seal the win.
"We managed to get back some momentum and hold them at bay as they were forced to foul," said Sherman head coach Bill Blevins.
Both teams have wins against each other during the regular season. If Sherman wins out and Dufur does the same, they will hit the floor for a district tiebreaker game at a time and location to be determined on Monday, Feb. 17.
Sherman led by a 14-12 margin through one quarter of play, but then built some distance in a hot shooting second quarter with a 15-7 run to jump ahead, 29-19 at the break.
Both defense clamped down in the third frame, but the Huskies were able to add to their cushion with a 9-5 split to make it 38-24 with one quarter left.
It was a stark contrast in output for the Sherman defense Monday, where the Ranger output was cut from 71 on Jan. 31, to their third-lowest of the season (41).
Dufur had its first game action in nearly a week, but Sherman had an extra dose of energy sparked by a boisterous crowd.
"Our defense was much better than two weeks ago when we played them at their place and lost 71-57," Blevins added.
Austin Kaseberg paced the Husky offense with 16 points, and Isaiah Coles was good for 14 points, as the team sank 17 field goals, five from 3-point territory, along with 13 for 20 from the free throw line.
Dufur freshman Connor Uhalde led the team with 15 points, and starting forward, Jake Kortge, tacked on 12 points.
All told, the Rangers hit 16 field goals, four from long range and added 5 for 10 from the line.
After consecutive double-digit losses against Horizon Christian and Sherman, first-year Dufur coach Tony White emphasized the importance of flushing Monday's game from their minds.
"We played decent on defense, but we just missed a ton of good looks at the rim," White said. "It was really four days of not practicing and going to a different gym (that affected play). We get back to work tomorrow and focus on South Wasco and they will be fine."
The Rangers (13-7 overall, 3-5 league) next travels to Maupin for another league tussle against No. 12 South Wasco County (12-7, 3-1) at 7:30 p.m. Friday.
Sherman (11-9, 2-3) hosts SWC for senior night at 7:30 p.m. Wednesday.
After that, it hosts Central Christian at 7:30 p.m. Thursday.