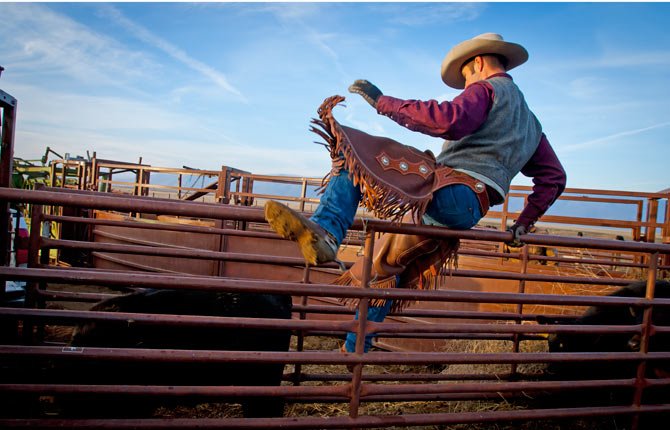 Maupin rancher Keith Nantz rides his horse "Dude" into the corral at the Oak Springs Road ranch and dismounts to begin a long day's work in weather that hovers in the low 20s.
On the chore list this day is marking three-month-old calves with the Dillon Land and Cattle Company brand. He will apply the electric hot iron to the thick hide of the animal as proof of ownership in case the animals are lost or stolen. A copy of the symbol used for the brand, along with a specification about what part of the body it will be applied — the right rib for DLCC — is registered with the state.
Before any of these tasks can be performed, the cattle must be sorted by their identification numbers, which can be a tricky process since they bunch together under stress. Nantz walks among the protesting cattle, judiciously using a "Sorting Rattle Paddle" to shift them around. Steel balls inside the plastic of the paddle make the sound of a snake and the cows and calves instinctively move away as he approaches with it.
Sometimes he appears to almost be dancing as he sidles up to the group and sidesteps among them to scan ear tags or the corresponding number that is freeze branded onto the hide. Once he locates a cow or calf that requires further attention, he uses the paddle to single out the animal, or cut it, from the herd.
"Go, go," he urges, stepping aside so a cow can wheel around to run out of the large pen.
Cowhands Eric Hyatt, Jason Ware and Craig Rutherford follow the bosses' commands and open a series of gates so that, when the cow makes a break for freedom, she has only one route open – into the holding pen chosen by Nantz.
"Middle," he calls and Hyatt moves quickly to close off an exit gate so the registered cow ends up with others that will soon be driven toward the squeeze chute.
"Down," yells Nantz and the gate to the pasture is opened up and a cow is allowed to join the 60 cows sporting yellow ear tags that do not need attention this day.
These cows gave birth in October and it is their calves that will soon be branded, so the mothers are milling around the pens, vocally complaining about being separated from their babies.
His favorite registered cow is number 7054 because she "produces one hell of a calf every year," as does her daughter and granddaughter. But in the sometimes strict world that is ranching, even the favorites end up getting culled from the herd if they are not contributing income.
Cows that spent 60 days with one of the company's three bulls and did not get pregnant will be sent to market. Nantz said it does not pay to invest hay or pasture into a cow if she is not providing revenue.

"A calf creates cash flow every year," he said.
Although he has to look at the herd from a business viewpoint, he also holds a deep love for the animals under his care and they are treated with respect and as humanely as possible.
"This land is my family and these (cows and calves) are my family," said Nantz.

After a couple of hours in the stock pens, he has more than two dozen registered cows and their calves in the appropriate groupings and ready to head for the squeeze chute. The device is named for the mechanism that allows him to close it securely around the body of cattle and then lift metal bars on the side for access to whatever area he needs to work on.
One by one, the cattle are restrained so that he can work without fear of injury to himself or them. He has also removed any possibility that they will toss their heads and tear the hole he punches through their ear to
how it has been raised. The calves of about 200 pounds each are driven into a smaller chute that is turned on its side so Nantz can apply the hot iron over the animal's right ribs and castrate the males. Although he can band their testicles, which cuts off the blood supply, he opts to get the pain over with and let the healing process begin immediately instead of dragging it out for three or four weeks while the tissue is dying.
"It is just a philosophical difference," he said.
The air is filled with the smell of burnt hair and flesh as he works, running down and wrestling one calf to the ground after it bolts before the bars of the chute close in.
"We're burning daylight here," a frustrated Nantz tells the crew as three more calves take advantage of the diversion to make a getaway.
The shadows of sunset are falling across the land and the temperature has become even more frigid.
Nantz decides to leave the three escapees alone for the moment. Two days later, he and Hyatt head out on horseback to rope them and finish the job.
He believes cowboys have become part of American legend because the occupation is steeped in a tradition that tests a man's character and courage. He said while the rest of society appears to be confused about gender roles, a cowboy calls no man master and leads an often dangerous existence.
"I like to hold onto tradition because I believe God intended men to live for adventure and that is slowly being taken away from them," he said. "You can't take the rugged spirit out of a man without him losing the place that he was given in this world."
During the sorting process, he has rounded up cows with some sort of a physical deformity – one has a bulging jaw from an injury — and they will be "sent down the road," which, in ranch talk, means they are going to the sale barn.
Nantz said 10 attempts to doctor the cow have not worked and, while she still has economic value, he has to sell her for beef production. He also doesn't want to take the chance that a potential customer will drive by, see the problem, and think he is raising an inferior herd, or treating his animals inhumanely.
"Consumers are very disconnected now from the 'real world' and might see that defect and think something was wrong with the beef," he said.
Nantz said reputation can make or break an operation with ranching now under incredible pressure from environmental activists who see cows as a non-native species that destroys natural resources. In recent years, their campaign has evolved to include arguments that methane gas released by cattle contributes to global warming.
In reality, he said, when grazing is managed correctly, it can create a symbiotic relationship with the environment that can actually sequester more carbon than is being produced by cattle.
"There are several generations of people now removed from working the land and that has thrown things out of balance," he said. "Our industry has got to do a better job of educating people because our markets are driven by the consumer."