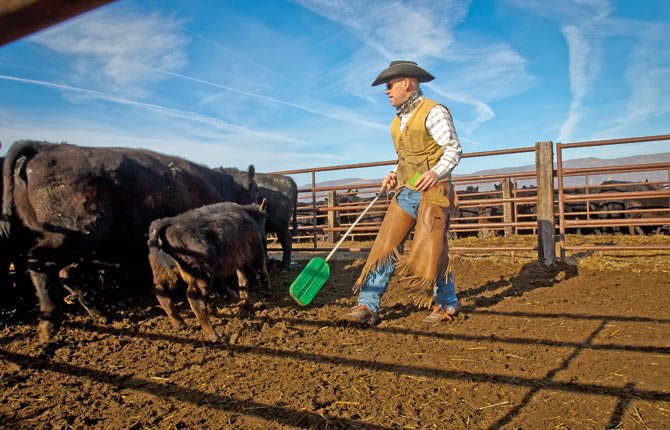 MAUPIN — Singsong chants of "Come on gals, come on gals, hi, hi, hi," and "Hey ladies, hey ladies," are accompanied on a cold winter day by a cacophony of protesting moos and bellows.
Cowboy Keith Nantz and his crew are walking behind the recalcitrant cows, some of which gave birth in the fall and have calves by their side, and some that are pregnant and will deliver within the next month or so. The men use words of encouragement to keep the cattle moving toward a labyrinth of stock pens in the corral.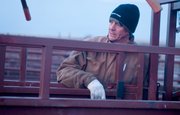 Working behind the scenes at the Oak Springs Road ranch between Tygh Valley and Maupin is Poncho, a border collie who races behind the cattle and nips their heels to get them headed in the right direction.
It is time to change out identification ear tags on the registered cows that are too faded to read with a new brand that is much more legible. In addition, Nantz will inoculate them with shots in the neck, which follows Beef Quality Assurance guidelines by being kept away from the meat. He will also give them medicine to prevent internal worm parasites.
The numbers on the tag begin with the year the cow was born, followed by the numerical order in which they arrived to create a four-digit figure. They are placed in the left ear of females and the right of males.
Yellow tags are used for the commercial side of the herd, which is raised solely for beef. Red tags for registered Angus and white tags for a hybrid breed of Gelbvieh and Angus that also has a registered genealogy. Their female calves will become part of the herd to replace those that are harvested due to age or for other management reasons. Their male offspring may become bulls that are sold to other producers or castrated as steers for meat.
A Rancher's Life is a year-long series by reporter RaeLynn Ricarte and photographer Mark B. Gibson of The Dalles Chronicle. Here are the stories so far:
A Rancher's Life and A 'big picture' outlook started the series January 25, 2014.
All in a Day's Work and Moving cows is just the beginning were published February 12, with Weathering the storms. An audio slideshow, Working cows, was also published in February.
March started with a look at wolves in two parts, Wolf trouble and Wolves on the move. It continues with Springs promise, a look at calves and spring on the ranch.
An editorial, "More defenses needed," wrapped up coverage on this issue.
May started with the story exploring the trouble faced by one ranch, whose story is told in new feature-length movie screened locally in Hood River. One family member currently lives in The Dalles, and in "A Place to call Home" she tells her story.
May also featured multiple stories addressing the issue of public grazing, an issue researched by reporter RaeLynn Ricarte for over four months. The issue is first explored in"Battle rages over grazing rights." Much of this battle has been fought in court, and "Taxpayers foot the bill of resource lawsuits" explores one aspect of this battle. Additional stories followed: Seeking balance on our public lands, A place for cattle, Activist disputes accusation of fee gouging, An embattled system,and Walden: Scrutiny need on species regulation.
The May presentation ended with an editorial expressing the need for public grazing in the western states, Resources to Thrive.
A special section, Farm and Ranch, further broadened and expanded the series in June. it is available as a .pdf document: Farm and Ranch.
As July brings hot dry weather, it's a great time to explore the impact water, and a lack of water, has on the ranch community. Water is a precious commodity in Eastern Oregon. Ditch walker Sam Cobb is in charge of how the water in water stored in Rock Creek Reservoir is distributed in the article "Ditch Walker: Water is gold, here"
In August, the second edition of Farm and Ranch explored the stories and people behind some of the brands in the region.
Water issues were further explored in August, with three-part presentation:
State and federal rules water rules impact ranchers throughout the region. Water dispute boils explores state regulations and how they impact ranch operations. A related story looks at a study launched by ranchers working with OSU to study water issues in arid and semi-arid lands.
Federal proposals to change or clarify what waters are under federal jurisdiction has many agriculturalists worried, and represents yet another clash over water.
Locally, efforts are being made to work collaboratively to improve water quality on 15-mile creek for both fish and farmers. The creek is used for irrigation.