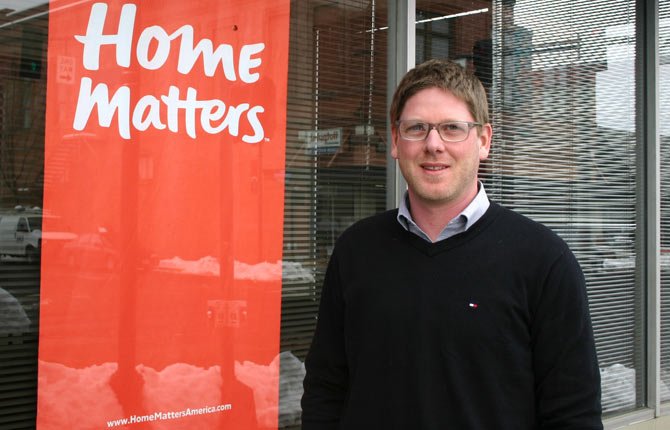 Joel Madsen has taken leadership at the Mid-Columbia Housing Authority, based in The Dalles, as its new executive director.
"My wife and I moved to the gorge in 2010," Madsen said. "I was working within the affordable housing industry prior to that in the Portland area. When we moved to the gorge, I got right in touch with Ruby [Mason, former executive director]."
Madsen has been working with the housing authority since 2011, most recently as the assistant director.
"Joel has been an integral member of our staff during this time of growth and continues to work steadfastly on housing opportunities in our region," said Rod Runyon, chair of the Mid-Columbia Housing Authority.
During his time here, Madsen has been learning about the housing challenges throughout the five-county gorge region the Mid-Columbia Housing Authority, Columbia Gorge Housing Authority and Columbia Cascade Housing Corporation serves.
"It's a complex question," Madsen said. "Each area is a little bit different. Historically, we've been able to address some challenges through administering the rental assistance program. We also do development, ownership and management of affordable housing. We have home ownership activities that we administer here, asset and wealth-building programs, and family self-sufficiency programs. Our organizations are positioned well to address a variety of challenges and what I really like about our organizations is that we do have a breadth of services, both in programs and in the geographical area. The gorge is a region and we're more effective when we think of the gorge as a region."
Madsen's experience includes development and management. He has also built his institutional knowledge by working with Mason, the long-time executive director for the past three years.
"Our programs are only really effective with the partners we have in the community," he said. "Ruby, over many years, has established wonderful partnerships with both private landlords and community partners. That's critical to get the most effective use of programs we administer."
During her tenure, Mason was often quoted as saying that affordable housing is a workforce issue. With the aim of providing more affordable housing, Mid-Columbia Housing Authority established Columbia Cascade Housing as its development arm. It now owns and operates 357 units and 20 different properties throughout the gorge.
Columbia Cascade is in the midst of developing an eight-unit development in Carson, and is doing predevelopment work on 24 permanent housing units in west The Dalles to support the region's agriculture industry.
Unfortunately, funding cuts to the federal Housing Choice Ultra Program, previously known as Section 8 housing, has significantly impinged on the organization and the number of people it can serve.
"Our primary goal is to cost-effectively administer the federal program," Madsen said, adding that the housing authority's services are imperative to the community and to economic development.
A continuum of housing to serve workers of varying income levels is vital to attract businesses to the gorge, he said.
"We also continue to develop and continue to work with funding partners to bring in resources that also address the home ownership component," Madsen said.
Dave Peters oversees home ownership programs.
"I see that continuing and hopefully growing," Madsen said, "and continuing to provide unbiased and reliable information."
Funding is the housing authority's biggest limitation, Madsen noted.
"It's a challenge to juggle the advocacy work that we do and keeping up with the management of operations," he said. "That's an exciting part of the challenge. We can't be everywhere all at once, but I think we do a great job of managing. I look forward to the continued challenge and trying to stretch myself in as many directions as possible as I try to keep our activities going in the right direction.
"First and foremost, we want to keep the train going down the track in the right direction."
Madsen and his wife are outdoor lovers and are encouraging their 6-month-old to love the outdoors. They live in White Salmon.
Madsen can be reached at Mid-Columbia Housing Authority at 541-296-5462 Ext. 16, or by email at joelm@columbiacascadehousingcorp.org.