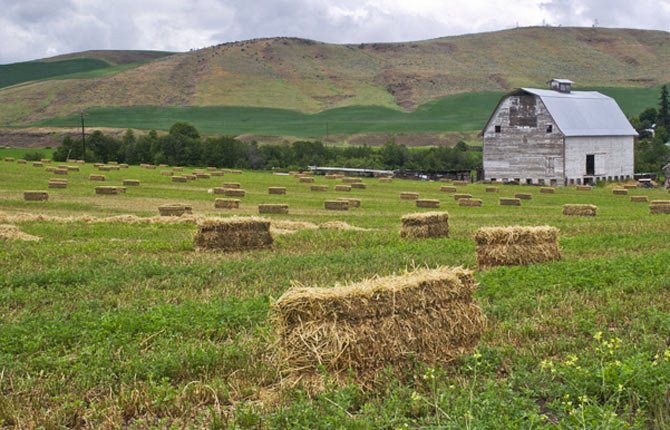 When a series of snow storms hit the region last week, Maupin rancher Keith Nantz was confident that his herd would be as protected from the cold as possible.
A Rancher's Life is a year-long series by reporter RaeLynn Ricarte and photographer Mark B. Gibson of The Dalles Chronicle. Here are the stories so far:
A Rancher's Life and A 'big picture' outlook started the series January 25, 2014.
All in a Day's Work and Moving cows is just the beginning were published February 12, with Weathering the storms. An audio slideshow, Working cows, was also published in February.
March started with a look at wolves in two parts, Wolf trouble and Wolves on the move. It continues with Springs promise, a look at calves and spring on the ranch.
An editorial, "More defenses needed," wrapped up coverage on this issue.
May started with the story exploring the trouble faced by one ranch, whose story is told in new feature-length movie screened locally in Hood River. One family member currently lives in The Dalles, and in "A Place to call Home" she tells her story.
May also featured multiple stories addressing the issue of public grazing, an issue researched by reporter RaeLynn Ricarte for over four months. The issue is first explored in"Battle rages over grazing rights." Much of this battle has been fought in court, and "Taxpayers foot the bill of resource lawsuits" explores one aspect of this battle. Additional stories followed: Seeking balance on our public lands, A place for cattle, Activist disputes accusation of fee gouging, An embattled system,and Walden: Scrutiny need on species regulation.
The May presentation ended with an editorial expressing the need for public grazing in the western states, Resources to Thrive.
A special section, Farm and Ranch, further broadened and expanded the series in June. it is available as a .pdf document: Farm and Ranch.
As July brings hot dry weather, it's a great time to explore the impact water, and a lack of water, has on the ranch community. Water is a precious commodity in Eastern Oregon. Ditch walker Sam Cobb is in charge of how the water in water stored in Rock Creek Reservoir is distributed in the article "Ditch Walker: Water is gold, here"
In August, the second edition of Farm and Ranch explored the stories and people behind some of the brands in the region.
Water issues were further explored in August, with three-part presentation:
State and federal rules water rules impact ranchers throughout the region. Water dispute boils explores state regulations and how they impact ranch operations. A related story looks at a study launched by ranchers working with OSU to study water issues in arid and semi-arid lands.
Federal proposals to change or clarify what waters are under federal jurisdiction has many agriculturalists worried, and represents yet another clash over water.
Locally, efforts are being made to work collaboratively to improve water quality on 15-mile creek for both fish and farmers. The creek is used for irrigation.
Calves had been weaned months earlier so that their mothers could build up a subcutaneous fat layer to serve as insulation. When cows are nursing, their energy requirements increase substantially, which prevents them from building up stores that fuel energy to generate warmth.
"You want to make sure a cow has good flesh; you don't want a bunch of skinny cows going into winter," said Nantz.
In January, he began supplementing the feed that almost 90 cows and three bulls get from grazing on the Oak Springs Road property owned by Dillon Land and Cattle Company, of which he is a partner.
He started providing barley hay every morning at the start of the year because it is high in TDN (Total Digestible Nutrients), or carbohydrates, that increase the energy level of cattle, and thereby keeps them warm.
He said protein is also used to supplement their diet to aid in the propagation of microbes. This is done by feeding alfalfa or providing protein blocks that are made of other plant byproducts, like sugar beets or canola, in the pasture.
"I'm not just feeding cows, I'm feeding the rumen, or microbes, in their stomaches to get all the available nutrients out of the feed," said Nantz.
He said if a rancher has to substitute hay for grazing altogether, it begins to get "incredibly expensive."
Even when only supplementing pasture, Nantz said 70 percent of the costs involved in a cow/calf operation are tied to winter feed.
After snow covers the ground, cattle will dig to find grass as long as it is still available and has not been overgrazed, which is part of good land management.
"If grass is there they will find it, they're an animal and that's what they are designed to do," he said.
Cows grow a thick winter coat of hair that protects them from all but the most frigid temperatures. If they get too cold, their metabolism slows down and their appetite is affected, lowering the feed conversion.
Nantz gives his cattle a windbreak with an open barn and they huddle together for added warmth. He said cows on the outside of the circle eventually work their way into the center so that every member of the herd has an opportunity to warm up and escape the elements.
Lastly, he makes sure the cattle have plenty of fresh water, which is necessary to prevent a reduction in their feed intake that can lead to hypothermia.

He places a water warming device – an electrical heating element that floats on top of the water — in a large trough that is set up by the barn. The device slows down the freezing process but he still has work to do in order to make sure that water is always available.
"Every morning and every night I'm down breaking up ice," he said.