Wherever you go, no matter what the weather, always bring your own sunshine.
— Anthony J. D'Angelo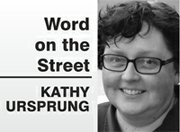 Bringing sunshine: Despite the gray that has been dominating our skies and the snow (quickly turning to slush) on our streets, The Dalles road crews brightened the days of local businesses this week by industriously making sure customers still have passable roads and places to park in the business districts.
That, in addition to clearing most of the other 88 miles of city roads (about 700 miles in Wasco County).
As winter snows emphasize, roads are a critical portion of the economic infrastructure. Roads provide the means by which crops get to market, businesses obtain their inventory and consumers access the goods and services they need and want.
So take a moment to thank your favorite road crew member for the tough and exhausting job they've been doing. Often road workers get complaints either because a road isn't plowed soon enough, or it's plowed too well, resulting in a berm in front of the driveway. So before you gripe, consider the challenge: Open emergency routes and main thoroughfares immediately — and keep them open no matter how long it snows. Then start opening up those residential streets one by one to help get residents to the places they need to go.
Don't forget the businesses: Snow events like this one are a particular financial challenge for many local businesses, as potential patrons choose not to risk the weather to get their shopping done. Some close up shop, knowing their doors won't be used much, if at all.
So as the streets clear and it becomes safer to drive, be sure to patronize local businesses. They put the word "convenience" in convenience shopping with merchandise available on demand.
We want those businesses to still be available to us after the thaw, so it's important that we not be fair-weather friends.
Women meet: As the snow begins to melt away, it looks like event cancellations may be a thing of the past.
Coming up quickly, The Dalles Professional Women's Alliance meets Thursday at 6 p.m. at Windermere Realty in The Dalles.
Do you have an item for Word on the Street? Email kursprung@thedalleschro
nicle.com or call 541-506-4601.