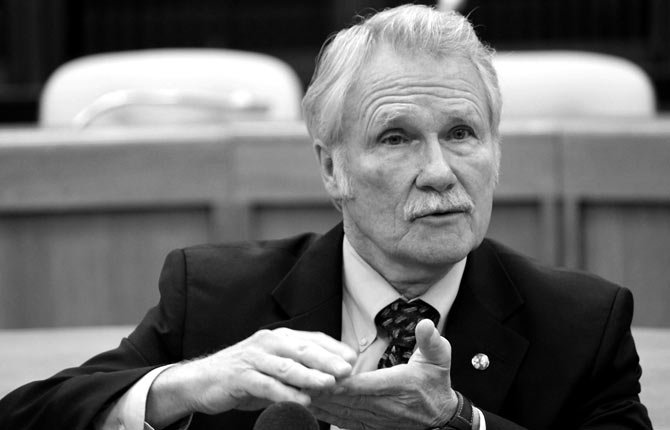 Corvallis Gazette-Times, Feb. 4:
It happens every time the Oregon Legislature meets: Someone enters a bill to slap another exemption or two onto the state's open-records laws.
It's happening again with a pair of bills that have been introduced into the 2014 session, the 35-day gathering that officially began Monday. One of the bills is well-meaning; the other one is a head-scratcher. But neither is necessary.
First, a word or two of background: Once upon a time, Oregon's laws governing open records and open meetings were among the best in the nation. Oregon was among the nation's leaders in government transparency.
That's not the case anymore. One by one, two by two, exemptions to the open-records laws have been added to the statutes, each one like a shutter being hammered across a window. At this point, the exemptions now number in the hundreds. The list of exemptions runs on for pages.
The 2014 Legislature will weigh in on legislation that could add two more exemptions to that lengthy list.
The first of the two bills, House Bill 4086, is the well-meaning one: It would exempt from disclosure personally identifiable information collected by mass transit electronic fare-collection systems. Portland's TriMet is reportedly moving toward such a fare-collection system.
The bill is intended to offer an additional measure of protection for the victims of domestic violence: The fear is this information could assist stalkers intent on identifying the whereabouts of their victims.
But the truth is that other, less sweeping, means exist for agencies to restrict access to that narrow class of information: For example, TriMet could post an opt-out form on its website specifically for domestic-violence victims. A similar system is used by the Portland Police Bureau.
The second bill, House Bill 4093, creates a public-records exemption for reports on proposals for mitigation of sage grouse habitat. The short story here is that the sage grouse faces listing as an endangered species, and attempts to improve its habitat might help to forestall that. The exemption presumably would be used by private companies fearful that their reports might reveal trade secrets.
The problem here is that there already is an exemption in the public records law for legitimate trade secrets. A fresh law, another addition to a list of exemptions that already is too long, isn't necessary. Former Attorney General John Kroger launched an initiative to take a long look at the state of Oregon's open meetings and open records law, an idea that was long overdue. The Kroger effort foundered for a number of reasons, but the overall idea is worth consideration by current Attorney General Ellen Rosenblum.
In the meantime, legislators can assist by being sure that each new request to make public information confidential is essential. We believe neither of these proposals now before the Legislature meets that standard.
n
The Daily Astorian, Feb. 3:
Is Oregon the state government of incompetence? And when will that change?
"This isn't New Jersey," Gov. John Kitzhaber told reporters last week. Kitzhaber's reference was to New Jersey Gov. Chris Christie's intentional traffic gridlock that was generated to punish a political enemy. Kitzhaber's point was that the botched rollout of Cover Oregon did not involve nefarious activity.
The governor's imagery was curious, because it avoided another really obvious conclusion — that Cover Oregon's prolonged and still unfixed computer software problems revealed an unacceptable level of incompetence by state employees and contractors who have been paid very well for their services.
The governor said the voters would render the ultimate verdict on him, and that is true. In our one-party state, however, it is unlikely that Kitzhaber will lose his bid for a fourth term.
What was missing from the governor's statement to the press was an alarm about Oregon state government's atrocious record of software rollouts. A series of these have not worked and have cost the taxpayers hundreds of millions of dollars.
If the governor and the state Legislature do not take this seriously and find competent professionals to fashion a new state computer software authority, we will only continue to pay through the nose for incompetence.
If the governor continues to omit that alarm, he really is telling us that he's part of the problem.