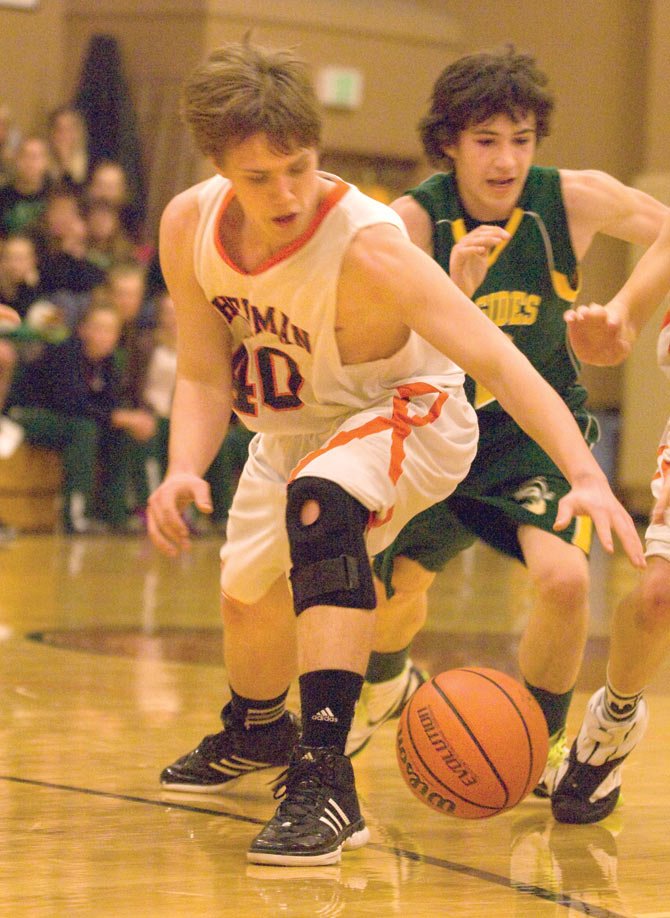 With every bounce and every moment looming larger and larger with playoff stakes on the line, the Sherman Huskies are finding an extra gear when it matters most.
First, they dug into the inner reserves for a season-saving home win over Dufur.
Wednesday, the swarm continued against No. 12 South Wasco County.
Austin Kaseberg recorded a triple-double and the Huskies withstood a spirited comeback attempt from the Redsides to preserve a 73-65 victory Wednesday in Big Sky Conference boy's basketball action in Moro.
"I was very proud of our effort and execution of the game plan both offensively and defensively," said Sherman head coach Bill Blevins. "We had a couple of lapses, but fought through those and pulled out a big win."
Twice in the second half, the Huskies extended on an 11-point halftime cushion to swell the lead to 14 points in the second half, but the Redsides did not go away without a fight, as they drilled several 3-pointers to climb back in contention on numerous occasions.
The Sherman lead dwindled to as little as five points with less than two minutes remaining in regulation, but the host Huskies made good on a few free throw attempts and found a hot shooting Isaiah Coles, who sank 5 for 5 in the final period for 10 points, to keep SWC at a distance.
At the start, the Redsides had their only lead of the game at 2-0, but as play progressed, the Huskies took control.
Sherman jumped out in front 19-17 after one frame, and then tacked on a 19-10 split in the second quarter to make it 38-27 at the break.
Both squads tallied 15 points apiece in the third quarter with the Huskies ahead by a 53-42 score.
South Wasco was able to outscore the Huskies 23-20 in the fourth period, but could not get the shots to go its way to complete the comeback bid.
Kaseberg recorded a triple double of 22 points, 15 rebounds, and 10 assists to lead the Huskies, who had 28 field goals, seven from long range.
Sherman notched a 10 of 18 effort from the free throw line.
Aside from his 10-point fourth quarter, Coles finished second on the team with 21 points, while adding a team-high 10 rebounds.
Max Martin rattled off 17 points, with 15 of his points coming on five trifectas.
In all, David Ocacio paced the offense with 23 points for the Redsides.
Nathan Duling netted 15 and Travis Hayes dropped six points to the scoresheet.
South Wasco County nailed 25 field goals, 11 3-pointers and connected on 4 of 10 from the charity stripe.
Whenever a team can hold a high-powered offense like SWC's to its seventh-lowest mark of the year, they can come out ahead.
Blevins was happy to see that type of effort in a huge rivalry matchup.
"Ben Holiday and Nick Coleman did a fantastic job on Travis Hayes and David Ocacio, respectively," Blevins said of their defensive prowess. "Ocacio got his points (23), but had to work pretty hard to get them. He is a great player and I'm glad he's a senior."
With the win, Sherman (12-9 overall, 3-3 league) is a half game ahead of Dufur (13-7, 3-4) for the third and final district spot.
There are two more games left for the Huskies, one at 7:30 p.m. tonight at home versus last-place Central Christian.
At 7:30 p.m. Friday, Sherman heads out to play No. 1-ranked Horizon Christian.
South Wasco County (12-8, 3-2) still needs to win one of its last two games to qualify for the postseason, but the work is going to be tough over the next few days.
The Redsides host Dufur at 7:30 p.m. Friday, and then travels to Hood River to take on Horizon Christian at 5:30 p.m. Saturday.