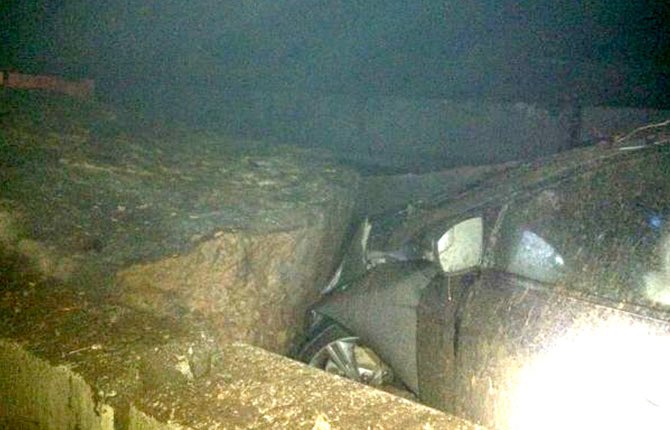 Staff and wire reports
A car crashed into several large boulders during a landslide on Interstate 84 about one mile west of Hood River Wednesday evening.
The slide is blocking the eastbound lanes and one westbound lane. Oregon Department of Transport (ODOT) personnel are on scene to begin work on clearing the slide before deciding when it is safe to re-open the eastbound lanes for traffic.
On Feb. 12 at about 7:26 p.m., a passenger car driven by an unidentified man was eastbound on Interstate 84 near milepost 61 when the landslide occurred from the south side of the freeway lanes, according to an Oregon State Police report. Large boulders and debris slid across the eastbound lanes, pushing the concrete center barrier into the left westbound lane. The car's occupant was not injured. That person's name was not available for release.
Oregon State Police and local emergency responders went to the scene along with ODOT personnel. According to ODOT's TripCheck.com, eastbound lanes are closed at milepost 56 and travelers are asked to use an alternate route until further notice. The suggested route for travelers on Interstate 84 is to cross into Washington State at the I-205 bridge in Portland to Highway 14.
"We had major issues with congestion and gridlock in Cascade Locks when we just closed the freeway to there last night," Kimberley Dinwiddie at ODOT told Haystack Broadcasting this morning. Motorists were stuck in gridlock in the gorge.
Daylight will allow ODOT to safely assess the slope to see if any more debris is in danger of sliding, she added.
The agency will also hire a contractor to move rocks that are too big for ODOT equipment.
Eastbound travelers can return back into Oregon at Hood River. Westbound traffic can also use an alternative route and should expect delays if using Interstate 84. The Oregon Department of Transportation says it has a lot of work to do before it can reopen the eastbound lanes of Interstate 84 that were hit Wednesday night by a rockslide in the Columbia River Gorge.
Spokeswoman Kimberly Dinwiddie says first they'll have to make sure no more rocks are in danger of falling. Then a contractor will have to help move some of the large boulders blocking the highway. There's no estimate on reopening.
Traffic updates will be posted by ODOT on TripCheck.com.